UM-Flint appoints vice chancellor for university advancement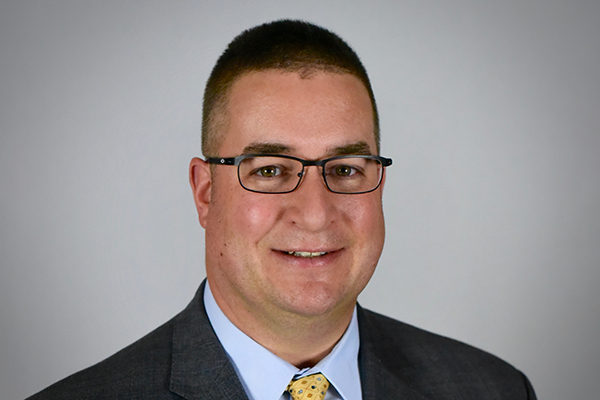 By Dana Elger
Public Affairs
for The University Record
William "BJ" Hull, a fundraiser with deep experience in higher education, has been appointed vice chancellor for university advancement at the University of Michigan-Flint. His appointment, effective Jan. 20, 2020, was approved Dec. 5 by the Board of Regents.
"BJ has nearly 25 years of progressively responsible experience in the field of development and the last 14 years within higher education. His education, background, and experience have prepared him to assume this important leadership appointment," said UM-Flint Chancellor Deba Dutta.
Hull recently served as the vice president for advancement at Olivet College, southwest of Lansing, where he developed, guided, and achieved a record-setting, comprehensive campaign raising $47.2 million in support of the college's 2020 strategic plan.
He also created and directed the implementation of a modern alumni engagement program and was instrumental in the development of quality data analytics aiding in prospect selection for all fundraising programs.
In his role as vice chancellor for university advancement at UM-Flint, Hull will serve as the chief development officer and will provide strategic and operational leadership of Development, Alumni Relations and Annual Giving, the Career Center, Corporate and Foundation Engagement, Communications and Marketing, and Government and Community Relations.
"I am thrilled to join the University of Michigan-Flint family," said Hull. "I believe the university is positioned for tremendous growth and success over the next decade. I am eager to lead our advancement team to support all of our campus partners in their efforts to achieve their strategic goals. I also am excited to return to the city where I began my professional career and to have the opportunity to support its redevelopment and growth."
Hull worked at Boy Scouts of America in Flint between the years of 1995-2000 where he was responsible for activities for a service area representing 140 plus groups of volunteers and youth. He received his Bachelor of Arts degree in English from Alma College and his master's in business administration from Michigan State University in 2008.
Contact University Communications & Marketing with comments, questions, or story ideas.