Campus News Digest | October 21 – November 3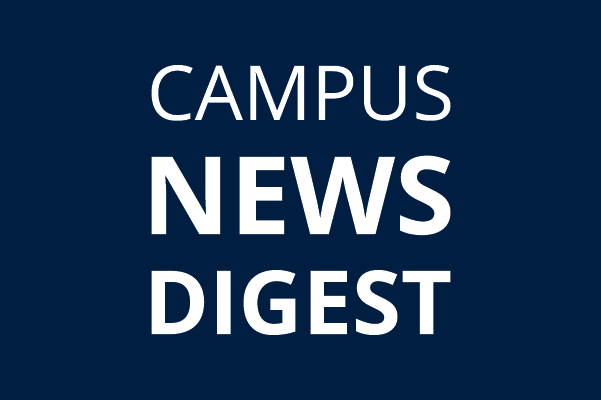 The Campus News Digest (CND) features announcements, news, and event updates relevant to the UM-Flint campus. The CND is distributed every two weeks in the UM-Flint NOW newsletter coordinated by University Communications & Marketing (UCOM).
Mandatory training on Sexual and Gender-Based Misconduct
Reminder to all faculty and staff to complete the online module, "Cultivating a Culture of Respect: Sexual Harassment and Misconduct Awareness."
Participation in this online program is mandatory for all U-M faculty and staff, including student, temporary, bargained-for and graduate student employees. The deadline for completion is Dec. 31.
The module should take about 15 minutes to complete. It provides information about maintaining a respectful, inclusive, and equitable working and learning environment free from sexual harassment and misconduct. It also includes information about what to do if you or someone around you is the target of misconduct or harassment, and offers information about resources available for support.
Unconscious Bias in Everyday Life workshops
The Office of Human Resources, in conjunction with David Luke and the Intercultural Center, will offer "Unconscious Bias in Everyday Life," a series of workshops aimed at raising awareness around these social stereotypes about certain groups of people that individuals form outside their own conscious awareness.
RSVPs are required to attend the workshops, which will run from 9-11 a.m. in the Northbank Center Park Place Room on Nov. 6, Dec. 4, and Feb. 5, Mar. 4, and Apr. 1, 2020.
Departments and units on campus can also request this workshop on alternate dates for groups of 10 or more by contacting David Luke at djluke@umich.edu.
University Outreach receives grant for census initiatives
University Outreach received a grant of $14,000 from the Community Foundation of Greater Flint to support visualization, mapping, and analysis of Census 2020 initiatives and data.
UM-Flint's Office of University Outreach's GIS (Geographic Information Systems) Center will work on assisting the Community Foundation of Greater Flint (CFGF) and their partners for the Be Counted Michigan 2020 census campaign through data collection, surveying, data analysis, and data visualization and mapping.
UM-Flint Office of Outreach and GIS Center staff will support other CFGF Census partner grantees by mapping their organizations' geographic study areas across Genesee County and will provide technical assistance to local organizations with determining their grant impact areas. GIS Center staff will also collect data on hard to count areas in Genesee County.
In addition to the above, University Outreach will create an index similar to the Low Response Score to help examine specific areas across Genesee County and to create a predictive analysis of hard to count areas.
Sociology, Anthropology, & Criminal Justice presents "Policing Black Bodies"
The College of Arts and Sciences Department of Sociology, Anthropology, and Criminal Justice will host "Policing Black Bodies: How Black Lives are Surveilled" on Thurs., Oct 24 from 5:30-7:30 p.m. in French Hall 161.
Dr. Angela J. Hattery (Sociology and Women's & Gender Studies) and Dr. Earl Smith (Sociology and American Ethnic Studies) will discuss their book, Policing Black Bodies: How Black Lives are Surveilled and How to Work for Change.
Free flu shots on campus
Take five minutes and get your flu shot for this season on Wed., Oct. 23 from 8 a.m.-5 p.m. in the UCEN lobby. All faculty, staff, students, and community members are welcome. You must be at least 8 years-old to receive the vaccine.
Bring your state identification card or health insurance card (prescription coverage card). This event is co-sponsored by CHS Health Affairs Committee, UM-Flint Recreational Services, and CVS Pharmacy.
UM-Flint's AstroNite celebrates all things astronomy
The Physics Department invites everyone to join them on Oct. 25 from 7-10 p.m. in the Murchie Science Building for AstroNite, a fun night of physics and astronomy activities. Attendees can expect to:
use an infrared camera,
complete challenges with paper airplanes,
enjoy ice cream made with liquid nitrogen,
explore the night sky with telescopes,
and much more!
This event is completely free and the public is welcome.
Theatre and Dance presents The Liar
UM-Flint's Department of Theatre and Dance's 2019-20 season kicks off with the production of David Ives' The Liar, directed by William Irwin. The show runs from Oct. 25-27 and Nov. 1-3. Tickets are available from the Whiting Box Office.
3 v 3 Women's Basketball Co-ed tournament, 10/25
The women's basketball club will host a 3 vs. 3 basketball tournament on Fri., Oct. 25 at 6 p.m. in UM-Flint's Rec Center. Register on-site as a team or individual for this fundraiser, $5 (cash only please). Courts open at 5:30 p.m.
Writing Center promotes Fall activities
UM-Flint's Marian E. Wright Writing Center has several opportunities in the coming weeks to hone your craft and have some fun.
The center will hold a Halloween Open House on Tues., Oct. 29 from 2-6 p.m. for all students, faculty, and staff. There will be fun activities and snacks while they last. Activities include trick-or-treating, photo sessions with Grimm, a short story contest, and a short story open mic.
The fall Writers' Circle will focus on helping you prep for NaNoWriMo, also known as National Novel Writing Month. The circle meets Fridays from noon-1 p.m. at the Writing Center. Bring your lunch. Coffee will be provided. Please RSVP to Vicky Dawson, vidawson@umich.edu or call 810-766-6602.
UM-Flint "In the News"
A small selection of news coverage from our campus community:
Contact University Communications & Marketing with comments, questions, or story ideas.