Campus News Digest | September 9-22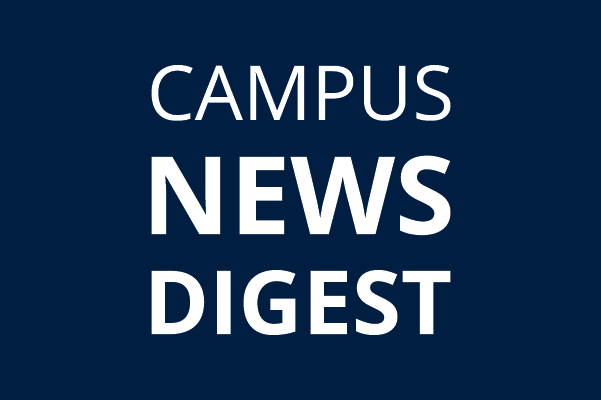 The Campus News Digest (CND) features announcements, news, and event updates relevant to the UM-Flint campus. The CND is distributed every two weeks in the UM-Flint NOW newsletter coordinated by University Communications & Marketing (UCOM).
Secretary of State Mobile Office on campus 9/12
The Secretary of State Mobile Office will visit UM-Flint for voter registration and other services as part of the university's commitment to voter education and voter engagement on Thurs., Sept. 12 from 9 a.m. to 2 p.m.
The University of Michigan-Flint is committed to ensuring all students know and understand their voting rights in Michigan and how to exercise them. The UM-Flint Votes web page was set up to provide students with the information needed to make an educated vote.
The Mobile Office offers most services available at a regular office. Visitors can renew their license plate tabs and driver's licenses, register to vote, change their address, and sign up on the Michigan Organ Donor Registry.
Visitors also can learn more about REAL ID and apply for a REAL ID-compliant driver's license or state ID card. Beginning Oct. 1, 2020, you will need a REAL ID-compliant document to fly within the United States.
To apply, bring the following:
Your driver's license or state ID card.
Your certified birth certificate with a raised seal or stamp issued by a governmental agency; valid, unexpired U.S. passport; or approved citizenship or legal presence document. Faxes and photocopies won't be accepted.
If your name is different from what is on your birth certificate, bring certified documents, such as marriage licenses or court orders, for every time your name has changed.
Flint Social Impact Demo Day 9/19
Anyone 18 years or older who operates an organization in the Flint area that addresses health inequalities through scalable and sustainable solutions using the social determinants of health can apply to attend Demo Day 2019, presented by the Office of University Outreach and the American Heart Association. Participants must attend a workshop Sept. 11 and the Demo Day event on Sept. 19 from 5-8 p.m.
Intercultural Cookout 9/16
The second annual Intercultural Cookout, sponsored by the Intercultural Center with the support of numerous student organizations, is an opportunity to celebrate the start of the school year, welcome everyone back to campus, and connect with some of the diverse organizations and opportunities at UM-Flint. Stop by McKinnon Plaza on Mon., 9/16 from 4 – 6 p.m. for food, fellowship, and opportunities to get involved on campus.
Culture of Respect Open House 9/10
All are invited to a Culture of Respect Open House on Tues., Sept. 10 at 12 p.m. in Michigan Room B. UM-Flint is committed to ending campus sexual violence, and has been selected to be part of the 3rd cohort of higher education institutions in the Culture of Respect initiative. Learn more about this initiative led by the Center for Gender and Sexuality. A light lunch will be served.
Genesee Early College moved to Northbank Center
Genesee Early College has moved into the Northbank Center Building. They relocated from the William S. White Building to the 8th floor of NBC. Parking spaces around the building have been designated for GEC.
Ice Cream Social on 9/10
Join the campus community for an Ice Cream Social on Tues., Sept. 10 at 3 p.m. on the North Lawn between French Hall and UCEN (near McKinnon Plaza). In the event of inclement weather, the Ice Cream Social will take place in the University Center.
22 Push-up Challenge for Veterans 9/21
The Student Veterans Resource Center is co-hosting a "22 Push-Up Challenge for Veterans" at the 2nd Annual "Illuminate" community event on Sept. 21. Hosted by the National Alliance on Mental Illness-Genesee County organization, the purpose of the event is to raise awareness about the importance of mental health. Centrally located in the Flint Flat Lot at Kearsley and Saginaw Street, there will be a sidewalk stroll, several interactive stops, including the "22 Push-Up Challenge for Veterans," and community resources.
In order to protect participants' hands (and maybe knees!) against the concrete of the Flat Lot and First Street, we are accepting donations of gently-used or new yoga mats. If you would like to donate a yoga mat, you may drop it off at the UM-Flint Recreation Center or at the Student Veterans Resource Center, which is located in the University Pavilion opposite the Barnes and Noble College Bookstore.
HLC Assurance Argument Feedback Forum and Info Session 9/13
All faculty and staff are cordially invited to attend the HLC Assurance Argument Feedback Forum on Fri., Sept. 13 (lunch provided). Review and critique the UM-Flint Assurance Argument before it's submitted and learn about the upcoming HLC site visit. For questions, please contact Kori Coleman at korim@umich.edu or (810) 762-3171.
Coffee & Conversation returns for Fall 2019
Each month, the Department of Political Science hosts Coffee & Conversation. This is a place to discuss issues of political and social importance. This fall's Coffee & Conversation schedule includes discussions of the Democratic Presidential Primary (September 11), Pragmatism vs. Realism in politics (October 9), Technology & Privacy (November 13), and Trade Wars (December 4). All events are from 1-2 pm and held in 335 French Hall. Coffee and light refreshments will be served. If you have any questions, contact Kim Saks McManaway at kimsaks@umich.edu.
Rec Bash set for 9/12
Stop in to the Recreation Center on Thur., 9/12 from noon-4 p.m. for Rec Bash. Drop-in sports, fitness class demos, building tours, and even free t-shirts for students!
Save the date: Common Read kick-off event set for 9/25
Common Read 2019-20 will launch with a kick-off event on Sept. 25 from 3-4:30 p.m. in the UCEN Happenings Room with a panel discussion.
The 2019-20 University of Michigan-Flint Common Read book is Jesmyn Ward's Sing, Unburied, Sing, a beautiful and moving novel focused on a quest for family and love in the dangerously racist and deeply impoverished fictional town of Bois Sauvage, Mississippi.
Contact University Communications & Marketing with comments, questions, or story ideas.