Campus News Digest | August 12-August 25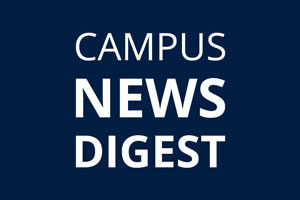 The Campus News Digest (CND) features announcements, news, and event updates relevant to the UM-Flint campus. The CND is distributed every two weeks in the UM-Flint NOW newsletter coordinated by University Communications & Marketing (UCOM).
Academic Affairs Convocation set for Aug. 29
All faculty and staff are cordially invited to the 2019 Academic Affairs Convocation on Thurs., Aug. 29 in the UM-Flint Theatre. A dessert reception and live steel band music will begin at 1:30 p.m., with the program at 2 p.m.
All faculty and staff are also invited to attend the annual pre-convocation workshop, "Positive Leadership: Implementing Strategies from Positive Organizational Scholarship to Build Energized and Effective Teams," from 9 a.m.-12:30 p.m. in the Michigan Room, UCEN. Register online.
Maize & Blue Days events from Sept. 2-28
Maize and Blue Days are our way of saying "welcome" and "welcome back" to UM-Flint. Throughout the month of September, we've planned a wide array of events so that students and campus can have fun and learn about all the different ways to get involved on campus.
If your department or unit is planning an event and would like it listed on the online event calendar, please follow this link to register your event. 
Summer Student Recital, Aug. 13
Faculty, staff, and students are invited to attend the Department of Music's Summer Student Recital on Tues., Aug. 13 at 1 p.m. in 164 French Hall. Works by Bach, Beethoven, Markovich, and others will be performed. Contact (810_ 762-3377 for more details.
UM-Flint researchers publish study on the promotion of safe water drinking
Researchers from the Department of Public Health and Health Sciences at UM-Flint recently had research published in the American Journal of Health Promotion that delved into how to promote safe water drinking for women of reproductive age, as it relates to lead-contaminated water.
Women of this age range, via a survey and focus groups, were asked their suggestions. Some of the ideas included family-based interventions, such as learning how to install lead water filters and clean bathroom sink aerators, providing materials to gynecologists for them to give to women for greater awareness of the effects of lead exposure on pregnancies, and community-wide discussions.
Drs. Gergana Kodjebacheva and Lisa Lapeyrouse, both associate professors within the department, along with Jamie Rahrig, Kanday Campbell, and Loretta Walker conducted the research. Rahrig and Campbell were graduate students at the time of the research, and Walker was an undergraduate student.
"I believe the results of this research help to reinforce the fact that the negative health effects of lead-contaminated water are not limited to children, but also impact adults as well as fetuses in utero," said Dr. Lapeyrouse, an assistant professor within the department.
Accolades and updates from around campus:
The University of Michigan-Flint is again one of 159 colleges listed in the "Best in the Midwest" section of The Princeton Review's 2020 Best Colleges: Region by Region. The 2020 Best Colleges: Region by Region feature names 656 schools in five zones—the Northeast, Southeast, Midwest, West, and International—that constitute just 22% of the nation's four-year colleges. From hundreds of institutions considered in each region, the schools were selected primarily for their excellent academics.
Contact University Communications & Marketing with comments, questions, or story ideas.