Honors students recognized for academic achievement
Each year, the University of Michigan hosts an Honors Convocation to celebrate the achievement of undergraduate students with distinguished academic records from each campus, including the University of Michigan-Flint. The March 24 event marked the 96th year that the event was held in Ann Arbor.
On Tuesday, March 26, continuing a tradition started last year, UM-Flint held its own reception to honor the academic achievements of its own students.
"I'm pleased to continue this new tradition of a scholarship reception on our campus, a great chance to celebrate the academic achievements of our excellent UM-Flint students," said interim Provost and Vice Chancellor for Academic Affairs Susan E. Alcock. "It gives us an opportunity to let our students and their families know just how proud we are of each and every one, to applaud their success, and to reward their hard work and dedication."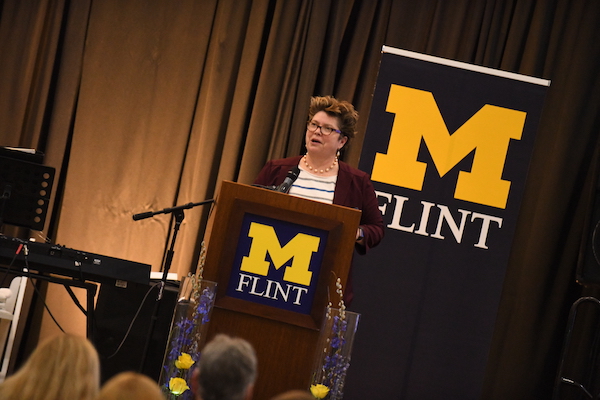 University Honors is given to undergrad students who completed a single semester in the previous year including at least 14 credit hours, at least 12 of which were graded, with a semester GPA of 3.5 or higher.
Students who earn one or more of the following award designations were recognized at the event:
William J. Branstrom Prize
This prize is presented in March to those first-time freshmen who were enrolled for at least 14 graded credit hours the previous Fall semester and finished in the top five percent of their class. The prize is a book with an inscribed nameplate on the inside cover, chosen by the student from an impressive list. First-time freshmen with prior dual enrollee credit from another institution or more than 12 UM-Flint credits are not eligible.
Branstrom Prize awardees appear below and are designated by an asterisk (*).
James B. Angell Scholar
Students who achieve an "A" record (all grades of A+, A, or A-) for two or more consecutive terms are recognized as James B. Angell Scholars. The student must have taken a minimum of 14 credit hours each term.
James B. Angell Scholars appear below and are designated by a plus mark (+).
University Honors
The University Honors designation is awarded to students who earned a 3.5 grade point average or higher during a term. The student must have taken a minimum of 14 credit hours during the term, at least 12 of which were graded.
Congratulations to all the recipients for their hard-earned honors status, and Go Blue!
Students receiving University Honors include:
Noor Abdalla +
Yazeed Abdelhay
Yousef Abdelhay
ObadaAbdulrazzak
Cassandra Ableson
Selwa Aboudane *
HaileyAbro *
Ereni Abuaita +
Majd Abuaita
Einas Abutalib
Lina Abutalib
Andrea Ackerman
Owen Adolphsen +
Izza Ahmed-Ghani
Yire Ahn
Leena Ahsan +
Alaa Al Rashid
Masa Al-Harastani
Abdulaziz Alahmari
Ahmed Alaiwat
Haleemah Albashrawi
Abdullah Albayk
Saleh Aldarwish
Laura Alegre
Emily Alexander
Emma Alexander
Jordyn Alger +
Bilal Ali
Shereen Alkhadrawi
Noor Alkhamis
Sarah Alkiek
Candice Allen
Deema Almansour +
Abdul Almounajed
Leila Almounajed
Hawra Almukhreq
Hanan Alnasser
Ahmed Alobaidan
Dalal Alosaimi
Lamis Alqafshat
Faisal Alqahtani
Mubarak Alqahtani
Ibrahim Alsayed
Reem Alshebib
Mohammed Alsheikh
Joseph Amberg
Muhammad Ammar
William Amy
Jared Anderson +
Hailey Andres
Olivia Anzalone
Jillian Arceo
Morgan Arens
Ogechi Aririguzo
Kyle Arrowood +
Sierra Assemany
Yara Ataya
Nathan Ayers
Jacob Babb
Mohammad Badar
Rebecca Bade
Samantha Bader
Shelby Bader
Aidan Badgerow
Emily Bahr
Kayla Bailey
Lawson Bainbridge
Kai Baines
Deema Bakleh
Kristin Ball +
Mohammed Banaja
Lindsay Bandt
Dipesh Baral +
Abdullah Barasheed
Jonathan Barrett
Rhys Barrie *
Andrew Barron
Abigail Barry
Dana Bartsoff
Brittney Bassier
Stephanie Batdorf
Ariunbold Batsaikhan
Sarah Baughman
Makenna Bauldry
Sarah Bawardi
Justin Beatley
Audrey Beauchesne +
Brant Beck
Emily Becker
Sadye Belcher
Jenna Bemis *
Kayla Bender +
Dana Bentley
Zachary Benton
Emily Bertossi
Robert Bessac
Madelyn Bettendorf
Samuel Beutler
Gabriella Biafore
Elizabeth Bielby
Allison Bielski
Cortney Biggs
Lisa Bilaski
Brianna Bilodeau
Erik Birchmeier
Jared Bissonnette
Patrick Bitterman
Shelby Blair
Jennifer Blakemore
Nicole Blankertz
Meghan Bleck
Dustin Blom +
James Blondin
Jordynn Bloss
Ellery Bodnar
Erin Boensch +
Angela Bonham
Whitney Boose
Ashley Born +
Jacob Bowen
Alexis Bowman
Lilly Bowman
Alexander Boylan +
Matison Boyle
Timothy Brandt
Clayton Brasseur
Sarah Bratton
Danielle Briesmeister
Lindsey Briggs
Sarah Briggs +
Lauren Brill +
Clinton Brinker +
Emily Britton
Annette Brown
Georgina Brown +
Jacob Brown
Madison Brown
Nicholas Brown
Danielle Brownell
Haley Bruns
Haley Bruton
Adam Bryant
Mohammed Bu saqr
Alphonse-Phillip Buclay
Christopher Bupp *
Jacqueline Burant
Saralynn Bush
Zachary Butterfield
Anthony Byers *
Taylor Ann Callahan
Jasmin Cambri +
Joshua Cambri +
Jennifer Cameron
Brittnie Cannon
Drew Cannon
Willie Cannon Jr.
Terri Cargill
Skylar Carlson
Caleb Carter
Katelynne Carter
Taylor Carter
Katie Carver *
Gabriel Causin
Connor Cetas
Rachel Chacko +
Jermariana Chandler
Hani Changezi
Lynn Chedrick
Jay Chhabra
Hane Cho +
Tiffany Chukwuma
Amanda Church Ms.
Charis Clark +
Hannah Clark
Jason Clark
Kenya Clark
Lauren Clark
Christian Cleis
Lauren Climie
Zackary Clor
Shelby Coates Miss +
Emily Cobleigh
Matthew Cocagne
Shannon Cody +
Stuart Coffey +
Karry Collins
Marco Colonna
Kerigan Condron
Jacob Connolly
Branden Cook *
Gabrielle Cook
Savannah Coomer
Skyler Coomer
Christine Coon *
Thomas Cooper +
Gwynneth Coselman
Brian Costanza
Abigail Cottrell
Madison Cox
Andrew Cramer
Heather Crampton
Dawson Crane +
Courtney Crawford
Lindsay Crawford
Jessica Creason +
Matalyn Crosby
Kayla Csapo
Cayla Cucci +
Erin Cummings +
Joshua Cunningham +
Brennen Czechowski
Dana Daaboul
Shbeib Dabaja
Hannah Daily
Alexis Damouni
Keegan Daniel
Gabrielle David
Kaitlyn Davidson
Barclay Davis
Christian Davis II
Diamond Davis
Katharine DeFrain
Danielle DeJonge
Krysten DeLay *
Daniel DeLong
Derek DeLong
Hunter DeNicolo
Cherish Dean *
Ignace Decocq
Noah Dehmel *
Hannah Deloney +
Alisha Demo +
Taylor Denby
Jacquelynn Deneau
Olivia Desgrange
Jamie Desmond
Anna Dettman +
Abigail Detwiler
Manika Dhiman
Shea Dickens
Adam Didluch
Hawley Dixon III
Katie Dixon
Sandra Doll
Mariah Dominguez
Lindsey Dotson
Olivia Doyle
Christopher Dubie
Sebastian Ducke
Lindsay Duckworth +
Jessica Duggan
Richard Dukes
Stephanie Dunlap
Carietta Durham
Katelyn Dzedzie
Carter Eberline
Audrey Eckel
Ashiya Edmond
Alexis Edmonds
Jeannie Edwards
Martina Edwards
Olivia Eickhoff
Alyssa Eisinger
Mohamed Elaswad
Ryan Ellison +
Sara Elmore
Eyman Elsir
Michael Engle
Hannah Erdman +
Brooke Erhardt
Alyssa Erickson +
Samuel Erickson
Hanna Eteer *
Caleb Evans
Glenn Evans
Hayden Evans
Kristen Eynon
Shanel Famularo
Corrin Fancher
Calla Fantin
Bridget Farmer
Lilian Farrehi +
Austin Feehan
Kalisha Fenner
Tori Finazzi
Jessica Finch +
Jessica Flanagan
Evan Flanagin *
Alyssa Fleischer +
Elizabeth Fleming
Terryn Fletcher
Robin Flood +
Sebastian Flores
Jack Foelker +
Camden Forsberg
Brian Forsyth
Lauren Fortin
Caleb Foster
Brandon Fox
Meagan Frahm +
Ryan Fredwall Mr.
Erica Freeman
Hannah Freeman
Cody Freigruber
Dolan Frick
Grace Fritzler
Gregory Fruchey
Haoran Fu
Graysen Fulbright
Reegan Gadany
Mary Gaffney
Evelyn Gagnon +
Eucharia Ganda
Johnathon Garber +
Mario Garcia Wells
Melissa Gardner
Andrea Gatchell
Maria Gatica
Nicholas Gauthier
Morgan Gavulic
Lisa Gawel
Michael Gearhart +
Shi-Ann Geary
Samantha Geiser
Rachel Gibson
Jacqueline Gilbert
Naoto Gillian
James Gillman
Lacie Gladding
Melanie Glenn +
Emily Gold
Natalie Golden
Raneem Gomawi
Spencer Gomez
Haley Goodall
Abbey Gordon
Joel Graves
Ashleigh Gray +
Elizabeth Gray
Joshua Gray
Kaylee Green
Mezon Green +
Tyler Gregoricka
Seth Gregory
Carl Grolle
Brittney Guidebeck
Sai Gunturu
David Guster
Keegan Gute
Louis Haase
Hadi Hachem
Danielle Hack DEH
Brandon Hahn
Joshua Haines
Cameron Hall
Stephanie Hall
Mathew Hallock
Cole Hallwood
Sarah Halstead
Amr Hamdi +
Elisabeth Hamilton
Jessica Hammon
Farah Hammoud
Dana Hamza
Dylan Hanje
Christopher Hansen
Carlton Harahuc
Kayla Harden +
Kyle Harper
Devin Harris
Justin Harris
Holly Hart
Nicole Hart
Aaron Harvey
Deema Hasan
Cody Hatfield-Myers +
London Haught +
Marah Hausmann
Rachael Havens
Hannah Hawcroft +
Alexis Hawk +
Samantha Hawkins
Asma Haydar
Casandra Hayek
Evan Hayek
Zachary Hayes
Elizabeth Heavner
Jillian Heidenreich +
Nellie Heller +
Noah Helzerman
Sydney Hempstead *
Austin Hendrickson
Macey Henry *
Heather Hereau
Laura Hernandez
Alexandra Herrington
Tara Herrington
Jennifer Hess
Halie Hester
Autumn Hetzer
Kirsten Hetzer
Hunter Hewitt
Bethany Hickey
Brian Higham
Eric Hill
Jacob Hill
Tabitha Hill +
Veronica Hindelang
Arielle Hinojosa
Bailey Hobson
Hannah Hodgkinson +
Jordan Hodgkinson
Richard Hogan
John Hogue
Alexander Holbrook
John Holmes
Zachary Holmes +
Victoria Hool
Corey Horn
Kamryn Houle
Luther Houle
Alesha Howden +
Melissa Howe
Anthony Howell
Megan Howell
Taylor Huebbers
Kyle Hughes
Daniel Humphrey
Jacob Hungerford +
Ashley Hunt
Danielle Hutcheson
Rachael Hynds
Taylor Idoni
Megan Ihrig +
Emily Ingerson
Spencer Ingles +
Rana Irsheid
Renee Irvine
Emyin Isa +
Julia Ishak
Emily Jackson
Shane Jackson
Kierstin Jakubos +
Maryam James
Emily Janson
Lucine Jarrah
Amanda Jaster
Ameer Jawhari
Madison Jeffrey
Samantha Jeffrey
Zubera Jemal
Brandon Jennings
Jenna Jernigan
Thomas Jess
Yuze Jia
Anna Johnson
Hunter Johnson
Jayden Johnson
MacKenzie Johnson
Sarah Johnson
Katrina Johnston
Kylie Johnston
Alexander Joitke +
Abigail Jones
Chloe Jones
Kaneesha Jones
Katherine Jones +
Leah Jones
Samantha Jones
Sydney Jones
Breona Judson
Nicholas Juip
Alyssa Juratich
Kaitlynn Kaake
Neil Kagerer
Megan Kalandyk +
Austin Kantola +
Haley Kantola
Hannah Karczewski +
Veronika Karman
Dahlia Kassel +
Justen Kaufmann
Sarpreet Kaur +
Cameron Kay
Rachel Keck
Katelyn Keene
Michael Keller
Christopher Kelly III
Morgan Kelly +
Lindsey Kennedy
Patricia Kennedy +
Stefanie Kennedy
Rakia Ketchmark
Antoine Khobeir
Timothy Killian
Julia Kilmer
Bumsik Kim +
Byeongsoo Kim
Hyunggyu Kim
Jaeho Kim
Jarrad Kimmell
Kristina Kinney
Kelsey Kirk
Jacob Klokeid +
Dana Knapp
Nicholas Knoch
Noah Knutson +
Alexandria Koepplinger
Lauren Koleda
Benjamin Koning +
Holly Kopaniasz +
Taylor Kosiara +
Courtney Kramarz
Emily Kraniak
Kylie Kraydich
Paige Kreiner
Gavino Kress
Connor Krish +
Kassidy Krist +
Akshat Kumbhat
Raymond Kusch
Molly Kwasny +
Jarrad LaBelle
Andrea LaRocque
Nicholas LaRosa
Sydney Labon
Stephanie Ladd +
Michael Lake
Eion Lange +
Joseph Lange
Maxamilliano Lange
Ryan Lanxton
Joyee Lau
Andrea Laurin
Megan Lavasseur
Sadie Lawrence +
Chelsea Layman +
Patrick LeBlanc
Deja LeGardye
Kaitlyn Leach +
Courtney Lee
LaChelle Lee
Melissa Lee +
Nicholas Lee
Brianna Lemon
Ellery Lengyel +
Hannah Lentz
Aaron Lester
Niyah Lewis
Zoe Lightbody
Taylor Liles +
Madison Liley
Christopher Lincoln
Alyssa Linn
Madison Lintz
Elizabeth Llopis *
Melanie Lodge +
Alyssa Logie +
Emily Long
Felicity Long Miss +
Regina Long *
Lauren Longbucco +
Tyler Lothrop
Andrea Lowell
Amanda Lucas +
Mallory Lucas +
Marcie Lueck
LeeAnn Lum
Daniel Lunsford +
Matthew Luther
Alexa Lyndrup *
Emily Machala
Andrew Macko III
Aaliyah Major
Maeson Makranyi
Kimbolie Malinczk
Nia Manning
Caitlyn Mansour +
Jordan Maranowski
Nursina Nadine Marcelo
Leah Marcotte
Alyssa Margetson
Devon Marinco
Sydney Markel +
Jacob Martin
Kaja Martin
Kaleigh Martin
Maxwell Martin
JacQuelyn Martinbianco
Adrienna Martinez
Andrew Maschke +
Kayla Massaro
Noel Massoud
Madeline Mathenia *
Kelsey Matheson +
Ashton Mathis
Jessica Matusz
Karli Maurer
Kayla Mayer +
Kyle Mayer
Shaelyn McCarthy
Celine McClimans +
Alexander McCliment
Matthew McCloskey
Madison McCormick
McKenzie McDaniel
Stacy McDaniel
Kelvin McDonald +
Alex McDougall
Haley McDowell
Anna McElroy *
Grace McGhee
Erin McGill
Austin McIntosh +
Cameron McIntosh
Nicholas McIntyre
Austin McKenzie
Chelsie McLaughlin
Katherine McLogan +
Katelynn McMillin
Rebecca McNeill
Riley McQueary
Anthony McRoberts
Joshua Meade
Marlena Megerian
Ciera Meier
Anastasia Melnik *
Alexis Menard
Blair Merlo
Scott Metzger
Danielle Mickus
Danielle Middleton
Tyler Middleton *
Kaitlyn Militzer
Alexandra Miller
Lindsey Miller
Olivia Miller
Rebecca Miller +
Sarah Miller +
Molly Minnick
Briana Minor +
Mariah Minzey
Lauren Mixon
Rachel Modafferi
Yousra Mohamed +
Khadija Mohammed +
Benjamin Molter
Gillian Molzon
Hanna Moncrieff
Joshua Monosmith
Kayla Monroe
Chad Montague +
Madalyn Moon
Kaley Mooney
Breanna Moore
Blair Moorer
Alaithia Morell +
Brady Morgan
Madison Morgan
Tomas Morgan
Sonuben Mori
Alexandra Morquecho
Michael Morrill
Anna Morrison
Charles Moses III
Austin Mosley
Kylie Moss
Sarah Mousseau
Catrina Mraz
Andrew Mrazik
Brittney Mueller
Tessa Muench
Raghad Muhiyaddin
Ali Mukhtar
Kyle Mulcahy
Anna Mullaly +
Tiffany Muma +
Cecelia Munro Ms.
Dillon Murray
Abed Najjar
Ezinne Ndukwe-Ajala
Katie Newton
Michael Nickels +
Margee Nickola
Tristan Nielson
Brooke Nieporte
Samuel Nobles
Olivia Norfolk
Jazmyn Norman
Miah Norris
Kristen Norton
Amy Nowak
Aaron Nowakowski Jr
Jalen Nunn
Devon O'Brien
Aubrey O'Donnell
Chelsea OConnell +
Andrew Odette
Avery Offer *
Austin Ogle
Dylan Olson
Kohei Ono
Andrea Orpinel
Joylynn Orvis +
Mikayla Oryszczak
Marisa Osborn
Taylor Osentoski
Ghita Ouakkas
Isabella Pacheco
Cole Pachucki
Morgan Page
Esthefanie Paredes
Holly Parker
Antonio Parks
Madison Parnell
Michael Parsaghian
Sydney Parvin +
Giorgia Pasqui
Aakash Patel
Aman Patel
Sharvari Pathak Miss *
Jamie Patten
Mariah Patten
Nina Patterson +
Vorice Patterson +
Jessica Pavlik +
Connor Peake
LeighAnna Peck +
Megan Peek
Holly Peel
Stephanie Pena +
Alex Pennala
Jesika Perez
Jamie Perigo
Kaitlyn Perpignon
Erica Perry
Lauren Perry
Alyssa Petruski
Gabriel Pettegrew
Shynita Petteway
Elijah Pettus
MacKenzie Phillips
Makayla Phillips
Shelby Phillips
Kayla Pidd
Jamie Pieknik
Stephanie Pieper
Zachary Pinder +
Anna Pirker-Fruehauf
Zackary Pittman
Daniel Plamondon
Haden Plouffe +
Dylan Poole
Brittany Porter
Alexsis Powell
Robert Powell
Lydia Powers
Rachel Powers +
Kyle Pracht
Meghan Pray
Tyler Price-Bell +
Jacob Prim
Ryan Quaderer
Samantha Quinlan
Mariam Rabah
Cailee Ragonesi
Reygan Rahim
Benjamin Rainear +
Andrew Ravi Kamalraj
Ellen Regorrah
Autumn Reid +
Trenton Reinertson
Rachel Revesz
Fancy Rice
Melissa Rich
Brandon Richard
Paul Richardson
Samantha Richter
Samantha Rieli +
Rayshawn Riley
Megan Rinke *
Alexis Ripke
Jillian Rippy
Cynthia Risch +
Angela Rishmawi
Caroline Rishmawi
Brianna Rivera
Jay'la Rivers
Rahma Rizk +
Alexandra Roberts
Madison Roberts
Cassandra Robinson
Emily Robinson
Jessica Robinson
Miles Roblyer
Taylor Robson
Amanda Rocheleau +
Alyssa Rodgers
Selena Rodriguez
Natalie Roland +
Kari Romanowski
Grant Rooker
Jordan Rose
Jamie Ross
Courtney Roy
Rylee Rubio
Heather Ruby
Evan Rudziensky
Hayden Ruff +
James Ruff +
Rebecca Ruggerio +
Jacob Runnels *
Taylor Rush
Jaimeson Rutledge
Eric Rutter
Abigail Ryan
Megan Rye
Seema Sabbagh
Dane Salisbury
Shelby Salwasser
Stacey Sandy
Christopher Sanjurjo Montalvo +
Ababacar Sarr
Evan Satterlee
Shelby Saumier
Russell Sauter
Madison Savage
Shayla Savich
David Savoie *
Lucas Savoie
Frank Schaefer IV +
Riley Schank
Alyssa Scharrer
Aubrey Scharrer
Rachel Scharrer
Michael Schartzer *
Alexandria Schipansky
Caleb Schlaack
Thomas Schlosser
Shane Schmitt
Makenzie Schroeder +
Kathrin Schuster
Alexandria Scipione
Briana Scott
Lexi Sedlarik
Scott Sedore
Amanda Seney
Joshua Severeide
Jennah Shah *
Emily Shallman
Yazeed Shamieh
Jessica Shango
Zachary Sharpe +
Allison Shaw +
Megan Shaw
Meredith Sheatzley
Allison Sheffer
Huda Sheikh-Khalil +
Udit Shelat
Za'Taia Shelby
Faith Shelton
Natalie Shelton
Jordan Shepler
Makaylah Sheroski
Taylor Sheyachich
Zhuohang Shi
Mckenzie Shivlie
Caleb Short
Shelby Shovein
Yiyang Shu
Safa Shukairy
Nicayla Shumaker
Brook Sibary
Abdur-Rahman Siddiqui +
Madison Sills
Ty'Riauna Simmons
Ella Sinclair +
Gurjinder Singh *
Christopher Skalecki
Haylee Skank +
Brandon Sleva
Barry Smith
Chelsea Smith +
Chelsea Smith
Gabriel Smith
Geneva Smith
Janae Smith
Kaitlyn Smith
Matthew Smith
Samantha Smith
Shelby Smith +
Timothy Somers +
Audreaunna Sopko-Thompson
Haley Sordyl
Connor Spencer
Anna Spoelman +
Brandon Sproule +
Amber Stabenau
Leah Stadel
Madilynn Stapleton +
Gabrielle Staudacher
Jacob Steffen +
Christopher Steffes Jr
Brooke Steinley
Holly Stemm
Taylor Steward +
Ryan Stieb
Lynn Stiebert
Erin Stiers
Betty Still
Tara Stimson +
Brya Stinson
Carissa Stockton
Sara Stojanoski
Tori Stokes
Christina Straham
Miguel Strawn
Aloysia Streeter
Stephanie Streeter +
Alexa Stringer
Abigail Stroh
Ashley Strong
Michael Stubbert
Cameron Stumm
Elise Sturgeon
Ashlyn Summers
Stephanie Sustaita +
Camden Sutherland
Ryan Suttle
Noah Suttles
Trevor Swickard +
Ashley Symons +
Hutheyfa Tabbah +
Marisa Tadajewski
Marwa Tahboub +
Sarah Taipalus +
Jacob Tali
Ruining Tao
Anna Taylor
Brett Taylor
Cassandra Taylor
Samantha Tedesco
Shannon Tedhams
Fei Teng +
Gage Terrian
Hilary Tesluck
Michael Themm
Kozon-G Thomas
Tyslee Thomas
Alexandria Thompson
Amanda Thompson
Sabrina Thompson
Krystle Thorn
Stephanie Throop
Sarah Thurston
Chi Tiet
Sugandha Tijoriwala
Joshua Tipsword
Mizahnyi Tipton-Thomas
Vinayak Tiwari
Joseph Tomczak
Christian Tomlins
Tessa Tragis
Huyen Tran +
Jamie Travis
James Traxler Jr
Alysia Trevino
Breanna Tribelhorn
Austin Tripp +
Bethany Trites +
Mohammad Tuleimat
Leza Tungl
Ezekeial Turner
Grace Turner
Moira Tuttle +
Rebecca Tuuri
Madelyn Vamossy +
Sean Van Note
Chloe VanTol
Sydney VanWormer
Lara Vanderbilt
Henry Vargo
Stefan Velbabovic
Alyssa Ventura
Daniel Victor
Michael Visniski
Alexandria Wade +
Alicia Wagner
Loretta Walker
Owen Walter
Edward Walterhouse II
Grace Walterhouse
Amanda Walters
Daniel Walters Jr
Jillian Wamsley
Yifan Wang +
Jason Warczinsky +
Emily Ware
Beecher Warren
Jessica Washburn
Mikayla Waters
Brent Watson
Bryce Watts
Amanda Webb +
Andrew Weidman
Stacey Weidner +
Kurt Weinert
Nicholas Weld +
Jacob West
Jamie Westrick
Tyler Wetherell
Cameron Whalen
Ricky Whisnant
Carryn White +
Lindsey White
Kristal Whitehead
Rebekah Whiting
Briana Whitt
Macy Wieber
Amanda Wildner
Charles Wilhelm III
Catherine Wilhelm +
Kimberly Wilkins
Laura Wilkinson +
Sydney Wilkinson
Alexandra Williams
Deborah Williams
Gavin Williams
Precious Williamson-Murray
Kyle Willoughby
Nicholas Wills
Briana Wilson
Ian Wilson
Amber Wing *
Justin Wisby
Joshua Witt
Nathan Witteveen *
Paul Wixson
Courtney Wolf
Justin Wong
Wayne Wood II +
Savannah Woodruff
Mary Wooley
Kathryn Wrenn
Carly Wykes +
Devyn Wylam +
Prashant Yadav
Jenna Yager
Taylor Yager
Lindsay Yateman +
Katie Yates
Rebecca Yemm
Hailey York +
Alexander Zaliagiris *
Hannah Zanotti
Chelsey Zappella
Preston Zaremba
Breeann Zarzycki
Adam Zdanowski *
Natalya Zerka
Alexander Zilinski +
Claire Zimmer
Jenna Zineddin
Amanda Zuelke
Contact the Office of University Communications & Marketing with comments, questions, or story ideas.