Campus News Digest | March 25-April 7, 2019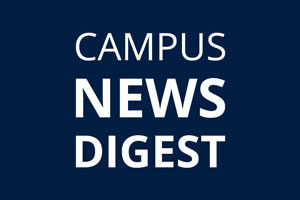 The Campus News Digest (CND) features announcements, news, and event updates relevant to the UM-Flint campus. The CND is distributed every two weeks in the UM-Flint NOW newsletter coordinated by University Communications & Marketing (UCOM).
Budget & Academic Initiatives Town Hall
The Budget & Academic Initiatives Town Hall meeting is scheduled for Friday, Mar. 29 from 2-4 p.m. in the NBC Ballroom. Vice Chancellor Hague and interim Provost Alcock will provide an overview of the process as well as context for the next budget year. The Deans will present an update to last year's comprehensive planning and vision presentation.
Pizza, Pop & Postgrads
Students are encouraged to attend this informal networking event for great conversation with alumni from various majors and career paths — and of course, there will be pizza. This is a great way for students to practice personal introductions, learn about industries, and build their professional network. The event is Tuesday, Mar. 26 from 6-8 p.m. in the Happenings Room, UCEN.
Student Open Forum
The Faculty Student Concerns Committee presents the 2019 Student Open Forum on Wednesday, Mar. 27 at 4 p.m. in the Happening Room. Students should come and share their views with the Chancellor, Vice Chancellors, Deans, and UM-Flint administrators.
Rock the Rec
Rock the Rec is a new event that celebrates Club Sports, Intramural Sports, and Fitness opportunities in the UM-Flint Rec Center. These year's theme is centered around all things basketball, including:
Knockout Challenge | Wednesday, Mar. 27 at 5:30 p.m.
3-Point Shootout | Wednesday, Mar. 27 at 6 p.m.
Alumni v. Students Basketball Game | Thursday, Mar. 28 at 6 p.m.
Family Math Night set for Apr. 2
UM-Flint's Mathematics Department holds a Family Math Night twice each year, with the goal of spreading enjoyment in mathematics to the next generation. The Winter 2019 event will be held on Tuesday, Apr. 2, from 6-8 p.m. in the Michigan Rooms. Students from Mason Elementary will be facilitating activities alongside UM-Flint Education students. For any additional information, email Daniel Coffield (dcoffiel@umflint.edu) or call the Mathematics department at (810) 762-3244.
Community Health Maps Workshop
The Community Health Maps Workshop provides hands-on instruction in a low/no-cost data collection and mapping workflow that enables community advocates to meet local health mapping needs.
The workshop at UM-Flint takes place Wednesday, Apr. 3 from 9 a.m. to 3 p.m. It is co-hosted by the UM-Flint Office of Outreach and the Frances Willson Thompson Library in collaboration with the National Library of Medicine Community Health Maps, U-M Ann Arbor, U-M Dearborn, and U-M Detroit Center.
Author Gino Wickman to speak in Entrepreneurial Speaker Series
Author, consultant, and trainer Gino Wickman will participate in Lunch with an Entrepreneur, part of the Interdisciplinary Entrepreneurial Speaker Series in SOM. The event is open to all and takes place on Tuesday, Mar. 26 from 12:30-1:45 p.m. in Riverfront 2317.
Free, on-campus STI Testing event Apr. 4
UM-Flint, in conjunction with the Genesee County Health Department and Hologic, will offer free STI on Apr. 4 from 11 a.m. to 3 p.m. in UCEN 2nd floor. The "Pee for Pizza" event will offer testing for gonorrhea, chlamydia, and trichmoniasis through urine testing. Participants receive free pizza and STI educational materials.
Contact University Communications & Marketing with comments, questions, or story ideas.