Free medical school for Flint students, thanks to a beloved local family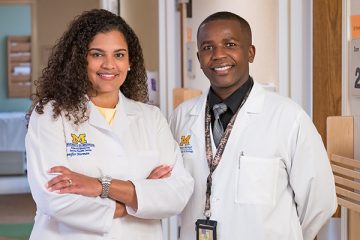 Full tuition to the University of Michigan Medical School is available for college students from Flint and Genesee County who qualify for financial assistance and are accepted into the program. Students have to fill out financial aid forms during application and indicate they are from Flint/Genesee County to be eligible for the scholarship. So far there have been no applicants from our area. 
This full-ride is to honor Dr. Arthur Tuuri, a pediatrician who took care of Flint kids from 1948 to 1985. Dr. Tuuri's daughter, Mary-Sue, and her husband, Dr. Gary Jones, want to give local students the chance to follow the example set by her father and realize their dreams of becoming a doctor.
"We grew up in Flint and met each other here," says Mary-Sue. "We want to give back to the place we love, the place that provided us with so many important opportunities."
Contact the Office of University Communications & Marketing with comments, questions, or story ideas.