Campus News Digest | January 14-27, 2019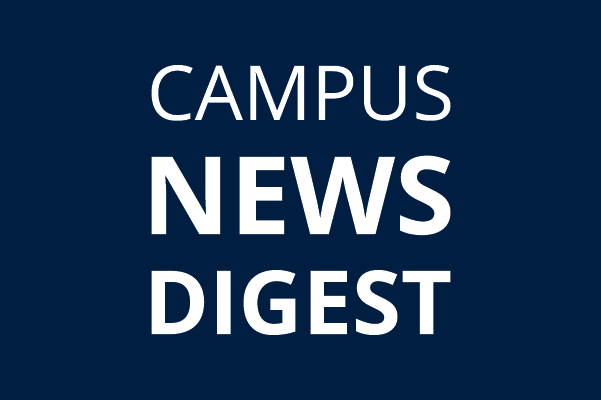 The Campus News Digest (CND) features announcements, news, and event updates relevant to the UM-Flint campus. The CND is distributed every two weeks in the UM-Flint NOW newsletter coordinated by University Communications & Marketing (UCOM).
UM-Flint's Annual Dr. Martin Luther King, Jr. Day of Service
On Monday, January 21, 2019, UM-Flint's MLK Day of Service will again give our students, faculty, and staff over 250 volunteer opportunities in which to participate between 9:15 a.m and 3 p.m.
Volunteer check runs from 8 – 8:30 a.m., with a breakfast program beginning at 8:30 a.m. in UCEN's Michigan Rooms. All of campus is welcome and invited. RSVP here.
Managers are strongly encouraged to allow employees to attend or participate in service opportunities to honor Dr. King's legacy and global impact.
New Center for Gender and Sexuality announced
On January 10, in an email from Vice Chancellor Giordano, the Division of Student Affairs announced that the offices formerly known as the Women's Educational Center (WEC) and the Ellen Bommarito LGBTQ Center have merged to become the UM-Flint Center for Gender and Sexuality. The newly-formed center, under the direction of Heather Johnson, will continue to reside in the Division of Student Affairs and maintain its location in 213 University Center (UCEN).
Existing web page and social media sites for the WEC and LGBTQ Center will be phased out in the next few months.
UM-Flint's Safe Ride debuts app
The Department of Public Safety, in partnership with Student Government, has introduced a new mobile phone application "TapRide," available for download on the Apple Store or Google Play.
Students can use this app to request rides across campus on demand. Safe Ride hours of operation and pick up and drop off locations are found on the DPS website. Questions about the Safe Ride services can be directed to (810)762-3330.
UM-Flint Health & Fitness Fair
Recreational Services is hosting its Health & Fitness Fair on Thursday, January 24 from 1-6 p.m. This is a free event offered to rec center members, UM-Flint students, faculty, and staff. Stop by to enjoy fitness assessments, health organizations, chair messages, and more.
International Center's Global Outreach Ambassadors for Winter 2019
If you are a UM-Flint student, staff, or faculty member who plans to travel internationally or if you are interested in further supporting international students already on campus, you could be a Global Outreach Ambassador for UM-Flint.
There are two upcoming drop-in training sessions in the International Center (219 UCEN) on Wednesday, January 16 at 10 a.m. and 2 p.m. and again on January 22 at 11 a.m. and 1:30 p.m. Learn more about the Global Outreach Ambassadors.
Maize & Flu Campus Vaccination Clinics
The next (and last) Maize & Flu Campus Vaccination Clinic will be offered on January 24 at the Recreation Center, during the Fit Fair from 1-3:30 p.m. Bring your insurance card.
University Pavilion Ice Rink events
The next UM-Flint Ice Rink Open Skate takes place on Wednesday, January 16 from 6-9 p.m. There is also a Skate Break for UM-Flint students, faculty, and staff scheduled for January 16 from 11 a.m.-1 p.m.
Club Sports Seeking Head Coaches
UM-Flint's Recreational Services and Club Sports are currently seeking head coaches for women's basketball, co-ed cheer, and women's volleyball. If you have a colleague, former student, or friend that may be interested, please see these position details. Application review begins January 21.
Intramural Sports Kick-Off Madness event
Celebrate the Winter 2019 semester intramurals at a kick-off event held Friday, January 25 from 9 p.m.-12 a.m. at the Rec Center. Enjoy free pizza (while it lasts) and co-ed volleyball, soccer, and basketball. DJ Showtime will spin his latest playlist adding to the fun atmosphere.
Coffee & Conversation talks Gun Control and 2nd Amendment
The Coffee & Conversation Winter schedule kicks off on January 16 with a conversation around the right to bear arms and gun control.
Coffee & Conversation is a monthly dialogue focused on current issues of political and social importance facilitated by faculty from the Department of Political Science. Students, faculty, and staff from all academic backgrounds gather to discuss issues like healthcare, immigration, presidential power, and more.
SOM presents talk by Dean Johnson
Join the University of Michigan-Flint School of Management and its Marketing club for a presentation from Dean Scott Johnson, "Just tell me what I should buy: the paradox of recommendation-based decision making by customers" on Tuesday, January 15 from 5:30-6:30 p.m. in the Riverfront Building, room 2337.
Light refreshments will be provided. RSVP by January 13.
Activist Siwatu-Salama Ra to speak on campus
Come to the Michigan Rooms (UCEN) on January 21 from 2-3:30 p.m. for a panel discussion with MLK Day of Service keynote speaker and Detroit activist Siwatu-Salama Ra. Ra will discuss her work as a community organizer, the injustices related to her sentencing and imprisonment, and the struggle for maternal justice in prisons. Hosted by the UM-Flint Intercultural Center.
Contact University Communications & Marketing with comments, questions, or story ideas.