UM-Flint alumni address food security issues throughout Michigan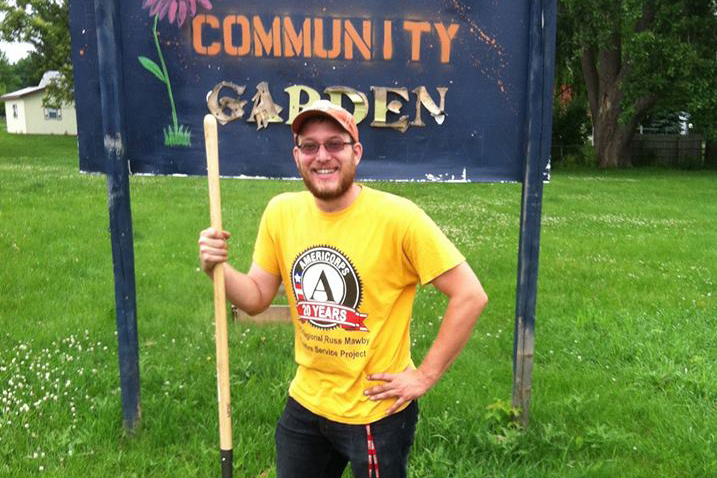 Eating healthy food is important for maintaining a sustainable lifestyle, but for some communities, healthy resources are scarce and difficult to access.
As of 2016, the USDA estimated that nearly 1 in 8 Americans were "food insecure," which is defined as lacking consistent access to enough food for an active, healthy life. This figure equates to over 40 million Americans, 13 million of which are children.
Food insecurity is a challenge within the Flint community and throughout Michigan, where access to healthy alternatives can be a constant struggle.
Many individuals are working to solve this problem, including three UM-Flint alumni, who each play a vital role within their communities to help address the many issues surrounding food scarcity.
Alumni Richard Sadler ('07), Mackenzie Thrower ('14, '17), and Jeffery Martin ('13) have exercised multiple approaches to improve food security issues with two common goals: to help communities become aware of healthy eating choices and have access to healthy food.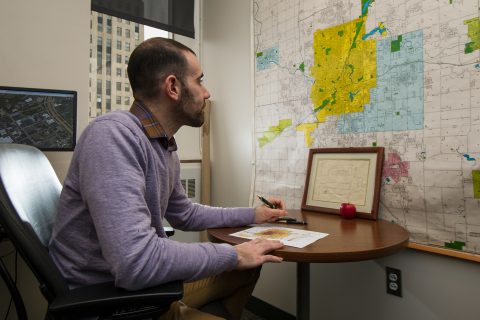 Sadler credits his environmental science professor, Dr. Chow, for encouraging him to pursue research in food security as an undergraduate student at UM-Flint. He graduated with a bachelor's degree in Environmental Science and Planning, and from there, traveled to Canada to learn about its urban planning system. Sadler was accepted into the Geography PhD program at the University of Western Ontario, where he received his PhD. He then returned to Flint as a researcher.
"If I am going to become a researcher who is trying to make things better, I want to work where there is a need for social change," said Sadler. "I didn't come back to Flint thinking I have all of the answers. I came back thinking I have some tools that can be a part of the food security fight."
Sadler is currently enrolled in online classes through the masters of public health program at Johns Hopkins University in Baltimore, Maryland. With public health training, he believes he will become a better-rounded researcher. He works in the Division of Public Health at Michigan State University's College of Human Medicine in Flint as an assistant professor. His work includes creating maps of the community, including those related to food accessibility.
To design a way to make healthy food more accessible, Sadler networked with stakeholders who created the Flint Fresh Mobile Market. The market operates a food delivery truck where customers can order food online and have the truck deliver to their home in Flint. The goal is to help alleviate food deserts by making healthy foods available to those who do not have easy access to them.
Sadler said, "Food deserts tend to be more focused on people of low income, but in reality, everyone makes bad decisions sometimes. Bad decisions are amplified by scarcity."
In continuing to research food security in the Flint area, Sadler focuses on ways to make healthy foods appear more attractive than unhealthy foods. He believes individuals need to have a mindset where they naturally choose healthy food over unhealthy food.
"The way you're raised becomes your culture," he said. "Teaching kids at a young age about choosing healthy food options makes that become their culture as they grow older."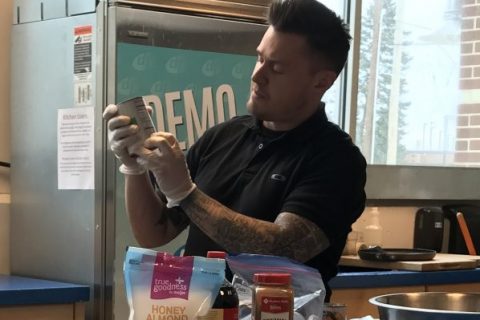 Mackenzie Thrower found his passion for educating children when he enrolled in Dr. Adam Lutzker's global economics course as a graduate student. He was given a project that required him to focus on a topic related to international trade. He studied how food systems function within specific communities. This helped him realize he wanted to make Flint a more hospitable environment for healthy food by educating others on maintaining healthy diets. He became a Service Member with the Flint FoodCorps from 2016-2017, where he taught K-12 students about gardening, cooking, and eating vegetables.
"It's baby steps," Thrower says. "I like to envision a more sustainable future. My actions today could cause massive ripple effects. I am excited to be a part of a process that helps Flint become a healthier place for everyone."
Thrower graduated with a bachelor's degree in international studies and a master's degree in social science. Now, he oversees multiple FoodCorps programs in elementary and high schools in Flint. He currently serves as the Nutrition Program Coordinator for the Crim Fitness Foundation, as well as the Local Site Supervisor for FoodCorps members working with the Crim. One of his programs includes coordinating cooking classes at Doyle Ryder Elementary School. This 6-week course teaches grade 5-7 students about healthy eating and how to cook healthy foods. The students learn basic skills, including how to cut and steam vegetables. Thrower's goal is to get children excited and inspired to cook healthy food.
"Sometimes it's a simple matter of the kids not knowing how to cook certain foods, which these classes will help with," he said. "Teaching kids the importance of eating healthy and giving them the tools to do so increases positive health outcomes."
Thrower also wants to help kids feel the emotion behind growing and cooking their own food so they are more inclined to choose to eat healthy foods.
"Food is very intimate. It's our sustenance, it's how we live. Without food and drinking water, we do not exist. These classes allow kids to feel the emotion of growing food. They see that not only is the food healthy for your body, but they get to nurture it from start to finish," he said.
Similar to Thrower, Jeffery Martin found a passion for educating children. It started when he was a student working as a residential advisor in UM-Flint's First Street Residence Hall. He was surprised at the large number of students who were unable to cook meals for themselves. This inspired him to educate children on cooking meals so they retain the knowledge once they become adults.
"I want to pass on the knowledge I wish I would have had when I was younger," he says.
Martin began working with non-profits after graduating from UM-Flint in 2013 with a bachelor's degree in environmental science and planning. For a year, he worked with SEEDS in Traverse City which focuses on implementing local solutions to global issues. There, he helped with the youth conservation corps and after-school programming. Some of his work included assisting youth with environmental surveying for housing. In doing so, he also found a passion for sustainability practices. He wanted to make sure communities not only had access to healthy foods, but that gardens were maintained so the production of healthy food remained consistent. This brought him back to Flint.
Combining his passion for educating children and sustainable gardening, Martin served with the Flint FoodCorps as a Service Member from 2014-2016. Similar to Thrower, he taught classes to K-12 students in Flint about healthy food choices and gardening. The kids learned where certain vegetables come from, how to grow them, and the nutrients they gain from consuming them.
"It's empowering to be able to grow your own food. It's also important to teach kids how to cook the food. If they don't know how to cook it, then they won't grow it, which will lead to them making an unhealthy choice."
Martin then gained the title of FoodCorps State Administrator from 2016-2017, where he learned about leadership within the elementary and high schools.
"I think the key to successful programming in the schools is the personable relationships with everyone," he said.
Currently, Martin works for a non-profit in Ypsilanti called Growing Hope. Their focus is to create food access in the Ypsilanti community through gardening techniques. Similar to his work with the FoodCorps, Martin runs after-school classes for youth to learn about fruits, vegetables, and nutrition. He also does farm-to-school work, which brings local produce from farms into the school cafeteria. He manages field trips to local farms and a teen mentor program.
"There are some people who want to learn. If we can support and empower those people, they can be leaders in the community."
Martin sees food security as something that needs to be recognized among all.
"Food security is not just a local issue. It's a world-wide issue. I believe a start to solving the issue is teaching individuals where food comes from and how to appreciate it."
With these steps towards education and awareness, there is hope that the complex issues surrounding food insecurities can trend towards a positive outcome. For the UM-Flint alumni helping lead the change, it starts at home within their own communities, teaching others the importance of accessible healthy food and doing what is necessary to obtain that goal.
Contact University Communications & Marketing with comments, questions, or story ideas.