Q & A with UM-Flint Women's and Gender Studies Director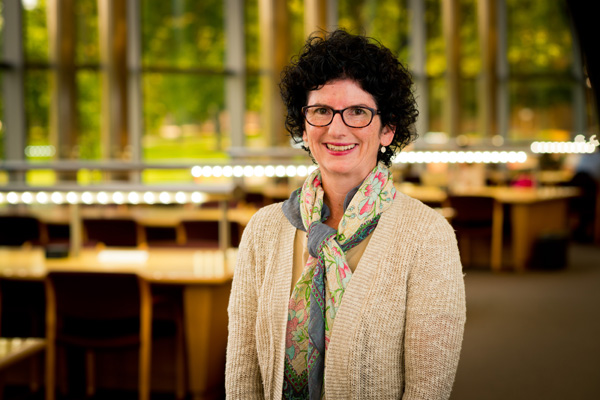 Jennifer Alvey, PhD, is the Director of the Women's and Gender Studies (WGS) Program and an associate professor of anthropology at UM-Flint. Her research centers on feminist political-economy of development and social change, with regional specialization in Latin America—especially Nicaragua. Her topical specializations relate to the spatial formation of the state, gendered-class and property relations, and social movements. Her newer research is looking closer at food systems and food justice in Michigan.
Alvey joined the University of Michigan-Flint in the early 2000s, starting as part-time and moving to a regular appointment in 2006. From her first semester, Alvey has taught Introduction to Women's Studies. She's since added courses like Sex, Work, and International Capital; "Sex and Gender in Cross-Cultural Perspective; Gender, Race, and Inequalities; and a Special Topics course that has explored contemporary human trafficking, international adoption, and the "organ trade."
Alvey's anthropology courses include Language and Culture; Cultures and People of Latin America; Medical Anthropology; and Political and Legal Anthropology. Her academic department, Sociology, Anthropology, and Criminal Justice, and the WGS Program are both part of UM-Flint's College of Arts and Sciences—the university's liberal arts and interdisciplinary foundation.
What is a common misconception about WGS that you'd like to correct?
That it's "only" about women and women's experiences. First, let's remember that women make up a little more than half the world's population, so that's a lot of people and is very significant. But more broadly, WGS courses are about gender, which is something we all have, do, and experience (i.e., whether these be masculinities, femininities, or many variations of our gendered selves).
Feminist theorizing is political (because it demands the inclusion of voices and experiences often silenced, ignored, or marginalized) and is also a highly respected, diverse/broad, and rigorous academic discipline.
[Also that] only women can be feminist…all people can be!
How do you define the field of WGS?
At its core it is an interdisciplinary field of academic study that is committed to the idea that we study the world in order to find ways to change it. It examines sex, gender, and sexuality as social and cultural constructs and power relations. It seeks to identify and explain the ways societies and cultures organize sexual/gendered identities, social relationships, and experiences. And it seeks to uncover and describe the ways these relations come to seem natural, timeless, or unchanging.
How were you involved in the field of study as a student?
As an undergraduate, I was exposed to some women's and gender studies courses and really enjoyed them. I found them interesting and challenging. They made me curious and sometimes mad (but in a good way, angry in the way that makes you want to change something). I became especially interested in anthropology partly because of this exposure. So when I began graduate school, it was my plan from the beginning that gender in a cross-cultural or comparative perspective would be a big part of the focus of my studies.
Why is the work of WGS important to you?
There are many reasons, but I would say first we all are gendered/sexed, none of us lives or stands outside of our societies' gendered social order. So, I feel WGS is empowering because we learn much more about ourselves and others.
Second, I think it is important because I fully embrace and support the mission, vision, and values of our program here AND I really enjoy the kinds of collaborations across disciplines or departments of the WGS program.
How does the WGS program operate at UM-Flint?
Housed in the College of Arts and Sciences, the WGS Program currently offers an interdisciplinary undergraduate minor (21 credits), an interdisciplinary undergraduate certificate (15 credits), and an interdisciplinary gender studies track in the Master of Arts in Social Sciences.
We have a a Program Director and a group of faculty—called the Steering Committee—that oversee the running of the program; we have a wider group of affiliated faculty who include [those] who teach cross-listed courses in our program.
We have a "stand alone" introductory course; but most of the program consists of courses that are cross-listed between WGS and one or more other disciplines.
What would you like to see happen with the WGS Program?
Like any program on campus, we are constantly learning, changing, and growing in order to meet the needs and interests of our students.
For a number of years now, it has been very clear to faculty who teach WGS courses that our students would like more classes that focus specifically on sexuality and/or LGBTQI concerns, theoretical perspectives, and activism. So, one thing I would like to do would be to create learning opportunities centered on these concerns.
Another thing is that we all know that STEM fields are very important and interesting, and some STEM fields also have a smaller number of women than men, and a smaller proportion of people of color than white people. So, I would like to finds ways for WGS to collaborate with STEM-field faculty more.
A lot of students wish for internship opportunities or opportunities to apply their learning (maybe to write a paper for a conference presentation, or to work on a community based-project). It would be great if we could find ways to support students who wish to do these things with a gendered focus.
How have the challenges facing WGS changed? What are the biggest current challenges?
Like any program, we are affected by enrollments. So finding that balance of offering enough courses, with enough variety to meet student needs and desires, but not over-scheduling courses such that some might be canceled due to low enrollments, or compete with other courses students also need, is always a challenge.
Moreover, as a smaller program, it is very challenging for us to find the resources (time, money) to do things that might attract students OR complement/enhance their learning, such as create an invited speaker series or other co-curricular activities. At the same time, although also challenging, our ability to collaborate with others across different departments and fields (including across the university with the Women's Education Center or LGBTQ Center) is one way we deal with those challenges.
What impact do you see in students who choose to take WGS courses or complete the program?
They are often unsettled at first, and our courses shift their perspective and make them question things they have long believed, but also then validates their experience and empowers them to own their experiences, and often to act in ways to make positive change.
Issues surrounding gender and equality are constantly evolving, how do you make sure WGS keeps pace?
In some ways, the fact that gender and issues of inequality constantly change is NOT a problem for WGS. Our theoretical and empirical work emphasizes and foregrounds change—so we expect it, look for it, and think a lot about it.
But, of course, as events unfold quickly it can be very challenging to figure out how to foster critical analysis of them while also processing their emotional impact.
For instance, in the last year or two, we have seen a lot of reporting on human trafficking in Michigan affecting girls and women, and students, who live in the state, are rightly worried or upset by this. Or take the case of Larry Nassar—hearing about that kind of abuse spanning a long period of time is extremely upsetting to hear about. So, our work must be very mindful about the emotional impact of our material while we also engage in rigorous analytical work.
What is something you'd like all students to know about the WGS program at UM-Flint?
The WGS minor and certificate offer broad perspectives on the worlds we live in. [They are] an excellent complement to just about any major.
[The courses] empower us to see and name that which might remain in the realm of "it's just the way it is," and find ways to understand how it got that way, and how it might be different.
Contact University Communications & Marketing with comments, questions, or story ideas.