UM-Flint's Leavy enters Greater Flint African American Sports Hall of Fame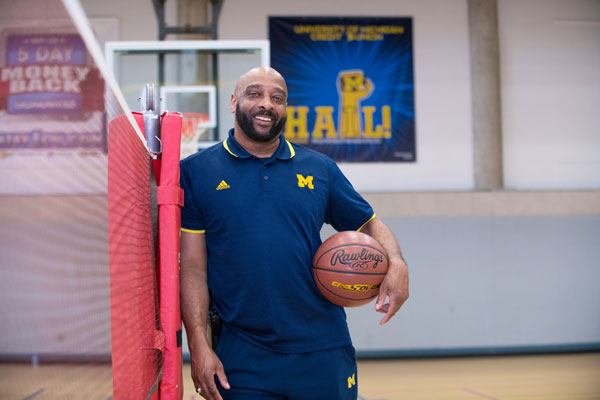 Ervin Leavy, Jr. still remembers the disappointment that came with each rejection. From sixth grade through 10th grade, Leavy failed to make the roster of his Flint school's basketball team.
And he remembers what he did with that disappointment. Leavy, assistant director of intramural sports at UM-Flint, used it as motivation to improve. He ended starring for the basketball teams at Flint Central High School and Central Michigan University, and was drafted by the Chicago Bulls in 1987.
On March 25, Leavy will be inducted into the Greater Flint African American Sports Hall of Fame at a ceremony being held at the Riverfront Center.
"For me to go from being cut five straight years, into a hall of fame, it is mind-boggling for me," Leavy said. "This is one of the biggest achievements in my life."
Leavy uses his personal story to motivate students and young people through his job at UM-Flint. For thirteen years, he has run the university-sponsored youth basketball camps.
"It is a story of perseverance," said Leavy, who is also an adjunct lecturer within Public Health and Health Sciences (PHHS).
Leavy grew up in Flint and fell in love with basketball around ten years old. He lived near a public court, and was always ready for a game.
"When I heard a ball bouncing, I was there," he said.
When he tried out for the 6th grade team, he was cut for the first time. He kept playing, and he kept missing the cut.
"I just kept working on the fundamentals, seven days a week. I wanted to play so badly."
He made the junior varsity team as a high school junior, and was a starter for the varsity team as a senior. In the Class "A" state championship game, Leavy scored 21 points as his team won the title.
Leavy starred at Mott Community College next, and continued to develop his game. At Central Michigan University, he played with future NBA star Dan Majerle. The duo were known as "Thunder and Lighting" with Leavy, a shooting guard, the "lightning."
"That experience helped me today. The demands and the pressure and the big stage. It taught me you have to be prepared. That is when you are going to do your best."
Leavy was burned out from basketball after college and didn't want to continue playing. But the Chicago Bulls had another idea. They drafted him in the seventh round.
"It's a surreal feeling when something like that happens and you are not expecting it," he said.
Leavy went to camp with a shot to make the team, and played with legends Michael Jordan and Scottie Pippen.
"The speed of the game is so fast. Everyone is so good," Leavy said.
Leavy, on a non-guaranteed contract, didn't make the final roster, but he felt like he belonged.
And the experience remains with him today, as he works with university students and Flint youth.
"I share stories of things I have gone through," he said. "I had to work my way to where I am right now."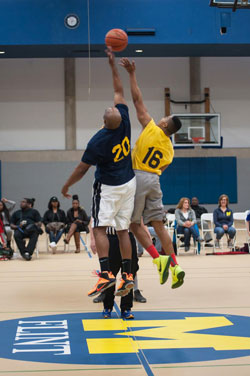 Leavy has worked at the University of Michigan-Flint Recreational Center since 2002. He earned his master's degree in educational technology from UM-Flint in 2011. He also teaches a physical fitness class through PHHS.
"UM-Flint has been by far the best work experience of my life," he said. "The diversity of people I get to meet, the opportunity to work with students, and make a difference, the whole package is the best."
Theresa Landis, director of recreational services at UM-Flint, said Leavy brings a thoughtful approach to his job at the university.
"Participation in sports helped to mold the person that Ervin Leavy is today. He is a kind, focused, achievement-oriented individual who takes pride in his work and family," Landis said. "He passes his leadership qualities onto the youth that he mentors through role-modeling and positive communication. Ervin is very deserving of the induction into the Greater Flint African American Sports Hall of Fame. The Rec Center staff is very proud of him."
Contact University Communications & Marketing with comments, questions, or story ideas.