UM-Flint remembers librarian Vanessa Prygoski
At a memorial service March 6, the university celebrated the life of librarian Vanessa Prygoski.
Prygoski, also known as Vanessa (Vanni) Emma Goldman, passed away earlier this year. Scores of faculty, staff, and students from across the university gathered at the service, held at the Frances Willson Thompson Library. They were joined by other friends and loved ones of Prygoski.
Prygoski started her career at the library in 2000. She taught information literacy classes across campus, and was a senior associate librarian.
She was very involved with the Ellen Bommarito LGBTQ Center, the Women's and Gender Studies Program, and the Women's Commission. She was a former chair of UM-Flint's Faculty Council.
Prygoski embraced women's sports, music, and social justice activism, among other interests. She wrote a book about the Detroit Shock women's basketball team, and blogged about the Flint City Riveters women's football team.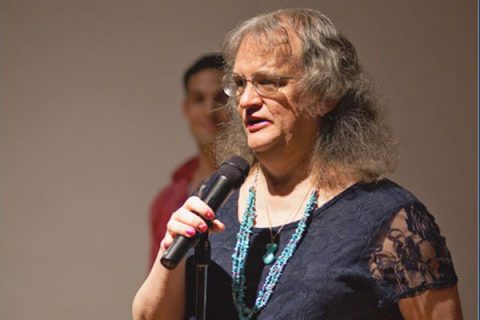 "In every facet of her life, we were learning from her," said Sandra Alberto, coordinator for the university's Thompson Center for Learning & Teaching, who worked with Prygoski on the Women's Commission.
At the ceremony, Alberto celebrated Vanessa's humor, patience, bravery, passion, and enthusiasm for life.
"I am better for having known her, and I think that is what life is really all about: for us to take the time to learn from each other, learn about each other, and find ways to help each other be better and do better. I will miss her," Alberto said.
Those gathered remembered Prygoski's kindness, openness, and thoughtful attitude towards others, and how she inspired others with her pride in the university.
"She loved her profession. She loved working for the university. Her enthusiasm was contagious," said Mickey Doyle, the library's assistant director. "She was always reminding us how awesome it is to have this job, and to work at the university, and what opportunities we have to help others."
Doyle said the ceremony and stories shared highlighted the influence Prygoski continues to have.
"Seeing how she affected so many people across campus, across units, across disciplines, it was really special. The theme of kindness and gentleness throughout the ceremony was true to who she was all the time."
The Vanessa Goldman Scholarship Fund, named in honor of her, has been established. When fully funded, it will benefit students with financial need who have demonstrated involvement with the Ellen Bommarito LGBTQ Center at University of Michigan-Flint. Gifts of any size are welcome in building the fund to its goal of $10,000. Gifts may be sent to the Development Office with "Goldman Endowment" designated on the memo line of the check.
Contact University Communications & Marketing with comments, questions, or story ideas.