UM-Flint volunteers honor Dr. King's legacy with 'day of service'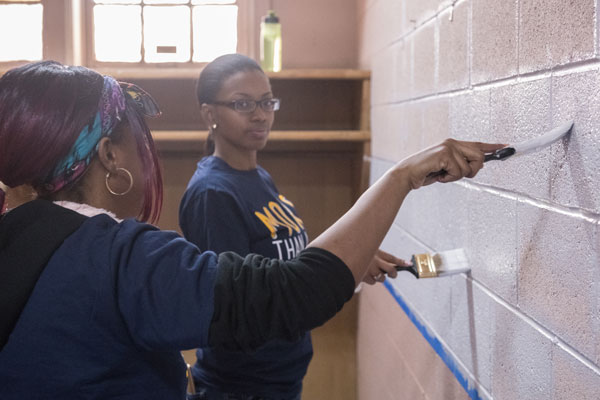 The group of UM-Flint volunteers spread out throughout the facilities of The Sylvester Broome Empowerment Village Monday and went to work. Alongside community members, they moved out old tables, computers, and other equipment at the agency which offers after-school education to area children. They painted rooms. They cleaned. And they built further connections between the university and overall community.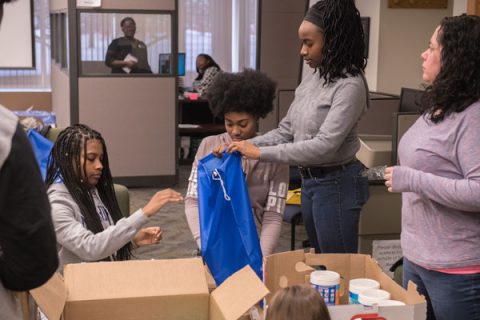 Similar scenes played out throughout the area Monday, as scores of UM-Flint volunteers honored the legacy of Dr. Martin Luther King, Jr. with a day of service.
UM-Flint nursing student Anna Maria Genovesi worked at the Broome Empowerment Village on MLK Day 2018. She frequently participates in various University Outreach service events.
"You really see the positivity in Flint," said Genovesi. "You see the positive steps and you can be part of that change."
UM-Flint students, staff, alumni, and faculty worked with numerous community groups Monday, including Crossover Downtown Outreach Ministry, Boys and Girls Club of Greater Flint, Genesee County Habitat for Humanity, Joy Tabernacle, King Karate, My Brother's Keeper, Carriage Town Ministries, United Way of Genesee County, Ele's Place, and YWCA of Greater Flint.  A group of students from Grand Blanc High School also participated with the university-led efforts.
The day of service kicked off with a volunteer breakfast. Rev. Dan Scheid of St. Paul's Episcopal Church in Flint delivered the opening address, and encouraged volunteers to learn and listen to the various agencies.  The university, he said,  is positioned within the "intersection of poverty and prosperity."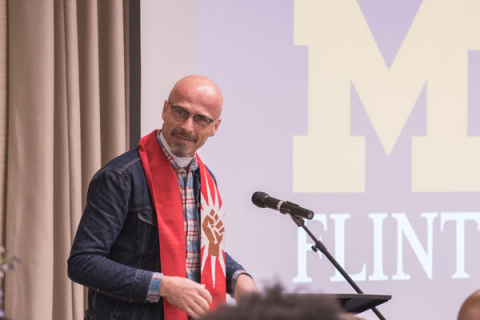 "Witness the challenges of the community," Scheid said.
Organizers said the day helped introduce new relationships, build on existing ones, and served as an impetus to creating new community connections.
UM-Flint student Ebony Harden agreed with this emphasis. She spent Monday morning painting at Joy Tabernacle, as part of a spruce up of the children's area of the church. Harden, a senior studying healthcare administration, said the university's focus aligns with the spirit and message of Dr. King.
"It is one day, but is more than a day. It is year-round. Reach out to people every day."
Contact University Communications & Marketing with comments, questions, or story ideas.