UM-Flint's new video production studio enhances online learning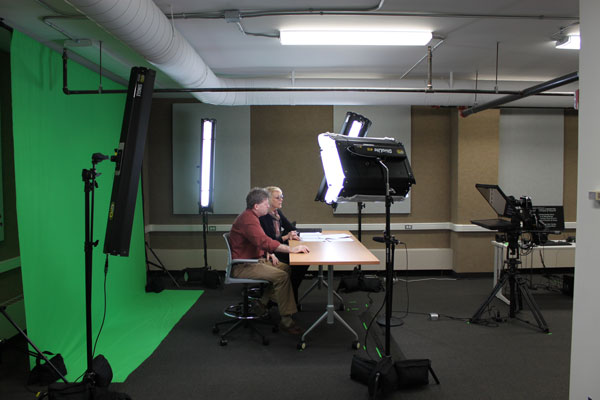 UM-Flint's Office of Extended Learning has opened a new video production studio. It was created to help faculty enrich their online courses.
The studio is located on the 11th floor of the Northbank Center. Crews from the university's Information Technology Services, Engineering Department and Facilities and Operations renovated an old locker room into the new professional space. The sound-proof studio features a 10-foot wide green screen and an 8-foot wide lightboard, which is "an internally illuminated sheet of glass that instructors can write highly visible notes and illustrations on," said Nick Gaspar, OEL's technology manager.
"The main benefit of creating this kind of media will be the increase in instructor presence that students feel. The instructor can exist visually in courses side-by-side with their text-based lecture notes and assignments, adding a human element to the course," Gaspar said. "When high production is paired with well-planned instruction, students can be motivated to engage more with the course material, the instructor, and other students."
OEL has been providing green screens and other video production services to faculty for years. The new studio provides a permanent space.
"We can produce more content since video production no longer requires any setup time, and the space is not used for other things, which means higher availability," Gaspar said. "With more robust and professional multimedia being produced we know that we are adding legitimacy to our online courses and helping faculty connect more with students."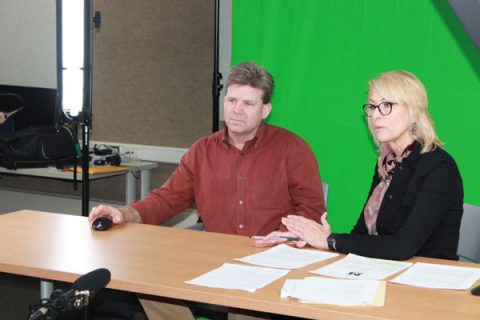 The studio also features a bigger and easier-to-read teleprompter, high-resolution cameras, and precision microphones.
Brandon Blinkenberg, an instructional designer with OEL, said the lightboard offers many benefits to faculty.
"We developed and constructed the lightboard primarily to remove some of the obstacles associated with teaching STEM courses online. It is an internally illuminated piece of glass that allows faculty, who would normally rely on a white board to teach, to write directly in front of a camera while never breaking focus with the viewer," Blinkenberg said.
"For example, it's now easier than ever for a faculty member in the math department to record an entire lecture that would normally only be available to in-class students and make it available to any student in the online environment," he said. "With this technology, their equations would float in front of them while they work through the content."
Constance Creech, an associate professor of nursing and director of graduate nursing programs, recently created a video in the studio with co-instructor Jeff Drake, an adjunct lecturer in nursing and OEL instructional designer. The video was produced for a nursing education course.
"It is easy and fun to use for faculty," Creech said about the studio. "Everybody should use it and it is a best practice for online education. Creating a more vibrant instructor presence is possible with this technology. The connection with students is strengthened and a community of learners is easier to establish when students are able see the faculty in action."
Contact University Communications & Marketing with comments, questions, or story ideas.