UM-Flint invites public to free skating, food, and activities for opening of ice rink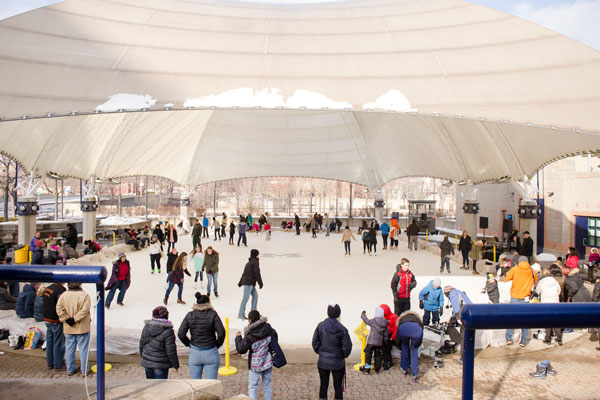 The University of Michigan-Flint Ice Rink is kicking off its third season downtown with a season-opening celebration this Saturday, December 9, from noon to 4 p.m. The public is welcome and encouraged to attend the free festivities.
"The season opening of the ice rink is a great opportunity to bring our campus and the community together," said Michelle Rosynsky, senior director of Student Involvement and Leadership at UM-Flint.
The event will offer a variety of fun options for attendees, including an open skate, music, free food, giveaways, and other activities. Crystal Skating Academy will also offer free skating lessons and ice activities as part of the season opening festivities.
This is sure to be a festive and family-fun focused atmosphere," said Rosynsky. "We encourage everyone to come down and celebrate the new ice rink season with us."
Although free skate rentals will be available, attendees are encouraged to bring their own skates if they have them due to limited quantities.
Saturday's event also offers the opportunity for the public to help support UM-Flint's annual student-led Holiday Food Drive benefiting the Food Bank of Eastern Michigan. All attendees are encouraged to bring non-perishable food items and those who do will receive free U-M swag as a thank you.
"Saturday's opening event is truly reflective of UM-Flint's commitment to enhanced campus activity and community placemaking and it's a great way to enjoy the beautiful Michigan weather is by being physically active outdoors," said Theresa Landis, director of recreational services at UM-Flint.
"We're looking forward to another fun and exciting year of skating and hopes that the community joins us all season."
The University of Michigan-Flint reopened the downtown Flint ice rink in 2015. The rink originally opened in 1985 as part of the Water Street Pavilion. It closed before the university announced in 1990 that it would take ownership of the building, which is now the University Pavilion.
The ice rink will offer community open skates through March 4, 2018, weather permitting. This season's open skates schedule includes Saturdays and Sundays from noon to 4 p.m., Wednesdays from 6 to 9 p.m., and Fridays from 5 to 8 p.m. Please call 810-762-3441 to confirm the rink status and availability. Skate rental will also be available for $3 throughout the rest of the season.
Contact University Communications & Marketing with comments, questions, or story ideas.