UM-Flint Chancellor wins award for advancing quality of student life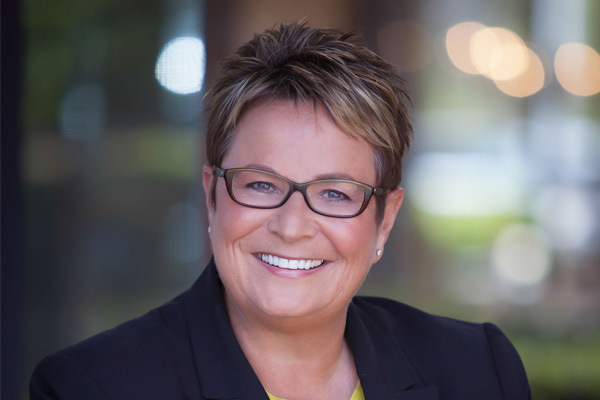 University of Michigan-Flint Chancellor Susan E. Borrego is the recipient of the 2017 National Association of Student Personnel Administrators (NASPA) Region IV-East President's Award, a special recognition given to a college or university president who has, over a sustained period of time, advanced the quality of student life on campus by supporting student affairs staff and programs.
"NASPA IV-E is honored to present Chancellor Borrego with the 2017 President's Award," said Julie Payne-Kirchmeier, associate vice president and chief of staff for the Division of Student Affairs at Northwestern University. "It is clear that Chancellor Borrego has dedicated her career to creating systems that allow students to succeed."
"She has positively impacted students, institutions, and the student affairs profession itself over the course of her career," added Payne-Kirchmeier, who also serves as the regional director for NASPA's Region IV-East.
Award recipients must show evidence of direct involvement in enhancing the quality of student life on campus, active attempts to involve students and student life staff in governing the institution, and demonstrable contributions to the profession which have an impact beyond an individual campus.
Since becoming UM-Flint's seventh chancellor in 2014, Borrego has demonstrated a fierce commitment to student success and academic excellence, navigated through a public health emergency in the Flint water crisis, reestablished the institution as a key community partner, and set a bold plan for the future of the university.
"Throughout her career, and as the current chancellor at the University of Michigan-Flint, Dr. Borrego has been a change maker and an advocate for first generation students," said Patricia A. Whitely, vice president for student affairs at the University of Miami in her letter of support for Borrego's nomination. "She has been a leader in higher education for the last 20 years and has had a distinguished career for over 35 years."
"She is most deserving of this recognition as a president who consistently leads with the heart and is a terrific role model."
Menusha Arumugam, president of UM-Flint's Student Government for 2016-17, echoed these sentiments.
"Borrego demonstrates her care for and commitment to students by always working on creating a transparent and respectful relationship between students and administrators," Arumugam said. "She understands the importance of having open communication and listening to students of diverse backgrounds, while empowering the student body by praising and supporting our initiatives."
NASPA is the leading association for the advancement, health, and sustainability of student life on campus through their support of student affairs staff and programs. The award was presented at NASPA's 2017 Region IV-East Regional Conference in Detroit, MI.
Contact University Communications & Marketing with comments, questions, or story ideas.