UM-Flint cemetery preservation class protects history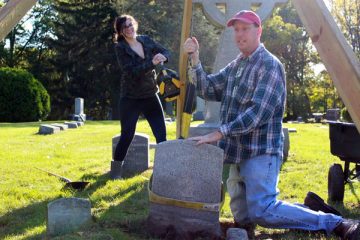 Four UM-Flint students and their professor dig their feet into the ground and lift more than 400 pounds of granite into the air.
The group pulls a three-foot high 19th century cemetery stone out of the ground with the help a wooden tripod, vinyl straps, and a winch.  Professor Thomas Henthorn, the Wyatt Endowed Professor of Public History at UM-Flint, leads his students in the work for his new class in cemetery preservation.
The class examines what cemeteries can share about immigration patterns, architecture, changing societal mindsets about death and mourning, and more, Henthorn said. And students are doing some heavy lifting too, by repairing, righting, and cleaning several gravestones and markers at Old Calvary Catholic Cemetery, which runs through both Flint and Flint Township.
The cemetery dates back to 1847, Henthorn said, and is run by the Catholic Diocese of Lansing. One can trace immigration patterns through the stones, including Catholics from Ireland, Germany, and Eastern Europe. Stones include granite, marble, brownstone, wrought iron, white bronze, and sandstone.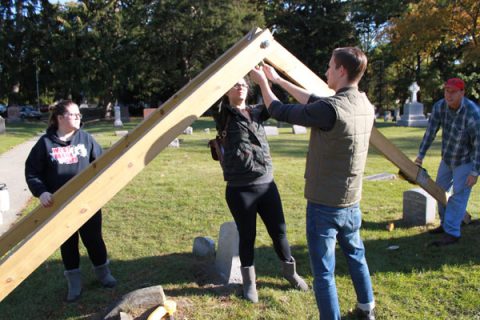 "It helps us engage and think about the past in a different way," said Henthorn. "We are learning from the material culture that is out here. The students are learning about the stones and geology. But these stones are also a primary source of information. This type of research lends itself to other types of historical inquiry and preservation."
This class is helping to preserve eight stones belonging to the Coggins family. This includes cleaning off air pollution, algae, and other wear and tear with special soaps, leveling stones that have sunk or shifted, and repairing cracks. The group documents everything about the stone first, according to State of Michigan guidelines.
"We are not just making them nice. We are trying to prepare and protect them for decades down the road," Henthorn said.
On a recent morning, the students and professor lifted the granite stone with mettle and might, along with plenty of equipment. Vinyl straps—attached to a winch on a wooden tripod—were wrapped around a sound part of the stone. The students softened the soil around the stone with shovels, then lifted up the straps with a hand crank on the winch.
About one half of the stone had been under ground. The group rinsed the memorial with water, then used the gentle soap and a scrub to clean the inscription. This particular stone is for M.B. Coggins, who died August 8, 1880.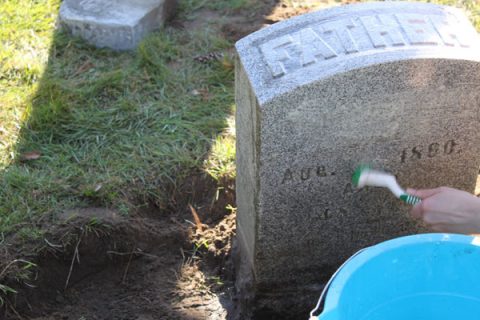 When the work is done, the stone's appearance is markedly improved, with the inscription much easier to read. The stone now stands level in the ground.
"I love using the tools involved," said Erika Booms, a history student taking the class. "Something like this, which is civic engagement and hands-on work, is really cool because anytime you can do a practical application of something you learn in class, it makes it more real, and you can see more of the real impact you can have as a history major."
Student Tim Riley said he found himself hesitant to enter cemeteries before taking this class. But now, he notices the differences in architecture, stone symbols, and layout, and knows there is a story behind everything. Riley spent three decades working in construction, before retiring and coming to UM-Flint to study history.
"It is an interesting place," he said. "I am so glad this class exists."
The course is an extension of work done by Henthorn at the cemetery for the past three years, including genealogical research, and starting a UM-Flint internship program at the cemetery. Students have spent the past two summers preserving and repairing stones and markers at Old Cavalry.
"They have done a huge amount of work already," said Father Tom Firestone, pastor of the Catholic Community of Flint. This group of four Catholic churches includes St. John Vianney, of which Henthorn is a parishioner.
"They found old sections (within the cemetery) with Irish immigrants that had been missed," he said, due to the stones being overgrown.
Between the class and internships, students have cleaned about 120 stones so far.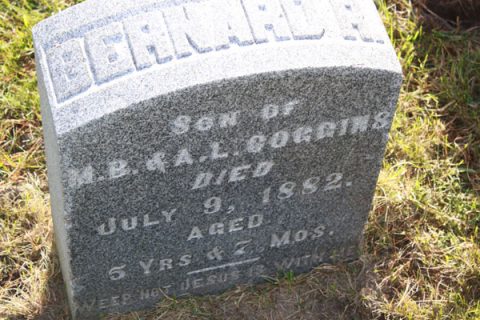 Henthorn has received financial support from the church, parishioners, and the university's Wyatt Endowment for the cemetery work.
For the preservation class, Firestone connected Henthorn with fellow parishioner Anthony Coggins, who has several ancestors interred at the cemetery. The students are working on the stones of his direct and extended family. Coggins is a UM-Flint alumnus and a social studies and English teacher at Holly High School. He will speak to the class later this semester about his own research into his family and their stones at the cemetery.
"The work they are doing is immeasurable because they are protecting memorials for families and preserving heritage," Coggins said. "I am big into preserving memorials so future generations can learn from what we have done."
In upcoming weeks, the class will visit other area cemeteries to compare them with the Old Cavalry site. Students will conduct genealogical research on specific stones and explore how historians use digital technology.
"As a final project, students will take all of their experiences in field work, documenting, preservation, and research to create an interpretive tour of local cemeteries that will be shared as a series of Instagram posts," Henthorn said.
Austin Roberts, a student in the class, said it felt good to contribute something tangible to the community and to families.
"I think this class is fantastic. It is nice to see these stones, which are really beat up and dirty, and it is nice to see the change we give them," Roberts said. "And it is fun to think what the family may have been like over time. I think this class is a great opportunity. It turned out to be really enlightening."
Robert is a staff writer in University Communications & Marketing. Contact him with comments, questions, and story ideas.