Q&A: UM-Flint Respiratory Therapy Program Manager Nicholas Prush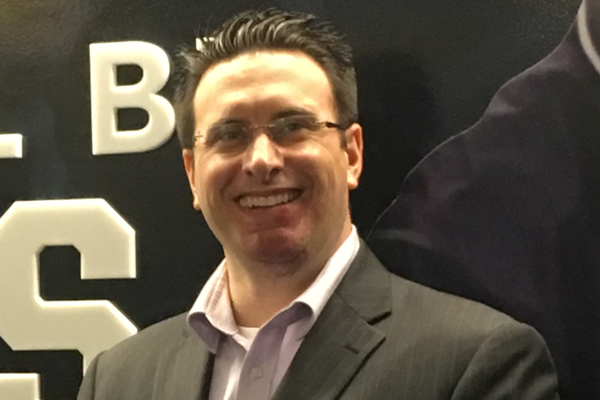 Nicholas Prush joined UM-Flint this month and will manage the new respiratory therapy degree program at the university. Prush, a clinical assistant professor, discussed the new program, his background, his early impressions of the university, and more in this Q&A with University Relations.
What intrigued you about this position and the new respiratory therapy program at University of Michigan-Flint?
I began my career as a respiratory therapist at the University of Michigan Health System (now known as Michigan Medicine) and have always been an advocate for the University of Michigan. I was intrigued by the ability to not only work for the University of Michigan-Flint but also have the ability to manage a Bachelor of Science degree program to promote the profession of Respiratory Therapy. The State of Michigan has needed to have a program like this for many years and to be given the opportunity is a blessing, and I am humbled.
What are your early impressions of the university?
The University of Michigan-Flint campus is incredible. Throughout my time here, I have taken the opportunity to walk around the campus and it is a wonderful place. I am impressed with the teamwork of everyone across campus. The willingness to help and make me feel welcome has truly been an amazing feeling.
What would you like to share with the university community about your professional and personal background, and about joining the community?
I am a husband of nearly ten years to Angela Prush. We have been blessed with four children (Alexa 7, Ella 6, Nicholas II 3, and Alexander 6 months). As a family we enjoy camping, boating, and spending time together! When able, I enjoy golfing and watching football. I am a die-hard Detroit Lions (unfortunately) and Michigan Wolverine fan!!
I have been a respiratory therapist for 15 years and my career began at the University of Michigan Health System as a respiratory therapy technician (while I was a student). I graduated from Henry Ford Community College with an AAS in 2003 and accepted a full-time position at University of Michigan Health System as a registered respiratory therapist (RRT). Later in my career I worked at Beaumont Royal Oak and Henry Ford Wyandotte Hospital. I was given an opportunity to create a respiratory therapy department from the ground up when Henry Ford West Bloomfield was being constructed.
I began teaching at Oakland Community College with their Respiratory Therapy Program as an Adjunct Professor. As time went on, I was then teaching as an adjunct with Monroe County Community College. The director of clinical education (DCE) position opened due to a retirement and I was offered the position which I gladly accepted. I was the DCE for four years when the Program Director retired and I was able to take over this position for the previous two years. Now I find myself at the University of Michigan-Flint to begin a bachelor of science in respiratory therapy (BSRT) program and I could not be more excited! I look forward to the opportunity in working throughout the community.
For students considering respiratory therapy careers, what should they know about this new program at the university, and about the industry as a whole?
The University of Michigan-Flint BSRT program is a degree completion program designed for individuals who have graduated from a CoARC accredited institution with an associate's degree. Students must be a registered respiratory therapist (RRT) in order to be eligible for admission into our program. This unique program will be done completely online with the exception of our 40-hour advanced clinical practicums. The program is self-paced for the working RRT and will be used to enhance credentialing of students who are willing to gain added credentials.
The industry is the best I have seen in nearly ten to 15 years due to the demand of RRTs across the nation. The job outlook is excellent and the career is rewarding! The American Association for Respiratory Care (AARC) is supportive of the degree advancement to baccalaureate and master's degrees. The AARC says, "the profession has experienced a growth in scope and complexity of clinical skills leading to the demand for RRTs who are not only technically competent but also skillful in communication, deductive reasoning, management, health policy, and education." The program at the University of Michigan-Flint will provide students an ability to gain each of these skills.
Contact University Communications & Marketing with comments, questions, or story ideas.