UM-Flint Launching New Doctoral Program in Nurse Anesthesia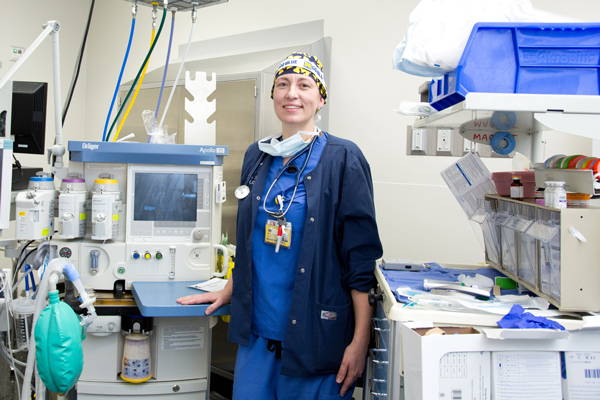 An exciting new doctoral program is coming to the University of Michigan-Flint. Approved by the Board of Regents on July 20, the new Doctor of Nurse Anesthesia Practice (DNAP) degree is slated to start in the fall of 2018, replacing the existing Master of Science in Anesthesia program.
The university expects to get final, formal approval in October from the Michigan Association of State Universities. The program also has applied for accreditation by the Council on Accreditation of Nurse Anesthesia Educational Programs, and is pending review and approval.
As part of UM-Flint's School of Health Professions and Studies (SHPS), the DNAP will be a three-year program, but is designed to allow students to continue in their nursing job for the first year.
"Advancing the nurse anesthetist program from the master's to doctoral level will provide more educational time with students, ensuring they are well educated in contemporary anesthesia practice," said Dr. Donna Fry, Dean of the School of Health Professions and Studies.
UM-Flint's anesthesia program, working in partnership with Hurley Medical Center, is already an educational leader and innovator in the field. The university opened the state of Michigan's first fully accredited clinical doctorate nurse anesthesia completion program in 2011, and awarded the state's first Doctor of Anesthesia Practice (DrAP) degrees in 2013.
This existing doctorate is for professionals who are already certified registered nurse anesthetists, but who want to advance their skillsets and prepare for expanded leadership roles and teaching careers. There is also an option for students to earn this degree in conjunction with the Master of Business Administration for those interested in leadership roles within business or health care administration.
"Besides making them excellent clinical practitioners, we are preparing students to embrace broader roles within health care," said Dr. Shawn Fryzel, the anesthesia program director at UM-Flint.
UM-Flint will accept about 20 to 25 new students to join the program every academic year, said Fryzel. They are required to be nurses with at least a bachelor's degree and clinical experience.
The new DNAP degree will train students to become certified registered nurse anesthetists, pending a national certification exam, and will include offer a wide range of related healthcare education and training including health policy, teaching, research, and finance.
Contact University Communications & Marketing with comments, questions, or story ideas.