UM-Flint Student Awarded Newman Civic Fellowship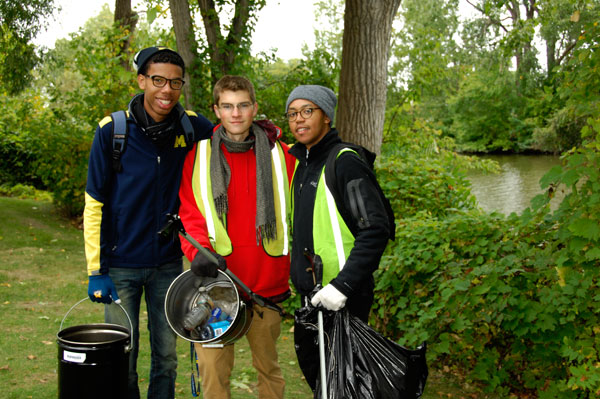 UM-Flint student Zachary Hayes has spent his college career devoted to social change. His efforts have led him to receiving a Newman Civic Fellowship for the upcoming academic year.
The one-year fellowship is awarded by Campus Compact, which is a national higher education association focused on campus-based civic engagement.
"These students represent the next generation of public problem solvers and civic leaders," Campus Compact explains about Newman Civic Fellows.
The fellowship included a bevy of benefits, including national mentoring and networking opportunities, skills development focused on social change, a scholarship, and other training.
Hayes joined UM-Flint in September 2014. He is pursuing a bachelor's degree in energy and sustainable systems, with a minor in city and regional planning.
UM-Flint Chancellor Susan E. Borrego nominated Hayes for the fellowship.
"During a difficult time for the city of Flint, Zach has been a committed and dedicated student whose work has been instrumental in the efforts to rebuild the community," Chancellor Borrego said.
Hayes said he embraces taking on the responsibility of the fellowship.
"This fellowship will allow me to not only learn better leadership skills but empower me to teach others skills I've learned as well," Hayes said.
Hayes helped reinstate the Future Urban and Environmental Leaders (FUEL) student club at UM-Flint in 2014. Since then, the group has been instrumental in several sustainability and green initiatives on campus and the community, including Flint River cleanups, College Town Recycling Challenges, and campus awareness about zero-waste efforts on campus. Hayes is currently president of FUEL.
In March of 2016, Hayes played a key role in starting a campus chapter of the Food Recovery Network. The group takes food leftover from UM-Flint dining services and provides it to area churches and agencies, who then serve it those within the community in need. The campus group works with the university to ensure that the food is handled according to safety guidelines.
"That is the most rewarding part – not simply saving the food – but also getting to see it go to grateful recipients," said Hayes, who is president of the campus chapter.
Hayes has been active in several other university community outreach projects, including Alternative Spring Break and Service Saturdays.
Hayes's mentor for the fellowship scholarship is Dr. Greg Rybarczyk, an associate professor within the university's Geography, Planning and Environment Department. For his off-campus research work through the Honors Program, Hayes is currently in Germany at University of Wuppertal working with Dr. Rybarczyk on a project. He will remain there until July as he researches the factors that determine bicyclist stress."
Hayes said the university encourages and provides multiple ways for students to get involved and to utilize their talents to positively impact the community, including through coursework.
He added he is "very honored" to be a Newman Civic Fellow, and will utilize this to further contribute to campus efforts.
"There is an atmosphere at UM-Flint that promotes community service and that sentiment is continuing to grow," he said.
Contact University Communications & Marketing with comments, questions, or story ideas.