UM-Flint Professor Leads Health Care Trip to Cambodia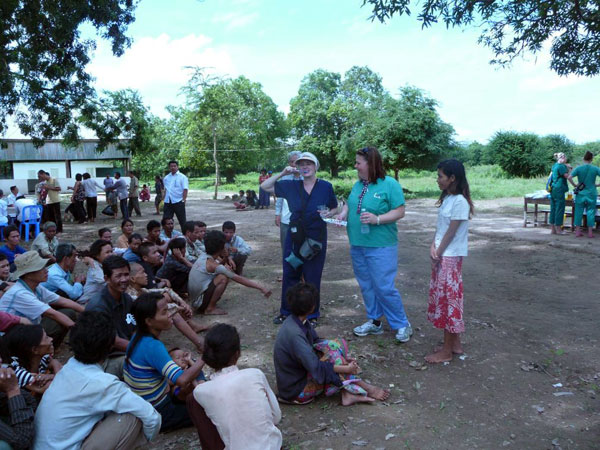 Maureen Tippen, a clinical assistant professor of nursing at UM-Flint, will lead a volunteer service trip to Cambodia this month. This is the fifth time in the past decade Tippen has organized a trip through the university to Cambodia to assist  orphanages, clinics, villages and remote areas. But this venture will bring a different mix of participants.
In the past, the trips were service learning oriented and comprised largely of nursing students. This year's trip will include several alumni in healthcare fields. The volunteers will provide much needed health care to area residents, including children.
"There is an increase in empathy when working with people from a different culture, because they have experienced themselves as being the person from another culture when they are on the trip, " Tippen said.
This year's group leaves May 7 for two weeks. The nurses will also help teach students at a Cambodian nursing school, Tippen said. They will teach first aid, certify Cambodian health care providers in CPR, provide information in hygiene such as hand washing teeth brushing and lice prevention, treat colds, skin infections, malnutrition, and more.
There are twelve people going this year, including six alumni who are professionals in either nursing or radiology. There are also two undergraduate students, two graduate students, Tippen, and UM-Flint clinical assistant professor of nursing Margaret Murray-Wright.
Tippen said the trip was inspired by a healthy dose of interest from alumni who wanted to participate again, or who didn't get the chance to travel with the group as a student. The group has been collecting items to provide residents, including toothbrushes, toothpaste, and over the counter medications.
Bonnie Durbin, a Michigan Medicine radiation therapist, first took the trip nine years ago as a UM-Flint student.
"I've been wanting to go back ever since," she said. "I decided it was a point of now or never."
Durbin said the first trip was "incredibly humbling." She credited Tippen for providing this opportunity for UM-Flint students. The trip helps students go outside their comfort zones, she said.
"I think it can really change your perspective and can make you more caring and understanding," she said.
Alexandra Zdenek graduated from UM-Flint in 2010 with her bachelor's degree in nursing. She works at Michigan Medicine in adult orthopedics and trauma. It will be her first trip to Cambodia.
"I think it will provide me with a great learning experience and provide me with an opportunity to see what healthcare is like in different areas of the world. I decided to take the trip for the experience," Zdenek said. "I have friends and family that have attended the trip before and they have told me it was life changing and I am ready to experience something like that."
Contact University Communications & Marketing with comments, questions, or story ideas.