UM-Flint Students Say Hail Yeah! to Alumni Support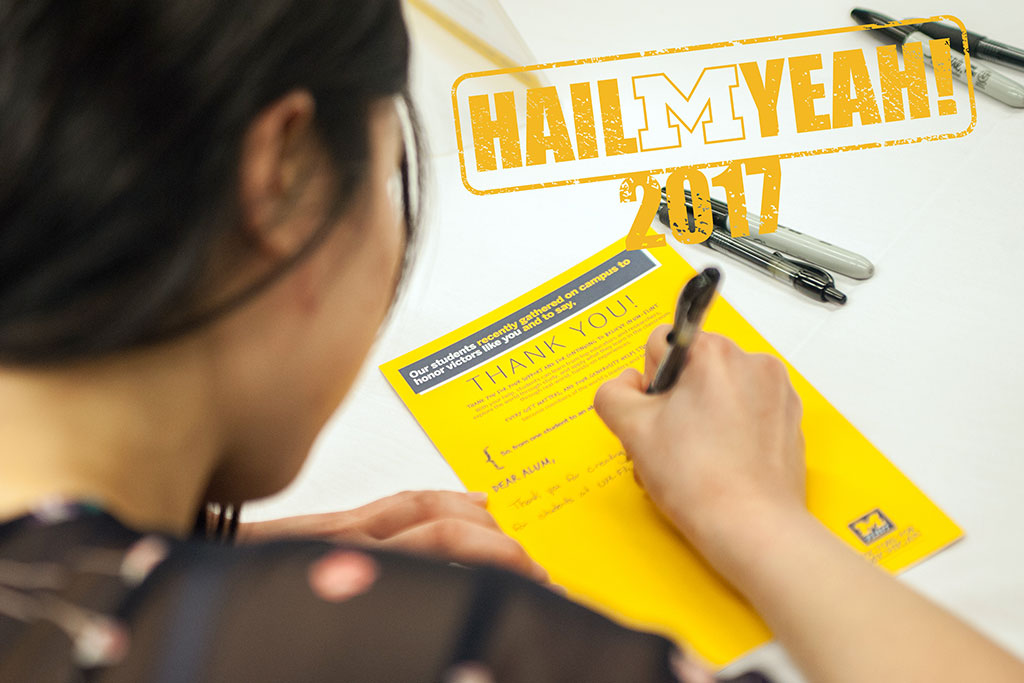 On March 15, the University of Michigan-Flint will once again participate in Hail Yeah!, a university-wide day of thanks where students from all three University of Michigan campuses join together to thank alumni for their support.
Hail Yeah! is a chance for students to learn what alumni mean to the university, and what their ongoing support does for our campus.
Gifts from alumni fund scholarships, research, study abroad, book awards, civic engagement activities, special programs, and our departments and centers.
It's also a chance for some free pizza.
The highlight of the event will be a Hail Yeah! Pizza Party from noon until 2:00 p.m. in Clint's Café in the University Center (UCEN). In addition to the free pizza and drinks there will also be giveaways. The first 300 students who participate will also receive a free Hail Yeah! t-shirt.
Students can also sign postcards and personalize messages of thanks to university alumni who have contributed to scholarships and other funds benefitting our fellow students.
"When alumni choose to give to UM-Flint, it demonstrates a proud commitment to our campus and a firm belief in the power of a Michigan education to change lives," said Kristin Lindsey, Vice Chancellor for University Advancement. "Our students know the value of these gifts and the impact this support has on their everyday lives. This is an opportunity for all of us to say thank you for your support. Thank you for believing in us. Thank you for continuing to help us on our path to a University of Michigan-Flint education."
Do we appreciate our UM-Flint alumni? Do we want to say thanks and make our parents proud? Hail Yeah!, we do.
Contact University Communications & Marketing with comments, questions, or story ideas.