Author Christopher Paul Curtis Challenges Flint Students to Write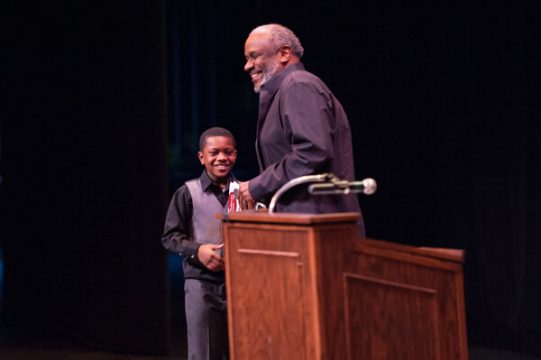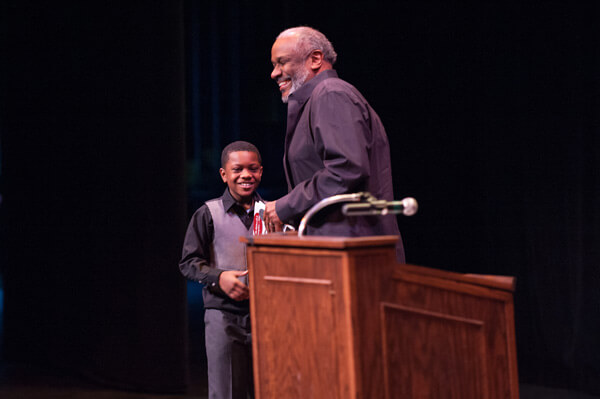 Speaking to more than 400 fourth grade students from eight Flint elementary schools Wednesday at the University of Michigan-Flint Theatre,  award-winning children's author and UM-Flint alumnus Christopher Paul Curtis told them, "You don't have to be a genius to write books."
While engaging his attentive audience in a charismatic talk sprinkled with stories of his experiences living in Flint, Curtis shared how working a hard job at the General Motors factory for 13 years inspired him to attempt a dream he had always had— to write a book with authentic-sounding characters that young minority children could relate to, and to do so in a way that brought excitement to readers.
"I became an author through practice," he said, encouraging students to do the same as they approached their personal essay-writing challenge that is the hallmark of his annual Writing Adventure program with UM-Flint's School of Education and Human Services.
During his childhood Curtis did not like to read books or write, but when he graduated high school and started writing during breaks from his Flint factory job, he found joy in writing. Soon he was practicing his writing every day. He worked some odd jobs and eventually took a year off, going to the library every day to write his first book, The Watsons Go to Birmingham-1963.
Curtis encouraged the elementary students to get a library card at the Flint Public Library and to read a lot on their own. He emphasized that they can learn anything by reading and that, by writing every day, they can learn to express themselves. Writing in a journal or discovering family history and writing about it are simple ways they can start to develop that habit.
The kids were energized by the author's explanations about how he skillfully wove many of his personal, often humorous, experiences into the pages of his books. Bud, Not Buddy is another favorite set in Flint and also a Newbery Medal winner.
"You never know where your dreams might take you," he told the group. "I never dreamed I'd come back to UM-Flint to talk to students about a book I've written."
In its eighth year, the Christopher Paul Curtis Writing Adventure at UM-Flint offers fourth graders an opportunity to write an essay and to have that essay evaluated by their school leaders and by Curtis. In May, UM-Flint hosts a celebration event with Curtis to honor the finalists and essay winners along with their families.
Contact University Communications & Marketing with comments, questions, or story ideas.