UM-Flint English Language Program Hosts Brazilian Medical Students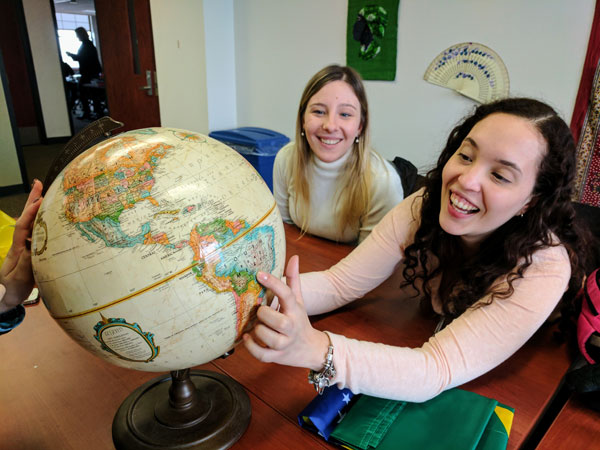 The journey from Brazil to University of Michigan-Flint started with a Facebook posting.
Vanessa Castro, a medical student at Faculdade Santa Marcelina in São Paolo, noticed the promotion for UM-Flint's short-term English language program for health care professionals while surfing the web late last year. Castro had already started hosting medical seminars in Brazil, but wanted to expand her reach by improving her English language skills. She and two classmates took the leap and came to UM-Flint this month for an intensive three-week program that wraps up January 26.
Castro said the visit was well worth it thanks to the professional and flexible approach by UM-Flint's English Language Program (ELP) staff, who run the short-term programs.
"The program is so personal, so focused, and Katie (English Language Instructor Katie Colpaert, who organized and ran the initiative, along with Julie Coe, who leads the ELP) organizes everything in the way that is best for us, for each of us. We have our strong points and weak points and she is working to individualizing it," Castro said.
"She is challenging us. She goes out and arranges all these meetings. We are getting to know all these people and they are being so nice to us and really trying to make the program go on," Castro said. "We see the effort and that is why this is working. People here are committed to our success, and we are really enjoying it."
The university's English Language Program division offers a range of 2- to 7-week programs that are customized, based on the students and their needs.
The program allows international students the chance to gain valuable language skills to use in their professions in a short amount of time. Students learn about American culture, university life, and receive personal instruction from UM-Flint professionals.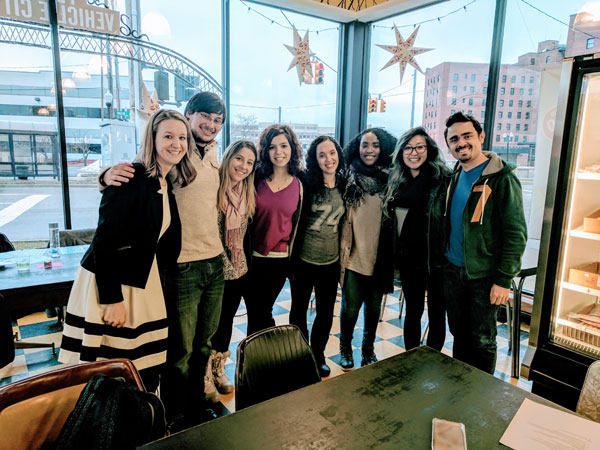 Currently, the ELP also offers short-term programs in academic English, corporate English, English and teaching methods for English teachers, and English for sciences.
Anna Eddy, a language assessment specialist with the ELP and the International Center said the visitors bring new perspectives and experiences to campus.
"We'd like to continue to diversify the campus by giving these programs," she said.
The students from Brazil have worked and met with a wide range of people within Flint and UM-Flint. They have volunteered at Carriage Town Ministries, learned about the Flint water crisis, and spent time in physical therapy classes on campus. They toured campus and met with several student service departments, and incorporated what they learned into weekly presentations. They have met with physician assistants, two internal medicine doctors, an eye doctor, and other medical professionals.
"I think it's awesome," said Lorraine Bragança, one of the medical students participating. "At our school we don't have too much time to have this experience. This program is really good because we can do it in a short time and we can learn and bring back questions about our professional future to think about."
And the group has had plenty of fun too, including trips to Detroit, Ann Arbor, Frankenmuth, and in Flint. Two of the students saw snow for the first time.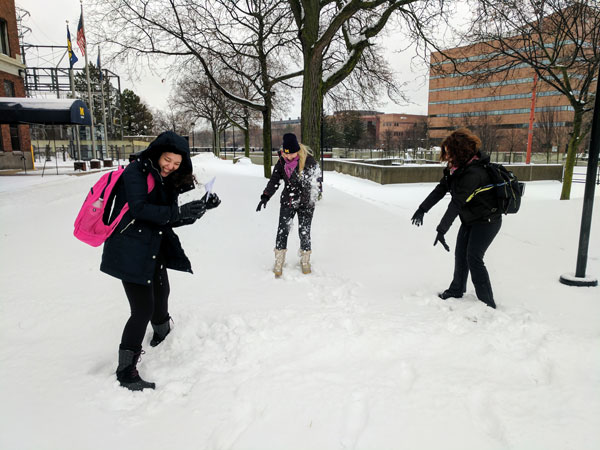 Colpaert said the Brazilian students and program are creating new UM-Flint connections for the ELP.
"These girls are so incredible. They are extremely motivated, dedicated, and talented. By connecting them with all these different departments, they are meeting all these people I would not meet if not for them. All these people on campus are learning about the ELP," she said.
The trio of students make their final presentations January 26. All three said the visit was highly beneficial.
"I really like it because I feel I have grown," said participant Nathalia Gobbi.
"Not just in English but as a person, as a future doctor. It's short but it's intense."
Contact University Communications & Marketing with comments, questions, or story ideas.