UM-Flint Social Work Programs Impact North Flint Residents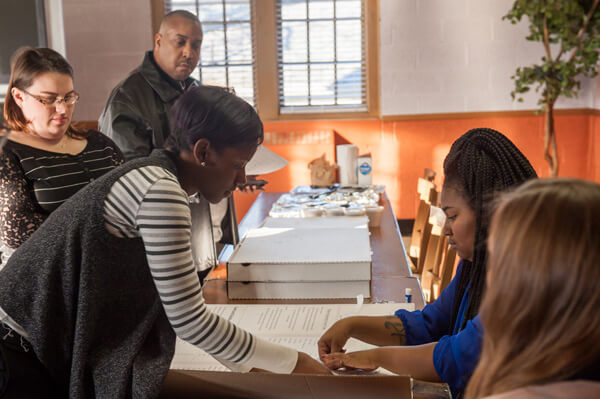 The University of Michigan-Flint Social Work Department has deepened its engagement in client-focused field work in Flint, particularly on the north end of the city.
This year the department strengthened its connection with Flint's north-end wards and Civic Park community by formalizing ties with Joy Tabernacle and the associated Urban Renaissance Center as a new field instruction site. UM-Flint senior social work interns have begun to apply their coursework knowledge in a real-world setting, hoping to make a long-lasting impact on residents there.
A recent $40,000 grant awarded by the C.S. Mott Foundation to the Urban Renaissance Center (URC) has given students another opportunity to help Civic Park by working on programming associated with the grant in addition to other URC initiatives. The grant will pay for renovations of two houses and for career training for a group of men in the community to help them learn skills in the construction trade.
Developing a Community Program
UM-Flint social work student interns and staff are working with Pastor Robert McCathern of Joy Tabernacle and the URC leadership to organize and develop the Rebound Readiness Program. The program helps disadvantaged individuals as well as those with felonies to gain skills to improve their lives.
"I think the relationship between UM-Flint and Civic Park will serve as a model of what can happen, not only in Flint, but around the country and in international communities when academic disciplines are met and embraced by community and faith-based spirit for change and revitalization," McCathern said. "It is a win-win scenario."
UM-Flint instructor and field supervisor Todd Womack is happy to see the students digging in and realizing the potential for long-term impacts of their work on Flint residents.  "Our role with interns at the URC is to provide support for existing efforts taking place out there with mentoring, providing referrals to services, securing resources, and engaging other stakeholders," Womack said. "Our interns are providing structure and a framework to help sustain the efforts there."
This field internship allows students the chance to take on a collaborative role to create structured programming, helping to ensure success for Rebound participants.
"These are not random acts of kindness that people see social workers and interns being a part of," Womack said. "What we're doing is intentional and methodical and based on relationships with the community residents."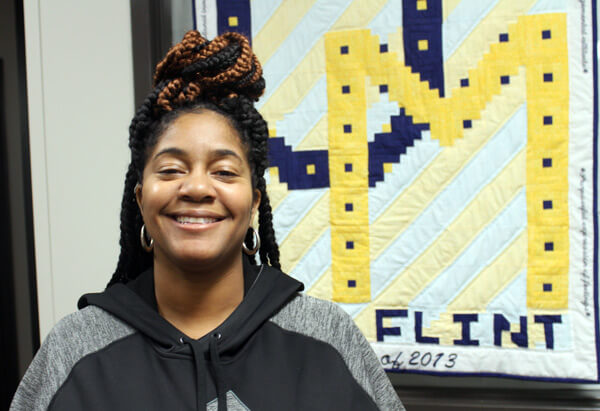 Stephanie Johnson is a UM-Flint social work senior who is mid-way through her internship at Joy Tabernacle, where she and fellow student Sherrodd Rison are helping individuals at the Urban Renaissance Center.
They have created an assessment survey for Rebound participants to assess their job skills, social skills, socioeconomic background, and other critical areas. The students are also working on developing a manual of written guidelines for future interns and others to follow while working within the program.
The meaningful work is making a memorable experience for student interns. "I am getting to experience macro and micro level social work by being hands-on with event coordination and case management," Sherrodd commented. "The agency is in its infancy and it is exciting to see how it has grown in the small amount of time I have been affiliated with it."
"It's a passion of mine to see the underprivileged population get an opportunity like this," Stephanie said. "The center is genuine grassroots, and the spiritual base of it helps the guys to feel more comfortable and brings them closer together. I like seeing someone else grow and prosper from the program and seeing them change and have a different attitude on life."
Working with University Outreach, the Social Work Department has sought ways to deepen its service work with Flint communities, taking an approach that fosters long-lasting impact. Courses are designed to offer students many opportunities to learn from direct observation and interaction in the field. Courses that utilize field experiences include SWR 100, 304 (feature photo), 340, 460/461, 490 and UNV 100.
Contact University Communications & Marketing with comments, questions, or story ideas.