UM-Flint Male Early Childhood Educators Bring Passion to Field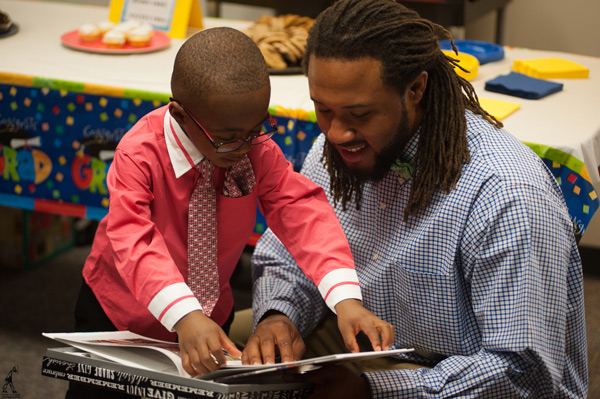 Each day when he greets the four and five-year-old children in his Early Childhood Development Center classroom, Robert Callahan sees more than a group of active, cute little kids.
He sees their innate desire to be the best they can be—while knowing that many of them come from single-parent homes where family members struggle from divorce, incarceration, substance abuse, job loss, and poverty.
"I don't know what they're feeling, but I understand what they're going through," Callahan said. "I see that they want to be great and I feel like I am the plateau to take them there."
Motivated to Encourage Young Children
Although he joins a relatively small pool of male early childhood educators in the field, Callahan—whose kids call him Mr. Rob—has found his home at the University of Michigan-Flint's Early Childhood Development Center for the last eight years. He only has to look back to his own upbringing in Flint which he describes as "rough" to see how far he has come and why a career in early childhood education is the perfect fit for him.
Growing up on the south side of Flint, Callahan excelled in several sports. He has good memories of his early childhood years, but at age 11, his family unit suddenly broke apart. Though he faced a number of personal struggles, lacked consistent parental guidance, and witnessed two neighborhood shootings by the time he was 18, Callahan strived to stay focused. He coached basketball at Stewart Elementary, which has since closed. With continual encouragement from his three older sisters and mentoring from his coaches in the Flint Schools, Callahan learned how to be responsible.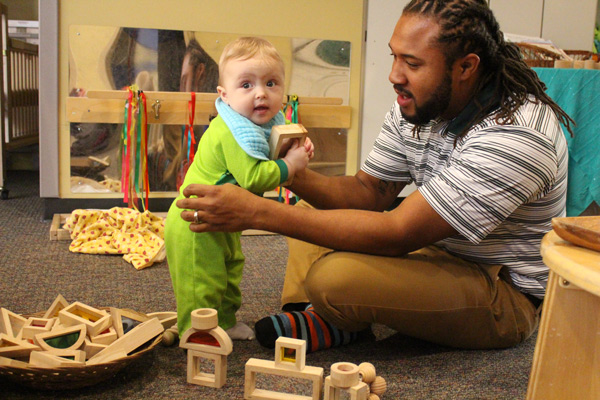 "There were a lot of people who stood in the gap for me whenever I came to a bridge in my life," he said.
Callahan initially started on a path toward a criminal justice degree at Mott Community College, a goal he still might attain, but decided to pursue his early childhood degree at UM-Flint. His passion to help kids make smart choices from the early stages in their lives is connected to his own Flint upbringing. He admits that having patience around kids is a quality that comes naturally to him, and he knows when a child is reaching out to him with an unmet need or struggle.
"You come into this field knowing you have to put your heart and soul into it," he said. "Men in this field are the key to showing these 'young men' how to be respectful, how to speak and express themselves, and also how to show respect to the little girls."
Encouraging Men to Enter the Field
The need for more men working in early childhood education is apparent across the field, and filling that need would benefit both boys and girls who seek trusting relationships with diverse adult role models. UM-Flint offers an array of quality early childhood academic programs, Reggio-inspired community child care programs, and unique student research opportunities that combine to build an ideal educational foundation for kids and for aspiring teachers.
"It is important for children to have role models with whom they can identify," said UM-Flint early childhood expert and associate professor Aviva Dorfman. "Part of how children learn is through imitation. When they see models with whom they can identify, who have power and status, and their actions result in positive outcomes, then children try on their actions and follow what they see. It follows that having male role models for boys is imperative, but it is equally as important for girls."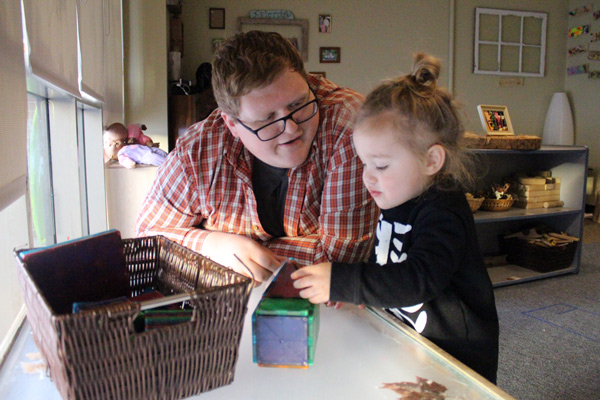 Joseph Noland, who doesn't mind driving an hour to UM-Flint each day, works as an assistant teacher in a preschool room at the center. Majoring in early childhood studies at UM-Flint, he completed an internship with the toddler room and will continue interning in his preschool room next semester. He likes the practical experience and feels rewarded by the joy and hugs from the children.
"My family always told me I'd be working with kids because I have a natural affinity for children," he said. Both he and Callahan also enjoy talking with parents about their youngsters' daily activities while reinforcing strong relationships with those parents.
"Being a male in the field is difficult because of so many stigmas," Noland added, "but we genuinely care for these kids. We would do anything to keep them safe. I think we are natural leaders too. When these kids are learning and to see them finally get something, it makes it so worthwhile."
---
For more information about early UM-Flint early childhood programs with the School of Education and Human Services, visit www.umflint.edu/education/early-childhood.
Contact University Communications & Marketing with comments, questions, or story ideas.