Mott Foundation Makes $11 Million Investment in STEM education, student success at UM-Flint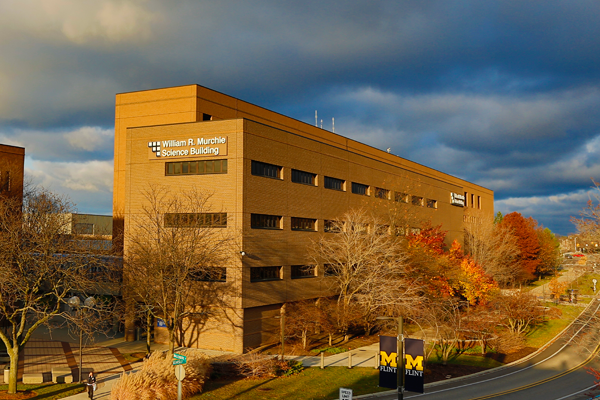 The Charles Stewart Mott Foundation continued its longstanding commitment to the University of Michigan-Flint with one of the largest grants ever to the University.
The $11-million grant announced today will support the University's continued growth of STEM (Science, Technology, Engineering, and Math) studies, add faculty support, create more research opportunities, and develop additional strategies to recruit and retain students.
The largest portion of the grant will provide $7.5 million in matching dollars for the construction of a 65,000-square-foot addition and a third wing of Murchie Science Building. The $39-million project requires a private match to the State of Michigan's $29.25 million planned capital outlay appropriation. The project includes the addition of instructional and research laboratories, as well as interactive classrooms. UM-Flint prides itself on giving students direct access to faculty in small classes, so the Murchie addition will not include large lecture halls.
"This $11 million grant seizes on the opportunity to leverage a $29.25 million State of Michigan grant and ensure that UM-Flint facilities remain on the cutting edge in the fields of STEM," said Ridgway White, president of the Mott Foundation.
"For the past 60 years, the Foundation has focused on creating higher education opportunities for Flint and Genesee County residents, granting more than $60 million for a variety of campus projects at UM-Flint. Our continuing support recognizes the University's critical role in educating thousands of students from our home community, and increasingly from out-of-state and other countries."
The announcement comes just days after approximately 630 UM-Flint students were awarded their degrees at the December commencement, joining a family of alumni now more than 44,000 strong. More than 80 percent of UM-Flint graduates remain in Michigan.
Commencement marked the culmination of the University's celebration of its 60th anniversary year in 2016.
"Over the last 60 years, UM-Flint has responded to the vision first set forth by founders including Charles Stewart Mott to be the driving force for academic excellence, leadership, and service in and for Flint and the region," Chancellor Susan E. Borrego said. "The Mott Foundation is an extraordinary partner, and this investment will create significant additional opportunities for our campus, our students, and our community."
Construction of the Murchie Science Building addition is tentatively set to start in 2017 and be completed in 2020. During the last 10 years, enrollment in STEM programs has grown 84 percent at UM-Flint.
The $11-million grant also includes funding to support senior faculty members in mechanical engineering and biology, whose leadership of their respective departments is expected to be transformative. In addition, their research mentorship would help support the junior faculty in these departments. Funding will also enable UM-Flint to enhance marketing and student recruitment activities, increase academic supports to help incoming freshman and transfer students thrive, and increase financial aid for on-campus housing.
The University of Michigan-Flint was founded in 1956 when Charles Stewart Mott galvanized community support for a University of Michigan campus in Flint by pledging a million-dollar gift. Since then, support from the Mott Foundation has helped build UM-Flint's campus with funding for projects including construction of the University Center, Recreation Center, Frances Willson Thompson Library, University Pavilion, and William S. White Building.
In all, the Mott Foundation has granted more than $103 million to the University of Michigan, granting $60.3 million for projects at the Flint campus and $43.5 million for projects at the Ann Arbor campus.
The Charles Stewart Mott Foundation, established in 1926 in Flint, Michigan, by an automotive pioneer, is a private philanthropy committed to supporting projects that promote a just, equitable, and sustainable society. It supports nonprofit programs throughout the United States and, on a limited geographic basis, internationally. Grant-making is focused in four programs: Civil Society, Environment, Flint Area, and Education. In addition to Flint, offices are located in metropolitan Detroit, Johannesburg, and London. With year-end assets of approximately $2.7 billion in 2015, the Foundation made 400 grants totaling more than $119 million.
For more information, visit www.mott.org.
Contact University Communications & Marketing with comments, questions, or story ideas.