UM-Flint's December Commencement Celebrates Graduates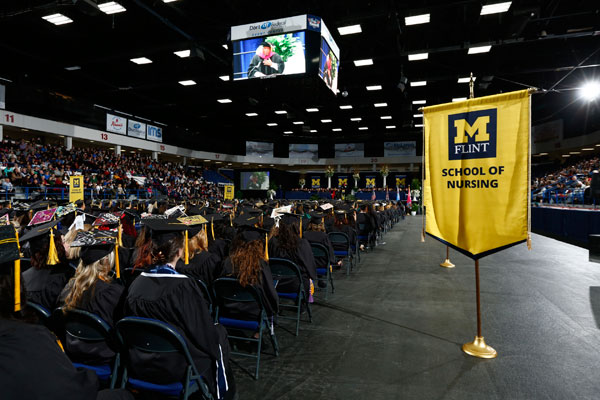 Keynote speaker Dr. Bernard LaFayette, Jr., an advocate of nonviolent social change, urged University of Michigan-Flint graduates to find their life's mission.
"We run into challenges, "LaFayette said. "The important thing we must do is to find our purpose."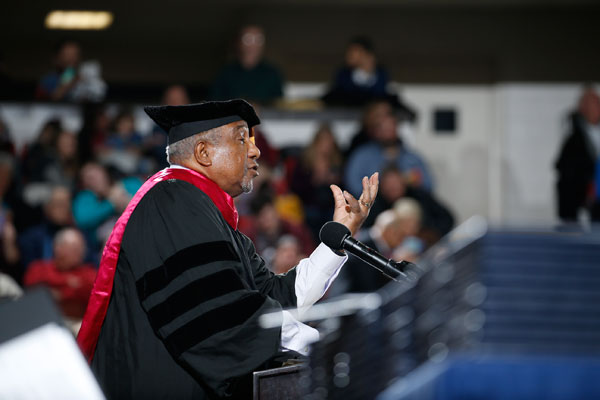 That purpose will help fuel one through any challenges, he told the graduating class at the December 18 Commencement Ceremony.
"You need to decide what you are willing to live for, and something so important that you are willing to die for," he said.
About 630 students graduated this semester, with more than 400 walking across the stage Sunday at Dort Federal Credit Union Event Center. The ceremony marked the first commencement since UM-Flint added the School of Nursing, creating the 5th school within the university. Nursing was previously a department.
At the event, the university also awarded its inaugural University of Michigan-Flint Medal of Excellence for Leadership and Service to the Mott family.
Sunday's event celebrated the graduates' skills and determination, with several speakers urging graduates to use their talents to unite and motivate. LaFayette is an activist, lecturer, minister, and educator. He was one of the Freedom Riders, the civil rights activists who challenged segregation in public transportation in the American South in 1961 while enduring violence and imprisonment. He has taught and led peace and nonviolence training in several countries.
LaFayette urged the graduates to reflect deeply about oneself and others.
"Understand those that are different (from you). Understand deeply where they are coming from. If you don't understand where they are coming from, you will not understand where they are going."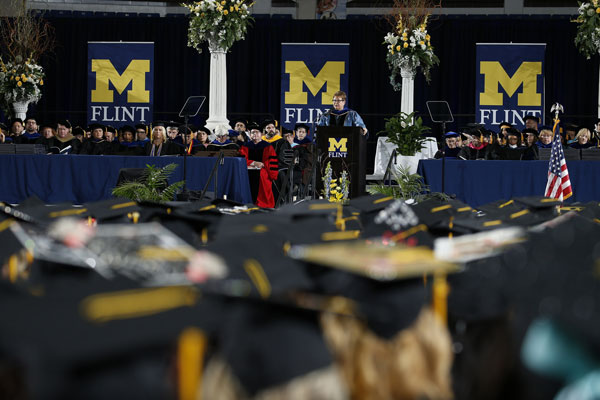 UM-Flint Chancellor Susan E. Borrego lauded the accomplishments of the graduating class as they celebrate their achievements during the university's 60th anniversary.
The graduating class joins 44,000 alumni from UM-Flint.
"And now you, too, graduates, will continue the tradition of serving the city, the state, the nation and the world that needs all you have to offer: the hard work and determination that brought you here, all you have learned here, and who you have become here," Borrego said.
Borrego said graduates can contribute to bettering society during a "time of fractiousness and fracture."
"As leaders and best, we can work to better understand one another, better help one another, and better serve in building a just and fair society," Borrego said.
Nickie Hewitt, the student commencement speaker, said the people and experiences within the university helped elevate and motivate her.
"The University of Michigan-Flint has always made me feel welcome, supported and encouraged as a student," she said.
She graduated with a bachelor's degree in nursing, earning the university's highest academic honor as a Maize and Blue Distinguished Scholar.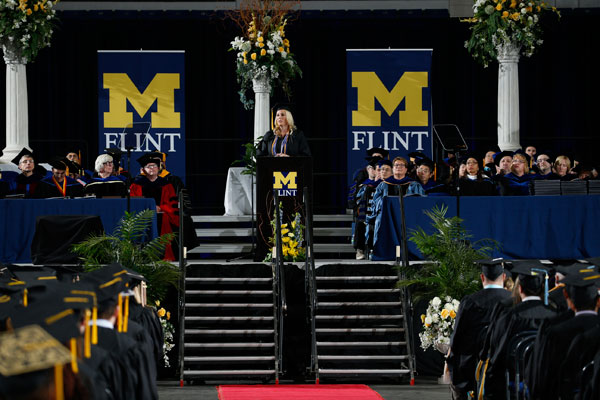 Hewitt often served as a mentor to incoming nursing students and a tutor to her peers. Her twin sister Bryanna Williams also graduated with a degree in nursing, and earned the Maize and Blue Distinguished Scholar Award.
Hewitt urged her fellow graduates to celebrate those that inspired them and elevated their time at UM-Flint.
"Remember your experiences that changed you and the people that enriched your life," she said.
One of the day's great themes centered around how we inspire and influence others. The university celebrated the Mott family's generosity and contributions to UM-Flint by awarding it with the newly established Medal of Excellence for Leadership and Service.
In 1950, a group of leaders set forth a vision of establishing a first-class college to serve the rising city of Flint, and the people of Michigan. Among those leaders were Charles Stewart Mott and Ruth Mott, who urged the community and the University of Michigan to take up a decision and bond issue to move forward. In turn, they offered a $1 million match should the idea proceed.
These actions helped spark the formation of UM-Flint. The Mott family has continued its support throughout the university's history.
The gifts of land, buildings, and dollars from the Mott family have allowed the university to evolve and grow throughout the years.
"The University of Michigan-Flint Medal of Excellence for Leadership and Service will signify a special and deep level of leadership and service," Borrego said. "We are so pleased to award it to the Mott family, whose visionary gift to found this campus and provide tremendous decades-long support for this region, reflect compassion, commitment and caring that have known no bounds."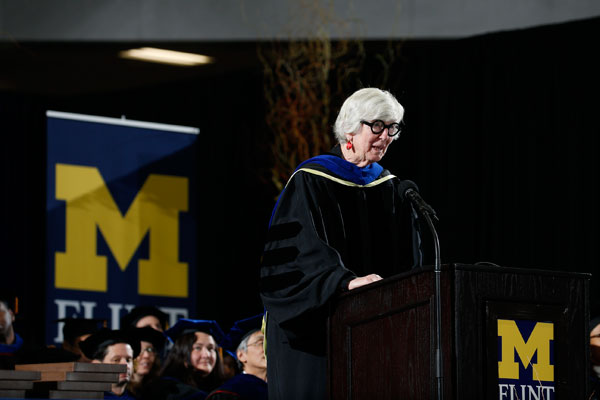 Maryanne Mott, Chair of the Board of Trustees of the Ruth Mott Foundation, accepted the award on behalf of the family. Mott said UM-Flint will continue to be a place of "curiosity, critical thinking and civil discourse."
"It is wonderful to be included in this 60th Anniversary of UM-Flint and to celebrate the achievements of this graduating class."
---
View and download more photos from the 2016 December Commencement Ceremony from the UM-Flint Flickr album. 
Contact University Communications & Marketing with comments, questions, or story ideas.