New Advisor Joins UM-Flint Career Center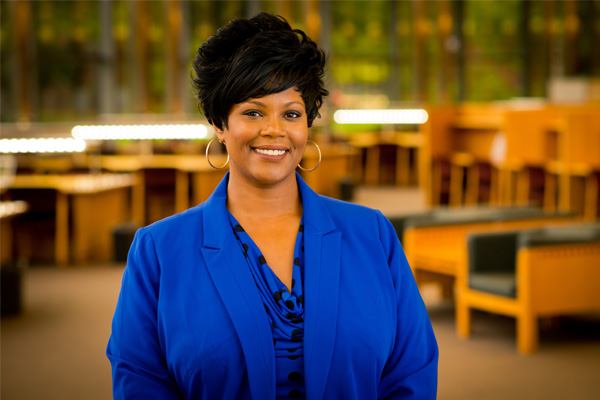 Get to know Myesha Cannon, a career advisor in the UM-Flint Career Center. She's here to help students and alumni with career preparation, internships, interview skills, employment opportunities, and more.
Ms. Cannon will be presenting at the UM-Flint Career Seminar held on Wednesday, November 30, 2016, at 2 p.m. in Room 533 of the Murchie Science Building (MSB). The seminar, held in partnership with UM-Flint Student Government, is open to all students and will include conversation on internships, job searches, and interview preparation. Attendees are encouraged to bring a copy of their resume to the seminar.
What work will you be doing in the UM-Flint Career Center?
I am a Career Advisor, supporting students and alumni, in their career exploration [and] preparation, as well as connecting them to employment opportunities. I regularly meet with students, one-on-one and in small groups, to discuss topics like résumé building, interview skill, and mock interviewing.  I also facilitate workshops, give presentations, and partner with departments across the University to deliver targeted programming to support specific student needs.
What experience do you bring to this position?
My experience includes working in both the professional staffing industry and higher education. My higher education experience was in Employment Services. I worked with both students and employers to bring them together, through internships, employment, workshops and career fairs, and informational events. I enjoy working with students to help them realize their career potential.
Who will you be serving?
I will primarily be serving students in the Liberal Arts majors. Our other Career Advisor, Emily Bank, and I work very closely to support the entire UM-Flint student and alumni population.
Why are you working specifically with Liberal Arts students and alumni?
I'm working with Liberal Arts majors to help prepare and connect them to internships and career opportunities. Many Liberal Arts students struggle with deciding on a career direction upon graduation. I'm here to help them navigate that pathway. I will help them understand the vast amount of corporations, organizations, and government agencies who are looking for our Liberal Arts students and graduates.
 What do you hope for your time at UM-Flint?
I want to be a knowledgeable and supportive career resource for students from the time that they arrive on campus until they walk across the stage at commencement. I want to build partnerships with faculty and student organizations and work collaboratively to prepare students for internship and employment opportunities.
What advice about career preparation do you have for all students?
It is never too early to start to develop your résumé. Don't wait until the final semester of your senior year to start thinking about a resume. START NOW! It is a living document that you should update each semester and after each new job or internship. If you have any questions or don't know where to begin, you can contact the Career Center at careers@umflint.edu and we can help get you started.
---
For more information on the UM-Flint Career Center, and the ways in which it serves students and alumni, visit umflint.edu/careers.
Join the Career Center staff and Student Government for a seminar on internships, job searches, and interview preparation at 2 p.m. on Wednesday, November 30, in MSB 533.
Contact University Communications & Marketing with comments, questions, or story ideas.