UM-Flint Conducts Interdisciplinary Health Care Simulation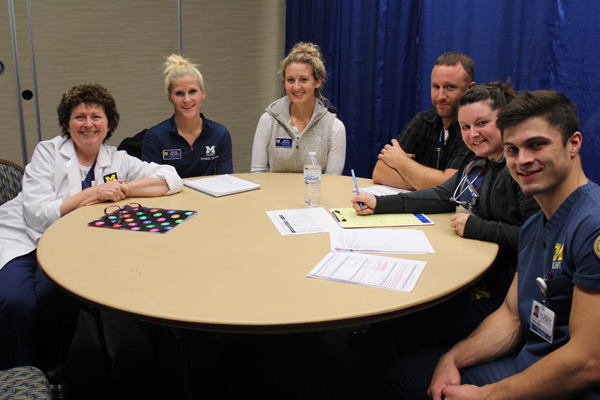 The patient case played out dozens of times in one day.
An 86-year-old man who lives alone and who has a history of falling is found by a neighbor in a confused state. He spends two days in the hospital for what turns out to be a urinary tract infection.
Should he be discharged? What resources does he need to transition back home? Will insurance cover his needs, and what are his financial concerns?
This scenario was acted out and discussed by scores of University of Michigan-Flint social work, nursing, nurse practitioner and physical therapy students on campus Tuesday, November 8,  as part of an interdisciplinary simulation of a hospital patient discharge.
The students met in varying groups, with five different area residents playing the part of the patient, and another five acting as the patient's sister.
The event was run by ten faculty members within nursing, social work and physical therapy, and was funded by a grant from the School of Health Professions and Studies, said Leslie Smith, a clinical assistant professor of physical therapy at UM-Flint, and one of the main organizers of the event.
"Our goal was having university students work together and learn from each other," Smith said. "They understand what their roles and responsibilities are, and what the values and ethics are in interprofessional care. They know how to communicate."
During the day long training, the story played out 35 times, Smith said, with representatives from each field meeting to consider a course of action, discussing it with the patient and family member, and then evaluating their response with a facilitator. The sessions were videotaped, Smith said, so students and faculty can further study the dynamics of working with a patient, and all the complexities involved with a hospital discharge.
Five separate rooms were created within Michigan Rooms in the University Center, allowing multiple groups to complete the training simultaneously.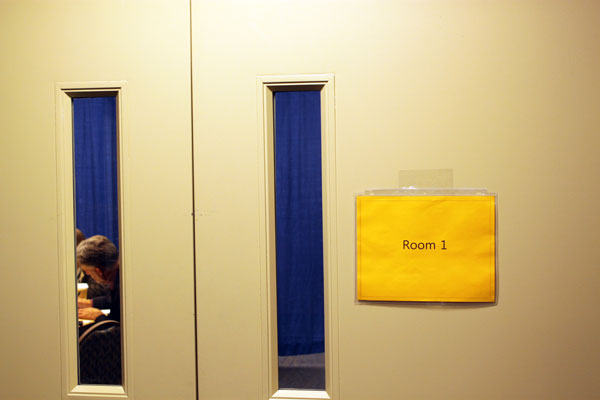 Kasie White, the Social Work Field Education Program Coordinator, said the experience was very helpful for broadening students' experiences and educating everyone on the expertise of those in other fields.
"A social worker looks at the entire person and not just the medical side of it," she said.
About 150 students were involved. Area residents were recruited through senior centers, Smith said.
Steven Moon, a nursing student said the training gave him more chance to work one-on-one with a patient.
"I learned how to work more with other disciplines and learned more about patient interaction," he said.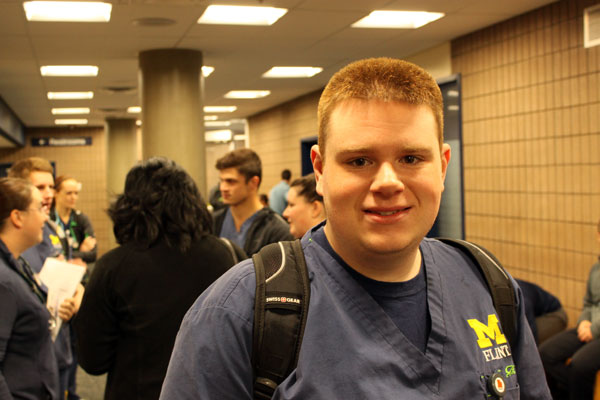 Kraig Carpenter, a third year physical therapy student, said the experience helped him further understand the full scope of helping a patient.
"We may not necessarily be the number one go-to for people on financial assistance, but we can be familiar with where to go to get them this help. You have to know other professions' roles. It is extremely important," Carpenter said.
Gary Cooper, a Flint resident, played the part of the patient in several of the sessions. He said the students' questions and actions mirrored health care professionals he has seen work or from whom he has received care.
"It's definitely a good idea," he said about the simulated session. "It's good to know everything."
Contact University Communications & Marketing with comments, questions, or story ideas.