Top 11 Resources at the UM-Flint School of Management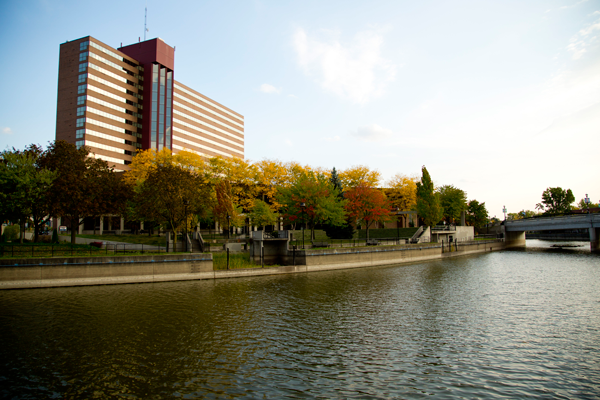 The School of Management is full of great resources for its students. From helping students figure out their schedule to finding employment, there are resources to help students at any point in their college career. Check out  the top eleven resources that the School of Management offers.
Hagerman Center for Entrepreneurship & Innovation
Established in 2015, the Hagerman Center for Entrepreneurship & Innovation aims to provide entrepreneurial knowledge through teaching, research, and practice. The HCEI engages students in local entrepreneurial opportunities and supports local entrepreneurship. The HCEI aims to encourage entrepreneurial and innovative thinking in students and faculty. In Fall 2016, Mark Simon was appointed to Director of the HCEI and is also a professor within the School of Management. For questions, contact Professor Mark Simon at marksimo@umflint.edu.
Student Services Coordinator, Antonio
Whether you are looking for an internship, career advice, or attending a professional development event, Antonio Riggs, Student Services Coordinator, has an answer for you. Located in the administrative offices at the School of Management, students can stop by to chat or make an appointment to meet with Antonio. He can help you with your resume, interview skills, professional dress, and overall job hunting advice. Antonio can also help you navigate career connection and let you know about possible job opportunities with local companies. To set up an appointment with Antonio, contact him at anriggs@umflint.edu.
Advisors 
Our dedicated advisors strive to help School of Management students succeed in their academic career. Brenda Harrison and Anna Bennett Reed provide one-on-one, confidential advising sessions to business students. Brenda and Anna can help you with course selection, facilitating educational transactions, clarifying policies and requirements, explaining course transfer differences, and evaluating placement scores. Both Brenda and Anna are dedicated to helping all SOM students succeed during their academic career. To set up an advising appointment, call the School of Management at (810) 762-3160.
Entrepreneurs Society
Entrepreneurs Society is a great way to get involved on campus. Whether you're interested in entrepreneurship or business, Entrepreneurs Society has something to offer all students. This student organization strives to foster creativity and innovation and help UM-Flint students get involved with the community. Founded by Professor Michael Witt, PharmD, ES focuses on discussion sessions, invited lectureship, practical business-oriented experiences, and research efforts. If you are interested in becoming a part of Entrepreneurs Society visit http://clubs.umflint.edu/es/.
SHRM (Society for Human Resource Management)
Society for Human Resource Management is dedicated to providing an outlet for Human Resource students or students with an interest in learning more about Human Resource Management. Through SHRM, students are provided with educational, networking, volunteer, and leadership opportunities. For questions, contact SHRM's faculty advisor, Professor Gerald Knesek at knesek@umflint.edu.
SOM Student Professional Development Center
The Student Professional Development Center (SPDC) serves as a career resources space for students. The center actively seeks to assist students with career counseling and helps with planning when entering the workforce. This space also provides networking opportunities with professional mentors. Students who stop by can also learn about study abroad opportunities and obtain information about partner companies. Antonio Riggs, SPDC Director, can help you navigate all the resources provided by the SPDC. Contact Antonio by email, anriggs@umflint.edu, or by phone, (810) 237-6680.
ISBO (International Business Student Organization)
International Business Student Organization is a student run organization that welcomes both undergraduate and graduate students with any major. This organization provides opportunities and resources for students who wish to gain understanding in international business. The School of Management encourages foreign exchange students to participate in ISBO. IBSO members gain insight and skills that are needed in today's global community. ISBO will help you understand different cultures and the impact of globalization. If you are interested in joining ISBO, send them an email at ib@umflint.edu or call the School of Management at (810) 726-3160.
Finance Management Association
The Finance Management Association (FMA) helps students learn about different aspects of finance. Some examples are investment banking, investment trading, investment management, and business finance. This organization is open to all UM-Flint students with an interest in finance. If you're interested in joining FMA, contact Professor John Stephens at johstep@umflint.edu for more information.
Finance Lab
The Finance Lab contains special financial information displays and business-related software. Software available to students in the Finance Lab includes Bloomberg terminals, MorningStar Direct, Palo Alto Business Software, and MS Project. QuickBooks Premier is installed in the winter semesters. This lab is open to any student to use and is open 24/7 with MCard swipe access (except on rare event occasions).
Graduate Student Tutoring
Graduate student tutoring is available in three different subjects to School of Management students for a few hours per week. If you need help in accounting, business statistics, or Microsoft Excel and Access, there are graduate students that can help you. The School of Management wants to make every effort to help you succeed in all your courses. Any students needing tutoring outside of the graduate student tutoring hours are encouraged to use faculty office hours or to stop by Riverfront 2335 to obtain additional help and ask questions.
Rosetta Stone
Rosetta Stone language software is available for all School of Management students. This software is available in all languages and proficiency levels. This software will help all students gain a knowledge of language. This benefit is immense for international business and business majors. For more information, students can contact international business faculty, Yener Kandogan, PhD, at yener@umflint.edu or Keith Kelley, PhD, at keithkel@umflint.edu.
Contact University Communications & Marketing with comments, questions, or story ideas.