Leadership Skills Enhance Career of UM-Flint Education Alumnus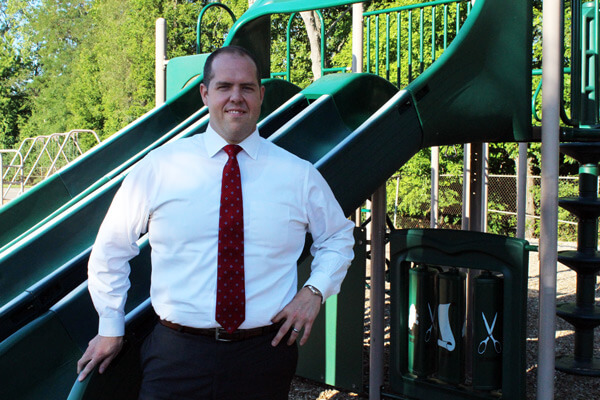 As an infantry officer in the Army's 82nd Airborne Division from 2006 to 2009, Jeremy Mitchell served in demanding leadership positions that left a major impact on him both personally and professionally.
From a deployment to Afghanistan where his unit was tasked with keeping the peace and aiding the local population, to some of the Army's most intense training in Ranger school, this University of Michigan-Flint alumnus accepted many heavy responsibilities during his early twenties.
While actively engaging with the native people of Paktia province, and collaborating with his team on peacekeeping missions, he developed leadership and communication skills that became the foundation of his educational leadership career today as the new principal of Indian Hill Elementary School in Grand Blanc, Michigan.
"I was raised under the best leaders in the military," he said. "You get really good at working under pressure and you learn resiliency and tactical patience. You don't give up."
After completing his service in the Army, and with a prior bachelor degree in organizational communication from a southern university, Mitchell further honed his communication skills by working as a medical device salesman. Though successful in sales, he felt a deeper call to service, and in 2010 he moved to his wife Nicole's home state of Michigan to begin studying for a second bachelor degree in secondary education from the University of Michigan-Flint, minoring in social studies and speech. The secondary education program is a joint venture between the School of Education and Human Services and the College of Arts and Sciences.
Mitchell's wife is a teacher, and he soon realized that teaching was also the right career path for him. He chose UM-Flint for its high-quality education program with faculty who make it their mission to guide students successfully through their student teaching assignments. UM-Flint was not far from his home in Hartland and he was impressed by the school's strong veteran student organization.
His student-teaching experiences at UM-Flint had the greatest impact on his introduction to the field.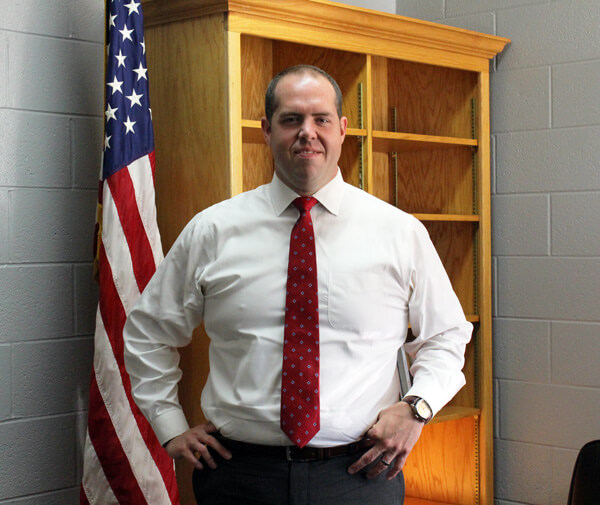 "I student-taught in Mt. Morris, Michigan with UM-Flint Professor Bill Duso as my mentor," Mitchell said. "Bill has so much experience. He's so practical and real. His drive was to see us be successful. A huge part of the class was learning from each other in our cohort. We would observe classrooms and debrief with him. Then we would teach lessons and be evaluated. My second semester I student taught with Mike Peter as my cooperating teacher at Mt. Morris and Gene Essenmacher as my instructor. I learned a lot from both of them."
After finishing student teaching and receiving his UM-Flint diploma, Mitchell landed a job at Grand Blanc High School, teaching AP economics and world history. He advanced to graduate school, earning his master's degree in public administration from U-M. This fall, he begins coursework toward his education specialist degree at UM-Flint.
Combining pedagogy and curriculum with hypotheticals and real-world experience in the classroom helped Mitchell to develop his identity as a teacher and as an elementary school principal.
All of the peace-keeping strategies, active listening skills, and solution-based communications that he has practiced over the years have been instrumental in his ability to communicate effectively with teachers, parents, and students as interim principal and, now, as principal at Indian Hill Elementary.
"There's a good compromise always," Mitchell said. "The number one complication is a communication error. When we realize our needs don't always conflict and we can see each other through a different lens, we can help the student. When you start talking more with each other, you find we all want the same thing. It's about balancing idealism with reality and being as equitable as you can."
Mitchell, who is also the proud father of toddler Lena and baby boy Grant, said he is grateful for the path his life has taken, and enjoys the staff and students in Grand Blanc. "When I was a kid, I never thought I'd grow up to be a principal," he laughed.
To UM-Flint students working toward their education degree, he offers these wise words: "It's so important as a student to just listen. You don't know anything. Listen and observe from people who are doing it right as well as those teachers who do it wrong. Learn from that."
Contact University Communications & Marketing with comments, questions, or story ideas.