UM-Flint Students Volunteering in Chicago this Summer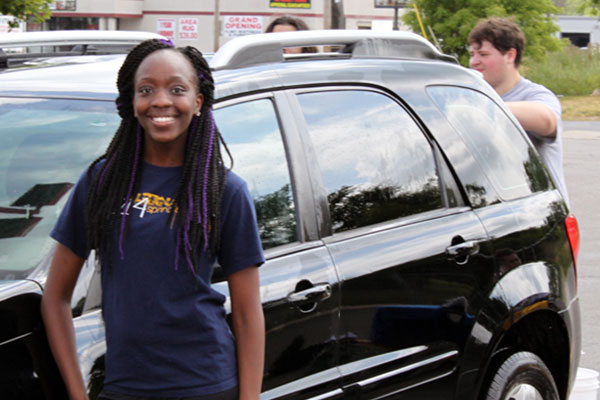 University of Michigan-Flint is taking its talents to Chicago for this year's Alternative Summer Break.
A group from UM-Flint, including 23 students, will address issues of homelessness, poverty, food security, and urban agriculture during the August trip.
This is the second year University Outreach has held Alternative Summer Breaks. Last year, a group of students worked on home-and-property-renovating projects in New Orleans. Alternative Spring Break, in which student work with community organizations within Flint, has been a university staple for the past decade. Service Saturdays, in which faculty, staff, and students can volunteer for a part of a day in the Flint area, was started last year.
"People are excited about it. We will always have the local model with Alternative Spring Break and Service Saturdays, and that will continue to be the majority of our efforts, but we also understand our students want an experience outside of our community as well," said University Outreach project coordinator Gary Ashley.
The students recently learned the location of Alternative Summer Break. They register for the program before knowing the destination, Ashley said, to focus on the work being done, versus making it about visiting a particular city. They will learn exact details of what they'll be doing once they arrive in Chicago.
The trip expands students' experiences, and helps them transfer their newfound skills to work in Flint and surrounding areas, organizers say.
Prior to the trip, they'll receive training in several areas, such as diversity and inclusion, and conflict management. The group is also holding fundraisers to reduce the student costs associated with the trip, but it may include work such as assisting at a community garden, providing food to areas in need, preparing food at a homeless shelter, and helping out at a food bank. Students will also learn about the greater needs in Chicago from those local organizations they are helping.
Communication student Jordan Lidgey will be participating in his first Alternative Summer Break. He helped out at the Salvation Army in Flint during the most recent spring break program.
"I like helping people," Lidgey said, at a recent car wash fundraiser. "I'm interested in gardening, and they had a gardening option, so that wanted me to do it even more."
Lidgey said he's glad the university provides students with the organized outlet.
"It gives you that experience of going other places and seeing how things are there. It's good to see how other people do things."
Ashley McCloud, a health services student at UM-Flint, will be a site leader in Chicago. She has been participating in the University Outreach programs since becoming a student in 2011. The experiences have raised her awareness of the needs in the Flint area and beyond.
"It has helped me evolve as a person, and made me more generous and made me more want to help others," she said.
Contact University Communications & Marketing with comments, questions, or story ideas.