UM-Flint Art Exhibit Addresses Flint Water Crisis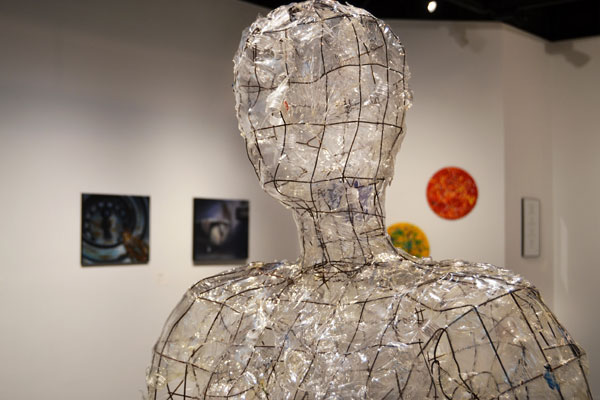 UM-Flint and community artists are tackling the Flint water crisis through expression in a new exhibit on campus.
"Artists Treading Water", which features artwork by faculty, students, alumni, and community members, is being displayed at the University Center (UCEN) Art Gallery through June 22. The exhibit is sponsored by the university's Department of Communication and Visual Arts.
There is a reception, Wednesday, June 15, from 5 to 7 p.m. It will start at the gallery, located on the first floor of UCEN, and will end in the Kiva, with a presentation of the current water issues, along with poetry and open mic.
Gale Glover, an author, UM-Flint graduate student, and administrative assistant in the Communication and Visual Arts department, and UM-Flint student Rhonda Jones helped organize the event.
Glover has written a book, "Flint: The Death and Rebirth of the City", which includes the artists featured in the exhibit.
Work displayed in the exhibit includes paintings, poetry, photography, sculpture, and other more.
Jones is also working on a large-scale project, "Bottled Emotions", in which she is gathering water bottle caps to create a mural to be displayed about the water crisis. She is displaying a smaller piece, "Scattered Voices," for this exhibit."
"The purpose was for artists to creatively express their story or their view of the Flint water crisis," Jones said about the current exhibit. "There was a common theme, but artists were able to express themselves freely, with any medium they chose."
Glover, whose poem, "Rebirth", is featured in the exhibit, said this exhibit further unites the university and community.
"The event (and exhibit) is free and open to everyone. This event brings the community and the university family together, both in participation and in viewing," Glover said.
---
Photo features installation entitled "The Second Grace:  Purity" by UM-Flint faculty member Jjenna Hupp Andrews.
Contact University Communications & Marketing with comments, questions, or story ideas.