Regents Approve Two New Graduate Programs for UM-Flint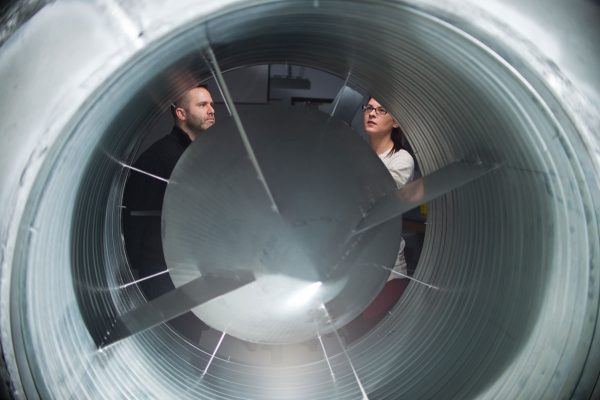 Opportunities for UM-Flint's graduate students just got a little bigger.
On Thursday, the University of Michigan Board of Regents approved two new graduate programs at UM-Flint: Master of Science in Engineering and a doctoral degree in Occupational Therapy.
"It's based on the market demand and the students' needs," said Quamrul Mazumder, Associate Chair of Engineering about the new master's program.
The Master of Science in Engineering degree will be specifically in mechanical engineering, offering students a career path in the growing fields of consumer products, manufacturing, transportation systems, security systems, defense systems, aerospace, sports, biomedical systems, among others.
The degree is expected to be attractive to out-of-state and international students as well as UM-Flint's current undergraduate mechanical engineering students who previously might have left to go to other universities to pursue a master's degree. The College of Arts and Science's current undergraduate enrollment in mechanical engineering is one of the fastest growing undergraduate programs at UM-Flint.
Mazumder said the auto industry is evolving, with companies looking for new technologies that will help with energy efficiency and stronger safety requirements.
"That creates a demand for advanced engineers with advanced degrees," he said.
He said the program will also offer courses and research opportunities that will allow students to pursue courses of innovation and entrepreneurship. The program will be available starting in fall of 2016.
The Occupational Therapy Doctorate program is designed to increase professional level health care degree program offerings at the University of Michigan-Flint and to prepare entry-level occupational therapists to enter the field of occupational therapy.
Dr. Donna Fry, Professor of Physical Therapy and Interim Dean of the School of Health Professions and Studies (SHPS), said the program will be a good compliment to the existing Doctor of Physical Therapy program in SHPS, and that it will offer more opportunities for students and faculty.
Students will have more professional options, she said, while faculty will have the opportunity to do more collaborative research and teaching. Those options for students will come at an apt time, as she said the demand for occupational therapists—who help everyone from children to geriatric patients function in school, the workplace, at home or just out in society, learn to function with physical or psychological disabilities.
"We're really excited about adding the program," Dr. Fry said, adding that it will also allow SHPS to strengthen and build more relationships in the surrounding community. SHPS already works with Genesys Health Systems, which has a strong presence in downtown Flint.
She said ideally the program will begin in the fall of 2017, but may start in the fall of 2018.
Contact University Communications & Marketing with comments, questions, or story ideas.