Meeting of Minds Showcases Student Research at UM-Flint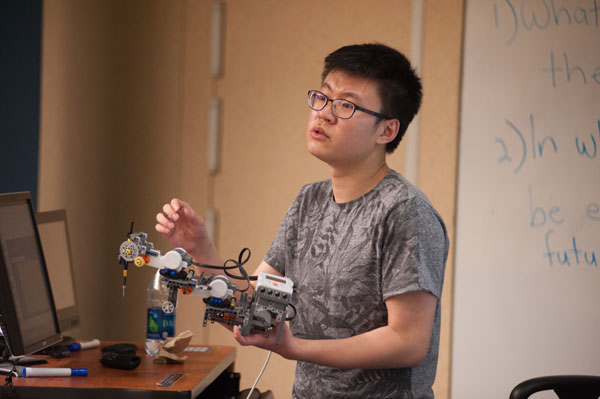 UM-Flint played host to the 24th Meeting of Minds last week, giving undergraduates the chance to showcase their research and build their academic careers.
"Meeting of Minds is designed to showcase and celebrate all the contributions that students make to research. Oftentimes we preach the importance of student research and scholarship, but this is an opportunity to showcase some of the work they do," said Andre Louis, research program manager for UM-Flint's Office of Research and Sponsored Programs.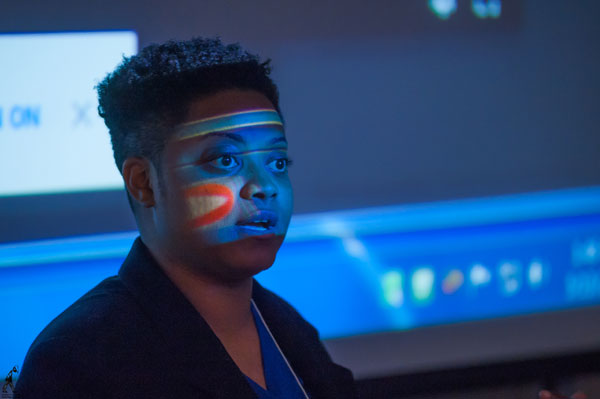 The event rotates between U-M Dearborn, Oakland University, and UM-Flint, which was one of the founding universities when the event began 24 years ago. The event was held at UM-Flint's newly acquired Riverfront Residence Hall & Banquet Center and featured students from the three universities who gave one of two kinds of presentations about the research they were doing.
Some students gave oral presentations to crowds in Riverfront's classrooms, while other students on the first floor gave "poster presentations," where they would stand by a poster highlighting their research and explain it to interested passersby.
The topics of research were wide-ranging. Students could present on any research topic or field—even artistic performances. The titles of the presentations ranged from the seemingly simple "Defining Greed," by UM-Flint psychology student Abdelmajid Jondy to "Electronic Properties of Butylated Phenols Induced by Electrochemical and Chemical Oxidation," by Oakland chemistry student Nicole Zabik.
"One thing I tell students is that research has a far-reaching impact, from popular culture to public policy to the sciences to the arts," Louis said. "The variety of projects you'll find here are representative of that."
Louis said giving the presentations is one way for students to boost their confidence as budding scholars.
"It allows them to work with our outstanding faculty on cutting edge research and gives them a different and unique experience that they can't find in a classroom," he said. "They come in and they're nervous and they're jittery, but once they present I have had them come up to me and say that they've had a wonderful time. So it does a lot to instill confidence."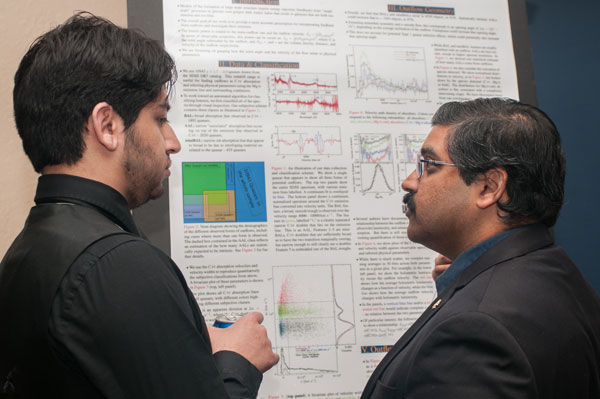 For Lindsey Hieber, not only has it instilled confidence, but also given her the chance to continue her education and build her career.
Hieber graduated from UM-Flint in May with a degree in psychology and said that research is what she wants to do with her life. She was an oral presenter last year and had a poster presentation this year, in which she showed the effects  that music had on levels of depression,  stress, and anxiety.
Hieber said she plans on going to grad school and that Meeting of Minds has given her the opportunity to grow her resume and show schools and future employers her skills in research—and her experience in presenting that research.
"It's pretty exciting because this is what I want to do with my life, doing research, and I hope to present research. So it's good practice for the bigger conferences," she said, adding that she hopes one day to be standing in front of a crowd at a conference put on by the Michigan Psychological Association or the American Psychological Association.
First, though, she's working on more research, and then getting into graduate school—and Meeting of Minds, she said, helps with that as well.
"That's what they look for, for graduate school. Research is a big facet of what they look for. So the more you have, the more likely you are to get in," she said.
Contact University Communications & Marketing with comments, questions, or story ideas.