Family and Syrian Heritage Inspire UM-Flint Education Graduate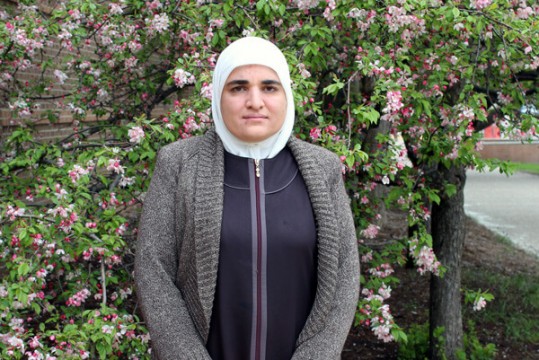 When Hana Sankari attended May commencement  at the University of Michigan-Flint, earning her bachelor's degree in elementary education topped with a Maize and Blue Award, it was her red cap with the words "Save Syria" that stood out.
Hana decorated her cap in a way that would not single her out, but would boldly show solidarity for the Syrian people struggling to survive the violence and humanitarian crisis there.
Born in Michigan after her parents emigrated from Syria, Hana has many fond childhood memories of visiting her grandparents in Aleppo where she attended summer school with her siblings and absorbed the culture and Arabic language.
The continuous deadly bombardment happening in Syria and around Aleppo during the past five years has not altered her love for the city and its people.
"What's happening in Syria affected my decision to go to school and become a teacher," she said. "It proved to me that education is important. Someday I want to go back and give something to my country."
Most of the members of her large extended family have scattered across the globe to escape the appalling conditions in Syria, but Hana still has close relatives in Aleppo who struggle to survive the dangers there without electricity or a stable, reliable water source.
Some Syrian families can afford to pay tutors to come into their homes to continue their children's education, she explained, but many cannot, keeping their children home as the situation there worsens.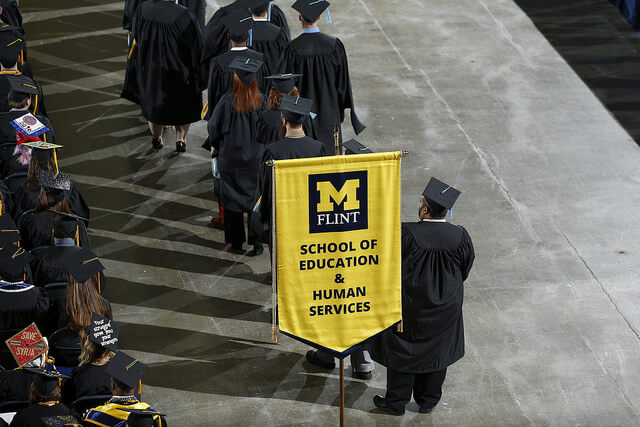 Choosing a Career in Education
With a previous degree in biochemistry from another university, Hana's path to a major in elementary education was a little unconventional, but her experiences always seemed to point to a field where she could impact the lives of young school children.
Active in the Flint Islamic Center and a board member at Genesee Academy, Hana and her husband, Flint physician Dr. Mazen Najjar, have four children: Abed, 15; Aaminah, 14; Ibraheem, 12; and Adnan, 7.
"Teaching was always in me," she said. "I would take my kids to the library and just find any opportunity that would fulfill their curiosity and broaden their horizons."
At UM-Flint, Hana had many opportunities to interact with elementary students in local schools and be an active part of the instructional process. Her student teaching assignment at a Flint elementary school increased her awareness of the hard emotional challenges that many Flint children endure at home.
"I was very impressed with the dedication of the teachers in Flint," Hana said. "I am more aware now of the role that teachers have in raising a child, not just in teaching a lesson."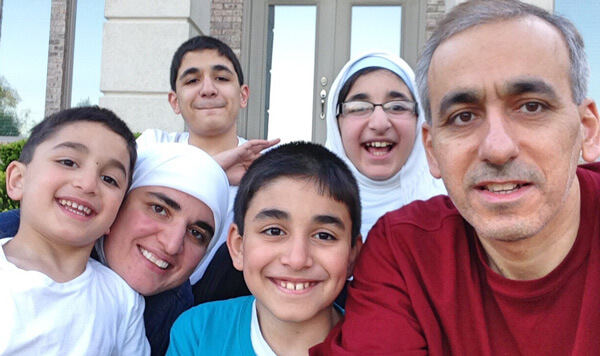 Balancing Family and School Priorities
Hana enrolled full-time at UM-Flint when her youngest son started school. The decision carried with it nearly four years of sacrifices from her family, adjustments to schedules, and late nights completing assignments under deadlines, only after helping her kids with homework and taking care of responsibilities at home.
Her family gave their loving support in return. After learning a new concept in class, Hana would try it at home with her children. She did a literacy assessment on her son who was learning to read. She gave them math problems and science lessons that she learned in class to see how they responded. They formed an assembly line sometimes to help her cut and glue items for course projects.
"Probably every single one of my school projects has one of their thumbprints on it," she said.
With her education degree in hand, Hana plans to take her family to Disney World for a well-deserved break. Beyond that she hopes to mentor children in Flint, build support for the families in Syria, and one day have a classroom of her own.
Contact the Office of University Communications & Marketing with comments, questions, or story ideas.