Flint's Reputation Stars in New Play Born of UM-Flint, FYT Alliance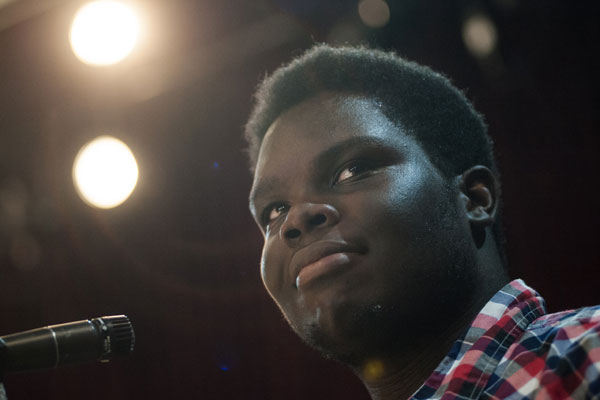 A new production that delves into how people identify with Flint as their home showcases the formal alliance between the Flint Youth Theatre (FYT) and UM-Flint.
The Most [Blank] City in America, a MainStage FYT production, begins April 16. UM-Flint theatre lecturer Andrew Morton wrote the script. Several  UM-Flint theatre and dance students, faculty, and alumni are participating in the project. It is also a collaboration with Raise it UP! Youth Arts and Awareness, Tapology, and Fly-Town Puppet Theatre. The title refers to what it means to people to call Flint home.
The university and FYT formalized an alliance in 2014, which integrates staff and resources between the two groups on productions.
"Not only does this alliance provide our students with incredible opportunities to work alongside professional theatre artists in the creation of new work, we also believe this project, with its mutual benefits for multiple communities and focus on civic engagement, is exactly the type of work UM-Flint prides itself on," Morton said.
Morton led story circles on campus and at various community groups since last summer, in which residents talked about their memories, attachment, feelings, and identification with Flint.
The production is an attempt to present a more-rounded depiction of  Flint. Many people across the globe may identify Flint only by the water crisis or issues related to the city's economic struggles.
The production incorporates and integrates these challenges, Morton said, but it also dives into its history, natural beauty, talents of its residents, and surprising ways people make connections to the city, such as bicycling or fishing along the river.
The actual words and stories from community members have been incorporated into the script, he said.
"It is all meant to explore questions of identify, this notion we live in a city with a fairly outsized national reputation for all sorts of reasons," said Jeremy Winchester, executive artistic director of the Flint Youth Theatre, and director of this production. "Some things we feel good about, some things we don't feel so good about. That has an impact on all of us, those that live here, that love it, that want it to grow and prosper."
The production includes song, dance, puppetry, and more.
"It is hitting on a lot of different and simultaneous levels," Winchester said.
Madaline Harkema, a UM-Flint senior and assistant stage manager for the show, considers Flint home. The production has opened her eyes to other places in Flint that she wants to explore, such as the For-Mar Nature Preserve and Arboretum.
Harkema, who plans on pursuing a career in theatre, said the alliance with the Flint Youth Theatre, along with her experience at UM-Flint, have prepared her well.
"You have people who work here that know you already and are willing to help you and get you in a better place," she said. "In a way, that's an in. It's a little bit of a leg up in the giant competition that is the world of theatre."
The university students play a critical role in the productions, Winchester said, because they learn from the professional actors and also serve as mentors to the teenagers who perform in the show.
"Their young adult experience lends itself a great deal to our storytelling," he said. "With their backgrounds, we are able to diversify the points of view."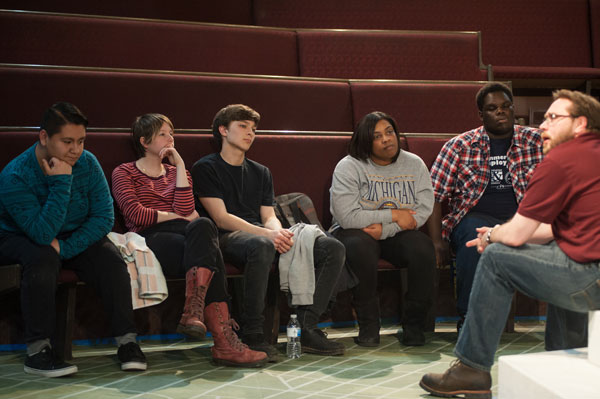 The production will be held at Elgood Theater, 1220 E. Kearsley Street, Flint, Michigan.  The shows will be at the following times:
Saturday, April 16, 7:00 p.m.
Sunday, April 17, 2:00 p.m.
Friday, April 22, 7:00 p.m.
Saturday, April 23, 2:00 p.m. & 7:00 p.m.
Sunday, April 24, 2:00 p.m.
Friday, April 29, 7:00 p.m.
Saturday, April 30, 2:00 p.m. & 7:00 p.m.
Sunday, May 1, 2:00 p.m.
Contact University Communications & Marketing with comments, questions, or story ideas.