UM-Flint Spring Commencement Student Speakers Announced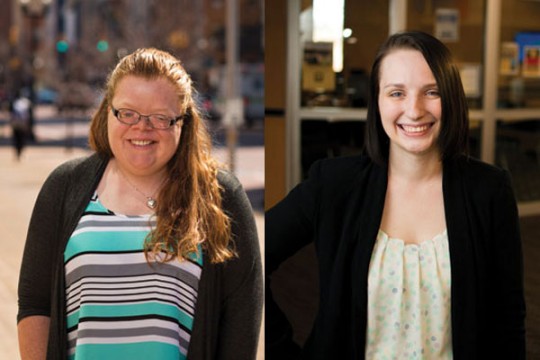 The University of Michigan-Flint has announced its students speakers for both Spring Commencement Ceremonies. Both students are recipients of the Maize and Blue Distinguished Scholar Award, the highest academic honor bestowed upon UM-Flint graduates. Both ceremonies are held May 1 at the Dort Federal Credit Union Event Center.
11 a.m. Student Speaker: Saydee Robinson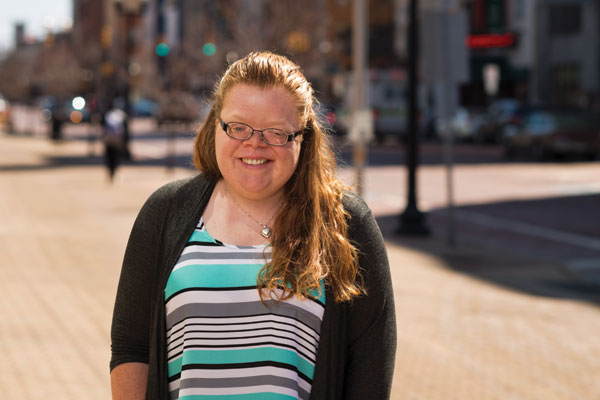 Saydee Robinson never intended to study social work when she enrolled at University of Michigan-Flint in Fall 2013.
But after taking an introductory course and speaking with faculty, Robinson took the leap and has never regretted her choice.
"I love it," Robinson said. "It was the best decision I could have made."
Robinson is graduating with a bachelor's degree in social work. She is the student speaker for the 11 a.m. Spring Commencement Ceremony on May 1.
During her career at UM-Flint, Robinson has taken on a leadership role in the student social work club, volunteered at the North End Soup Kitchen, and for foster support services. She spent her senior year interning at Samaritas, formerly known as Lutheran Social Services of Michigan.
And her social work knowledge, forged at UM-Flint, helped her with trips not associated with the university, including annual work in Haiti.  This has included work in orphanages and a medical facility.
"When you go without knowledge, you have more pity," Robinson said. "Knowing all the information I do from the social work department, I have more empathy. You see their drive to succeed."
Robinson, who is taking a year off from school, before pursuing further studies, said faculty and her peers at UM-Flint helped her succeed.
"I feel we have really good faculty," Robinson said. "They all have awesome experience that has allowed us to grow with our skills."
Robinson plans to express encouragement to her peers at graduation.
"The thing I want to stress is we all go through struggles. We all have a path that could determine how our future is going to go. Everyone sitting in the room, when we graduate, has not allowed their path to define them, and they have overcome those struggles."
3 p.m. Student Speaker: Holly Kilburn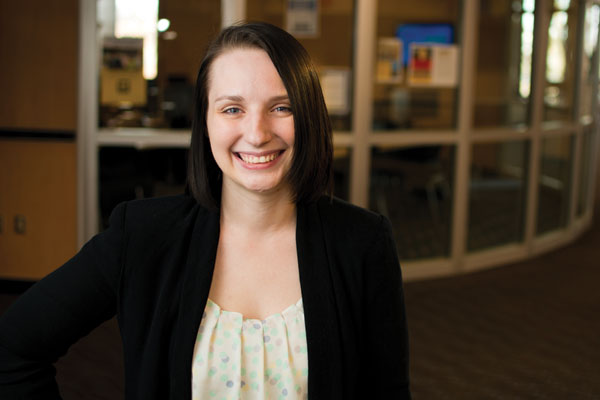 Holly Kilburn made a decision. She wanted more for her and her young son. She was working as a store manager in a fast food establishment but wanted to forge a career in human resources.
So Kilburn enrolled at UM-Flint in the Winter 2014 semester.
Her experience has been "phenomenal", said Kilburn, who graduates with a Bachelor of Business Administration in Human Resources, Management and Organizational Behavior.
She is the student speaker for the 3 p.m. Spring Commencement Ceremony on May 1.
"It really boosted my morale," Kilburn said. "It makes think, if I got my bachelor's degree, I can get my master's degree. I can get my PhD. Why not?"
During her university career, Kilburn has also worked full-time as a compliance coordinator for a charter school management company, and raised her son.
She thanks UM-Flint faculty for being flexible and understanding regarding her schedule and obligations.
Kilburn has been active on campus, including participating in University Outreach Service Saturdays, and with the UM-Flint chapter of Society for Human Resources Management.
"UM-Flint offers so many things," she said. "It is really hard not to get involved."
Kilburn offered encouragement to her peers.
"You can always do better than you think you can," she said. "There is no stopping you."
Robert is a staff writer in University Communications & Marketing. Contact him with comments, questions, and story ideas.