Congressman Kildee Talks about Value of UM-Flint's Foster Youth Program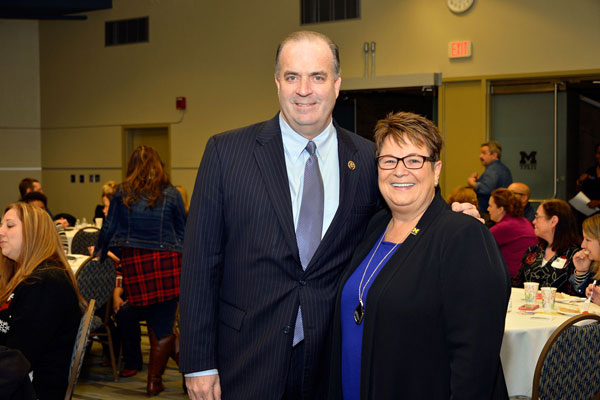 UM-Flint hosted the annual Community Champions Breakfast December 11, an event which delved into the needs of current and former foster youth. The forum drew state and community agency officials, university leaders, and policy makers, including Congressman Dan Kildee.
The event included UM-Flint students who utilize the university's Mpowering My Success program, which provide services to students age 18 to 20 that are in foster care, were formerly in foster care, or are transitioning out of foster care.
Mpowering includes a full-time Life Skills Coach, who along with a host of advisors and mentors, helps students get guidance on a bevy of issues, including finances, emotional support, housing, relationships, and more.
The program is funded by a grant through the Michigan Department of Health and Human Services, and partners with the Ennis Center for Children.
"Events like today's Mpowering My Success Community Champions meeting helps to educate everyone on the topic of foster care and the work still needed to develop policy and find funding at both the state and federal levels," said Lori Vedder, the financial aid director at UM-Flint. Vedder and UM-Flint's Alumni Relations Executive Director Mary Jo Sekelsky are the principal investigators for the grant.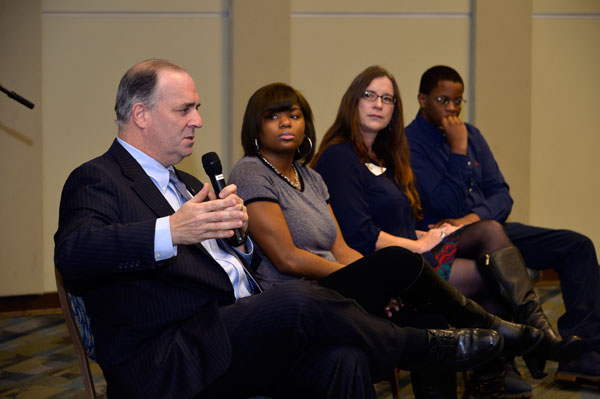 Vedder said, "Our presenters delivered a very powerful message today and as a co-investigator of this grant I am so pleased that Congressman Kildee continues to make his presence and expertise a priority at these events in support of foster youth everywhere."
Lisa J Féinics, the program's Life Skills Coach, discussed some of the services available in a previous interview with University Relations about Mpowering My Success and her role.
"If you are lucky enough to have a mom and/or a dad, imagine all the ways that they support you. That's what the Mpowering program also tries to do. Students can talk to me 24-hours a day about their problems. Emergency funds are available for actual emergencies. By connecting students to mentors and champions, I can help them get the support they need; and on and on. This is what we call the "wrap-around approach," she said.
At the December 11 event, she introduced two current students, who utilize Mpowering My Success, including Demitrus Anthony.
Anthony, from Detroit, said he's thankful for the support from Féinics, and others in the program. He started at UM-Flint this semester and is studying pre-law.
"They have been a big help for me since I have been here," he said. "She (Féinics) gives me a lot of good ideas," about how to continually improve as a student.
Kildee lauded UM-Flint for the support program, calling it "progressive" for evolving to the needs of the students.
"It is very student-centered, that is the thing I like about it," he said.
Contact University Communications & Marketing with comments, questions, or story ideas.