Army Veteran Pursues Elementary Education Career at UM-Flint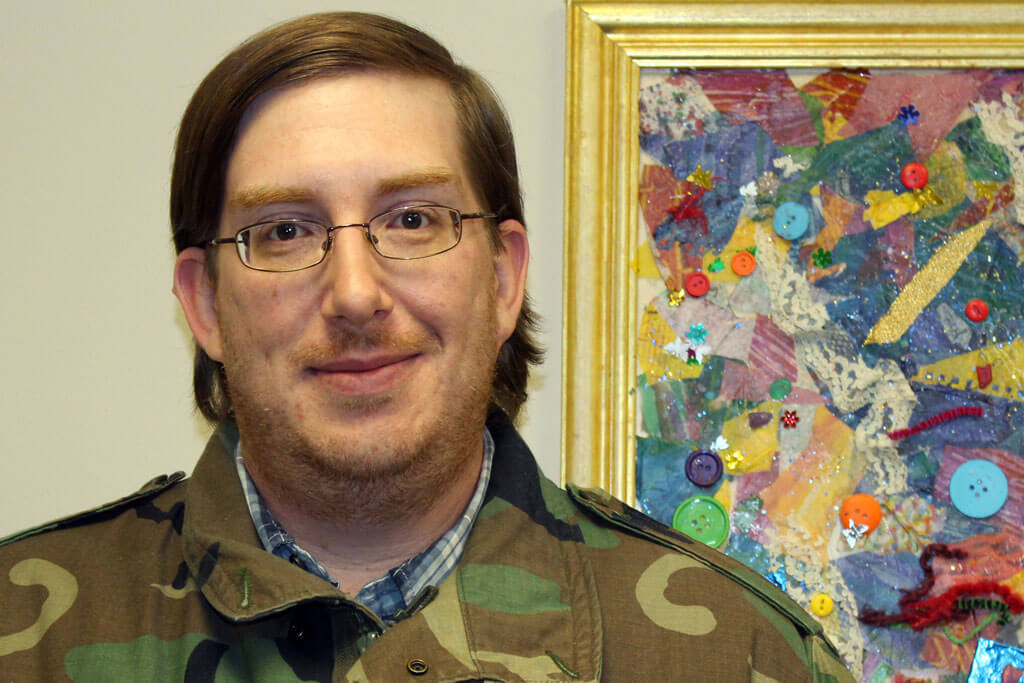 For U.S. Army veteran Matt Lane, pursuing a bachelor's degree in elementary education at the University of Michigan-Flint wasn't a snap decision. Nor was it based on a lifelong dream to change the world through teaching. His interest in working with young children began with a volunteer opportunity at a first grade classroom in Kingman, Arizona.
Matt was attending nursing school in Arizona while caring for his ailing father when he decided to pick up a volunteer opportunity offered by his nursing program for extra credit. He had worked previously as a cable installer and a mail truck driver, but interacting with those first graders ignited a new interest in the field of education.
"The teacher kept telling me how great I was doing with the kids and that the kids really enjoyed me," he said. "She suggested I go into teaching."
While volunteering there, Matt worked with the children on learning sight words and printing capitalized and lower case letters. He developed a supportive connection with the kids, particularly the boys, which boosted their self-confidence as learners.
"The school didn't have resources for students in need," he recalled. "Many of the kids tried to explain to me why their father wasn't around."
Cutting short his plans to be a nurse, he returned home to Michigan to begin a career path in elementary education through UM-Flint. The bachelor degree program requires minors in both language arts and mathematics, and he added an early childhood specialization.
His experience has included valuable classroom observation time and student teaching in both Lapeer and Flint. "You see a wide range of socioeconomic status," he said. "You also see the effects of poverty on these kids."
Matt has another goal with teaching: helping children to develop a sense of independence and responsibility to learn ways to contribute to a better society. It's a value that was ingrained in him while serving in the military.
Matt served in the Army from 1999 to 2003, stationed in Mons, Belgium. His official title was single channel radio operator maintainer.
Following his discharge from the Army, he wanted to continue to serve the community. He took an interest in politics, has participated in various campus activities, and hopes to run for governor someday. "I feel like it's my duty to this country to not ignore the social problems," he said. "It's too easy to say, 'It's beyond me' and be apathetic."
He started at UM-Flint in 2009. At the university, Matt serves as treasurer of the Early Childhood Education Club, volunteering with club members in campus events and local activities to support families of young children and to offer professional development opportunities. He recently started a job at the Early Childhood Development Center.
Matt feels he has received a tremendous value for his education at UM-Flint. "We have excellent faculty in education here, and they emphasize modern techniques," he said. "We want to give students the tools to be able to make judgments for themselves. We have to teach kids real life skills."
---
UM-Flint Veterans Day Ceremony
The campus community and the public is invited to attend the annual UM-Flint Veterans Day Ceremony on Wednesday, November 11 in the Michigan Rooms in the Harding Mott University Center.
A breakfast will be served beginning at 9:00 a.m., with the ceremony beginning at approximately 9:45 a.m. The University of Michigan-Flint Chorale will perform, and there will be remarks by Chancellor Susan E. Borrego as well as UM-Flint student veterans.
Contact University Communications & Marketing with comments, questions, or story ideas.