UM-Flint Earns Gold Level Recognition from Michigan Veterans Affairs Agency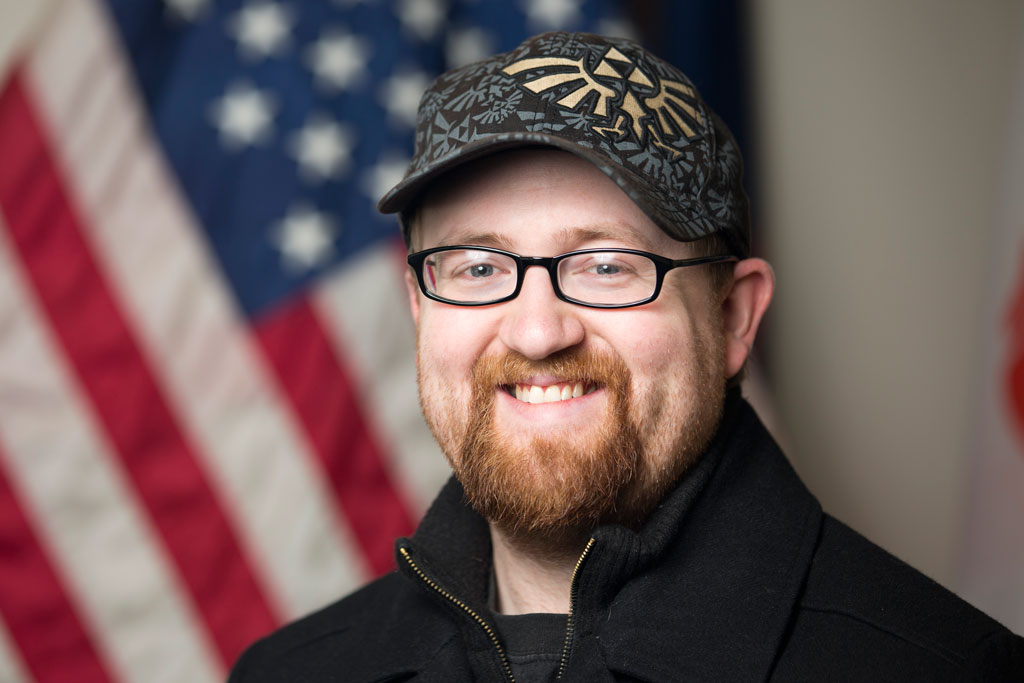 The University of Michigan-Flint has been designated a "Gold Level" school by the Michigan Veterans Affairs Agency (MVAA). This is the highest level awarded by the state agency for recognizing higher education institutions for their veteran services.
The Michigan Veteran-Friendly School program has seven criteria it uses to measure the veteran support levels. Those schools that reach six or more of these measures receive the gold designation. UM-Flint meets all seven, said Dichondra R. Johnson, an education analyst with the agency.
The seven measures, as described on the agency's website are:
On-campus veteran's coordinator and/or staffed veterans center
Active student-operated veteran club/association
Established process for the identification of current student veterans
Evaluation and awarding of credit for military training and experience
Veteran-specific website/portal
Monitoring and evaluation of student veteran academic retention, completion and graduation rates
Monitoring and evaluation of student veteran job placement rates
"I am proud that UM-Flint is recognized as a gold level campus by the Michigan Veterans Affairs Agency, since providing services to support our student veterans is an important priority for the university," said Chancellor Susan E. Borrego. "UM-Flint has a strong tradition of being a veteran-friendly campus, and it is an honor to serve those who have served this country so admirably with their transition to the university."
The MVAA expects to release further information about the award program and recipients later this month, Johnson said. There are also bronze and silver levels.
Stevens F. Wandmacher, the faculty coordinator at the Student Veterans Resource Center (SVRC) said he is pleased with the designation "because we aim to be just that- a school that is invested in student veteran success (which itself flows out of the University's commitment to all our students).
"Veterans come to higher education with all the same sorts of issues that any other student might have, plus some aspects that are unique to veterans. Foremost among these is the institutional hurdle of properly applying for and maintaining benefits through the VA, " Wandmacher said. "I was very grateful for the help and guidance I received from the universities I attended when I was using my GI Bill.  Ultimately, this shows the importance of the SVRC: the university provides staff members with expertise to help these students navigate the rather complex paperwork to get the benefits that enable them to pursue their educations."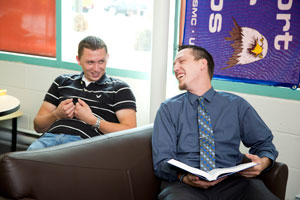 Wandmacher said the center provides a source of peer support too.
"On top of the administrative part, the center is a place where these students can easily find other students with whom they share some commonalities: boot camp, overseas deployments, military life in general. This provides the students an elementary peer group (because who doesn't like sitting around telling sea stories?) from which to explore outward into the rest of the university. Some students have expressed to me that just knowing where to find other vets who might better understand their points of view has made them much more comfortable being at the university."
Michael Keeley started his studies at UM-Flint in September of 2012 and began working at the Student Veterans Resource Center a year later. He is the web administrator at the center.
Keeley credits the center with making his adjustment into college a smooth one.
"I really had no experience with the process. Most students go straight from high school into college, but I had eight years of active duty with two deployments before I got there. The SVRC made it all feel so easy, from the application process, the orientation, to my first classes, I had so many professionals eager to help me. The best part of it all is that I never felt like I was bothering them, they were all so sincere and genuinely interested in both myself as a person, and my education goals. I wouldn't have accomplished nearly as much as I have without the support of the SVRC," Keeley said.
Contact University Communications & Marketing with comments, questions, or story ideas.