UM-Flint Nursing Students Help Send "Miracle Boxes" to U.S. Troops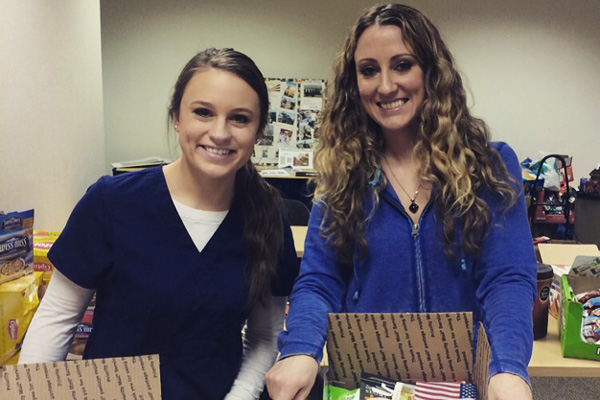 They are called "Miracle Boxes," and UM-Flint nursing students have prepared 70 of them, filled with special treats and necessities to be sent to American military personnel still stationed in remote areas of Afghanistan.
Preparing the special packages is a project of a group called the Desert Angels, comprised of veterans and family members of those who died in Afghanistan. Working with the Desert Angels, the Student Nurses Association (SNA) officers, and other nursing students packed 70 Miracle Boxes with socks, toiletries, cookies, beef jerky, peanut butter, paperback books, mints, gum, healthy snacks, nuts, and other items that will be dropped by air to soldiers serving in rugged, off-base locations in Afghanistan.
"Each month board members of SNA have educational meetings and community projects," said Bryanna Williams, a vice president of the SNA. "We decided to ship care packages to our soldiers overseas for our community project. Each box was packed by a student, staff, or volunteer with love."
The students learned more about the project from UM-Flint education department faculty member Judith Miracle, a supervisor of student teachers in the field. She is the mother of the late PFC Joe Miracle, who was 21 years old, and the youngest of seven children when he was killed in action on July 5, 2001 during a long battle with Taliban forces near the Pakistan border of Afghanistan. Miracle says it was a local woman, Louise Downs, who renamed the care packages Miracle Boxes, which she and her Desert Angels group send to soldiers overseas.
"I am very proud that this project continues on to help those soldiers who remain there, and that the Miracle Boxes continue to honor the memory of my son," said Judith Miracle.
The nursing majors raised more than $2,000 in cash, and obtained many donations of non-perishable items. The faculty advisor to the Student Nurses Association, Debbie Filos, issued a challenge to a group of beginning level nursing students (BSN 44 class) to contribute to the collection boxes and promised to match whatever cash amount the students were able to collect. The BSN 44 class raised $700, and thanks to Filos the donation was doubled. The BSN 43 class raised over $600, and additional donations came from other classes, nursing faculty, and the School of Health Professions and Studies Dean's Office.
"I'm very proud of the nursing students. They put in a lot of hours planning and coordinating this event even in the midst of tests, clinicals, and other activities in their busy lives," said Margret Andrews, director and professor of nursing.
Contact University Communications & Marketing with comments, questions, or story ideas.