Genesys Regional Medical Center is Newest Location for UM-Flint's Popular RN to BSN Nursing Program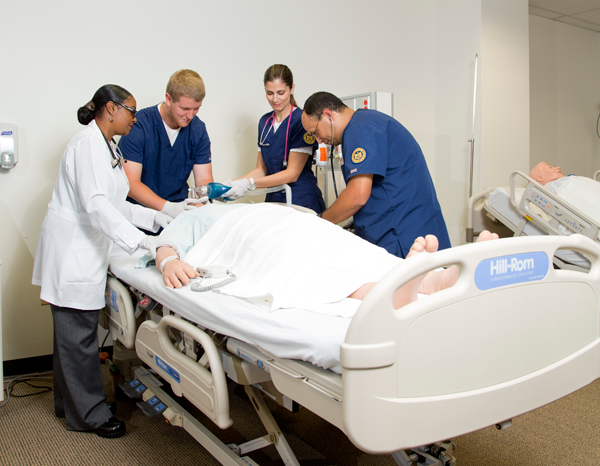 The University of Michigan-Flint added a fifth off-campus location this semester for its RN to BSN program.
The program, designed for registered nurses to earn a Bachelor of Science in Nursing, is now available at Genesys Regional Medical Center in Grand Blanc. Students take a combination of online courses and meet at the medical center once a month for class.
UM-Flint also offers the studies at Alpena Community College, St. Clair County Community College, Lansing Community College, and Wayne County Community College.
Each off-campus location has a site coordinator, which guide students regarding a range of information, such as curriculum requirements and financial aid; or connects them with resources at UM-Flint, said Theresa Stevens, assistant director of the Office of Extended Learning.
"It gives them a sense of community," Stevens said about the on-site assistance offered through her office.
An average of 700 students per semester are enrolled in the RN to BSN program offered by UM-Flint, with about 1,000 students taking at least one class in any given calendar year, said the program's director Jamie Koonmen. Students can take classes at UM-Flint, at an off-site location with online learning, or completely online. The program draws students nationwide, including from Florida, Texas, Colorado, and Tennessee.
"We are able to make a presence (for UM-Flint) outside the Flint area," Koonmen said.
The students, often working long hours as registered nurses, need flexibility. The off-site locations, combined with online studies, offer that.
Pamela Griffor, an intensive care unit nurse at Henry Ford Hospital in Dearborn, said the program's unique approach benefitted her. She took classes at St. Clair County Community Hospital while working at Henry Ford Hospital because the community college was near family and that's where she earned her associate's degree.
"It was organized and approachable and doable," Griffor said about the RN to BSN program, which she finished last December.
This semester, there are two classes offered at Genesys. One focuses on transitioning to professional nursing, while the other focuses on computers in health care. Students meet once a month at the medical center, and do online work the rest of the time. There are nine students in the transitioning class and seven in the computing course.
Five nurses from Genesys are participating on site, said Laurie Hawkins, the medical center's director of nursing education. The final numbers aren't in for next semester, but Hawkins said interest is growing and enrollment is expected to increase.
"UM-Flint has really stepped up to provide the support the person needs to go through with this," she said.
Mary Linton, an assistant professor of nursing at UM-Flint, is teaching the transition to professional nursing practice class at Genesys. Five of her students are from the center and the other four are from Beaumont Hospital in Royal Oak.
"Some of them have been out of school for a long time so it's a nice bridge to get back into the study habits," Linton said of the hybrid option of taking classes online but also meeting for face-to-face classes.
Linton said drawing nurses from multiple hospitals adds an extra layer of real-life learning.
"They get a different perspective. It is good for both groups of students how things can be different at different hospitals," Linton said.
---
Contact University Relations staff writer Robert Gold with comments, questions, and ideas at goldr@umflint.edu, (810) 424-5596, or on Twitter, @writerobert.
Contact University Communications & Marketing with comments, questions, or story ideas.