Sue Grady Remembered for Supporting UM-Flint Students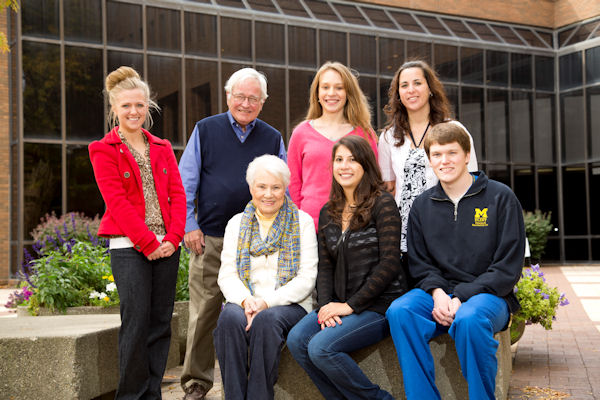 Former Flint resident and friend of the University of Michigan-Flint, Sue Grady, passed away Monday, July 21. Mrs. Grady leaves a legacy of love for UM-Flint students as well as her hometown of Flint.
Mrs. Grady was born and raised in Flint. She was a staunch advocate for students at the university, and was the steward of a fund established to honor her father, Harold M. Utley. Mr. Utley was the Manager at the Flint Journal during the 1950's, and was instrumental in working with community leaders to make the UM-Flint campus a reality in 1956. During a visit to the campus in October 2012, Mrs. Grady recalled her father's work to make a university education possible for the citizens of Flint. She was very proud of her ties to the city, and her family's role in its history.
The Harold M. Utley Memorial Scholarship was created in 1961 and is among the earliest scholarships established at UM-Flint. Through the philanthropic efforts of Mrs. Grady's family, the scholarship has offered financial support to over 100 students during the last 43 years. Mrs. Grady delighted in meeting with student recipients of the scholarships, and learning about their studies as well as their hopes for the future.
"Sue Grady exemplified the spirit of the people of Flint, Michigan," stated Linda Moxam, executive director of Development and Alumni Relations at UM-Flint. "She took great pride in the success of our students, and the successes of this community. She was a true champion, and she will be deeply missed."
The family has requested that those who would like to honor Mrs. Grady may do so by making a contribution to the Harold M. Utley Memorial Scholarship Fund at UM-Flint at www.giving.umich.edu/give/flint-utley.
Photo: Mrs. Grady and her husband Jim visit with UM-Flint students who received the Harold M. Utley Memorial Scholarship.
Contact University Communications & Marketing with comments, questions, or story ideas.