UM-Flint Professor to Deliver Keynote at Conference Honoring Author Chinua Achebe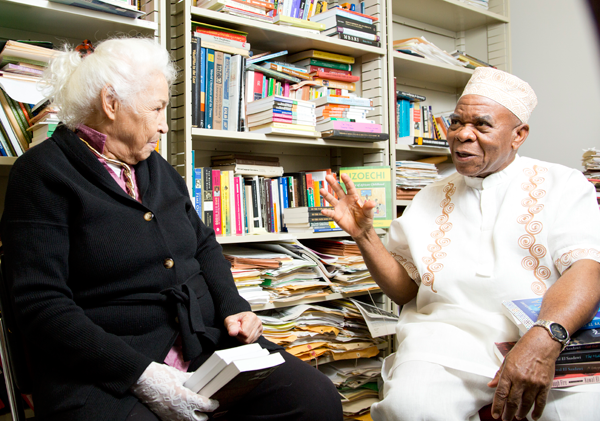 UM-Flint Professor of Africana Studies Ernest Emenyonu, Ph.D. has been selected to give the keynote address at one of many international conferences focusing on the works of renown Nigerian author Chinua Achebe.
Achebe, the author of the classic Things Fall Apart, passed away in Boston on March 21, 2013. Prior to his death, Achebe was the David and Marianna Fisher University Professor at Brown University in Providence, Rhode Island.
A consortium of universities, supported by UNESCO, the Nigerian Embassy in Beirut, and other institutions of higher education, have scheduled the special international conference on March 21 & 22, titled "Commemoration of Chinua Achebe and His Global Legacies." Nobel Laureate Wole Soyinka of Nigeria will be a special guest at the conference, which will be held at Notre Dame University–Louaize, Lebanon.
Professor Emenyonu, a leading scholar on Chinua Achebe, Africa's most-famous novelist of the 20th century, has published a number of books and journal articles on Achebe, including a forthcoming work titled Remembering A Legend: Studies on Chinua Achebe. A specialist in African literature, Emenyonu has taught several courses in African literature in general and Achebe's writing in particular.
Aside from the Beirut conference, Emenyonu is scheduled to speak at a number of other international conferences honoring Achebe this year. They include the University of Benin, Nigeria (March 4-7), where he will give the keynote address. At University of Witwatersrand, Johannesburg, South Africa (April 9-13), he will chair two panels on Chinua Achebe's other classic novel, Arrow of God, which is fifty years old this year. At that conference, Emenyonu will deliver a paper titled "Characterization and Social Vision in Chinua Achebe's Things Fall Apart (1958) and No Longer At Ease (1960): Interrogating the Iconoclast and the Stigmatized Other."
On May 2nd and 3rd, Emenyonu will participate in a special international conference at Brown University. As part of its 250-year celebration, Brown University will host a colloquium on "African Literature as Restoration: Chinua Achebe as Teacher." Professor Emenyonu has been invited to chair the panel "Arrow of God: New Insights into Chinua Achebe's Magnus Opus."
Editor of African Literature Today, the oldest international journal on African literature, Professor Emenyonu is a Fellow of the Nigerian Academy of Letters (FNAL), Fellow of the Nigerian Academy of Education (FNAE), and Member, Board of Trustees, Association of Nigerian Authors (ANA). On August 3, 2013, he delivered a paper on "Chinua Achebe: the Man, the Writer, and his Legacies" at the School of Oriental and African Studies, London University, England.
__________________
PHOTO: Egyptian author Nawal El Saadawi and Ernest Emenyonu at the University of Michigan-Flint
Contact University Communications & Marketing with comments, questions, or story ideas.