UM-Flint Helps Young Students Connect with Nature through Photography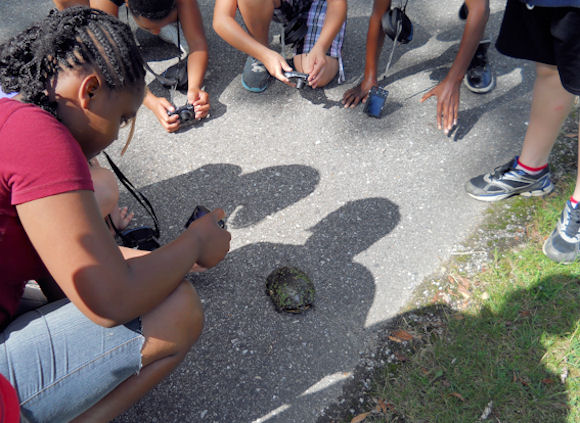 A new photography exhibition displays the results of a unique program that gives Flint area youngsters an opportunity to visit local parks and develop photography skills at the same time.
Recently, For-Mar Nature Preserve & Arboretum began exhibiting nature photographs taken by middle school youth from the Boys & Girls Clubs of Greater Flint (BGCGF). The students were participants in Parks in Focus® — a program of the Udall Foundation that connects middle school youth to nature through photography. For-Mar will keep the photos on display until at least until the end of the year, or longer.
This is the third year that Parks in Focus® has partnered with University Outreach at the University of Michigan-Flint and the BGCGF to introduce Genesee County youth to local parks and natural areas. This year, digital cameras were distributed to 20 BGCGF members ages 10 to 13.  During the summer, they were guided on a series of fun and educational outings to Applewood Estate, Kearsley Park, Ligon Outdoor Center, Max Brandon Park, For-Mar Nature Preserve and Arboretum, Shiawassee National Wildlife Refuge, and Seven Lakes State Park. The photographs on display will portray the adventures they had and the people, places, plants, and animals they met along the way.
"University Outreach leverages UM-Flint staff expertise to provide college-positive experiences, and inspire curiosity about our connection to the natural world through the art of photography to BGCGF members," said Jacob Blumner, interim director of University Outreach. "This partnership is important for our local youth as arts programming continues to be cut at public schools, and many outdoor spaces are not perceived as safe."
The display  kicked off with a public reception at For-Mar's Visitor Center on November 8. The event  provided an opportunity to learn more about the Parks in Focus® program and meet some of the young photographers. The visitor center is located at 2142 N. Genesee Road, Burton, and is open Wednesdays through Sundays from 8 a.m. to 5 p.m.
Additional program support was provided by Michigan State Parks, the DTE Energy Foundation and Lowepro.
Contact University Communications & Marketing with comments, questions, or story ideas.