The Academic Costume: History and Meaning of Caps, Gowns, Hoods, and Other Apparel Worn by UM-Flint Graduates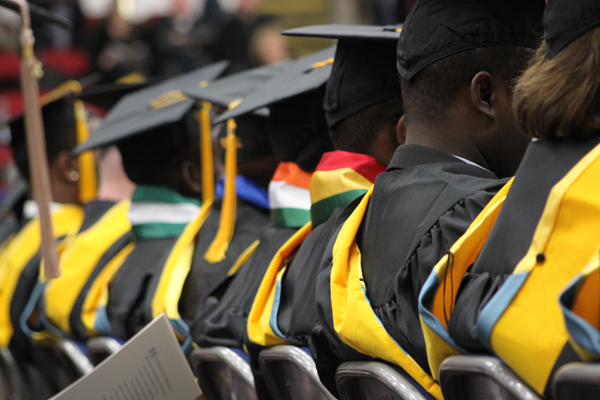 The colorful gowns and hoods worn by faculty members at commencement and other academic ceremonies represent the degrees, disciplines, and alma maters of the wearers.
The American academic costume tradition, imported from England, dates to Colonial days.
Gowns
The style of the academic gown differs with the academic degree it represents. The bachelor's gown has plain, full sleeves and is without velvet facing down the front. The master's and specialist's gowns are identified by long narrow sleeves that are "blind" at the cuff, with slits at elbow-length for the arms. The doctor's gown has full sleeves with velvet chevrons and velvet facing down the front.
Academic gowns are usually black, but some universities permit gowns in the school's colors.  The velvet trimming on the doctor's gowns is traditionally black, though some universities (including the University of Michigan-Flint) permit the velvet to be of the color distinctive of the discipline to which the degree pertains.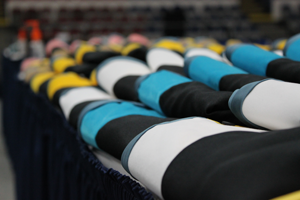 Hoods
The master's hood (short), specialist's hood (intermediate), and the doctor's hood (long) carry the distinctive design and the colors of the university where the degree was awarded.
The doctor's, specialist's, and master's hoods for University of Michigan-Flint candidates have the following velvet colors:
Accounting, Business Administration = drab
Education = light blue
Literature and Arts = white
Nursing = apricot
Physical Therapy = teal
Public Administration = peacock blue
Public Health = salmon
Science = golden yellow
Caps
Caps vary in style from the traditional black mortarboard to eight-, six-, and four-corner tams, and Elizabethan-style caps. The mortarboard may be of any appropriate material, such as cotton, poplin, rayon, or silk, to match the gown. Velvet is reserved for holders of doctorates.  A long tassel is fastened to the middle point of the top of the cap.
Other Apparel
Several graduates are wearing cords or sashes as part of the academic costume. Other than the gold cords that stand for graduating with honors, some of the cords and sashes indicate academic achievement in the other areas such as Service Learning. Other cords and sashes are awarded to students for their participation in clubs and organizations.
UM-Flint's Spring 2013 Commencement Ceremonies will be held Sunday, May 5, 2013
 at 11:00 a.m. and 3:00 p.m.
 at the Perani Arena and Event Center.
Contact University Communications & Marketing with comments, questions, or story ideas.