UM-Flint Workshop Offers New Insights and Methods for Teaching the Holocaust
The University of Michigan-Flint is making available for Michigan teachers who teach the Holocaust a rare opportunity that combines scholarship, cutting edge research technology, and innovative teaching techniques using video testimonies. The application deadline for the Testimony Workshop has been extended to to May 15.
The workshop will feature specialists in Holocaust research, including Michigan State University professor and former UM-Flint Winegarden visiting professor Ken Waltzer, Ph.D. Others include professor Hank Greenspan of U-M Ann Arbor, as well as experts from UM-Dearborn and the University of Southern California Shoah Archive. The Shoah Foundation Visual History Archive is the largest Holocaust testimony archive in existence today. Testimonies in the archive can be accessed online through UM-Flint's Frances Willson Thompson Library website.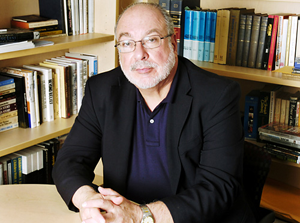 The workshop will focus on, among other things:
– Information literacy and critical skills in teaching with or research based on Holocaust survivor video testimonies online at Shoah Visual History Archive, University of  Southern California, and Voices/Visions testimonies, online at University of Michigan-Dearborn.
– Working with digital testimony resources as texts and sources for doing history.
"This workshop is an extraordinary opportunity to develop critical skills for teaching or research using video testimonies online at Shoah Visual History Archive, and the Voices/Visions testimonies at University of Michigan-Dearborn," said conference coordinator Theodosia Robertson, Ph.D. "Educators can explore the dynamics of a digital testimony classroom, and graduate students can practice using digital testimony as texts and sources for doing history."
Workshop sessions will be held on the UM-Flint campus at the Frances Willson Thompson Library, a state-of-the-art facility for online research and instruction.
Application, registration, and further details on costs and accommodations are posted at http://www.umflint.edu/holocaust-workshop.page.
Contact University Communications & Marketing with comments, questions, or story ideas.