Retired Professor's Gift Will Help Launch UM-Flint's First All-Student Orchestra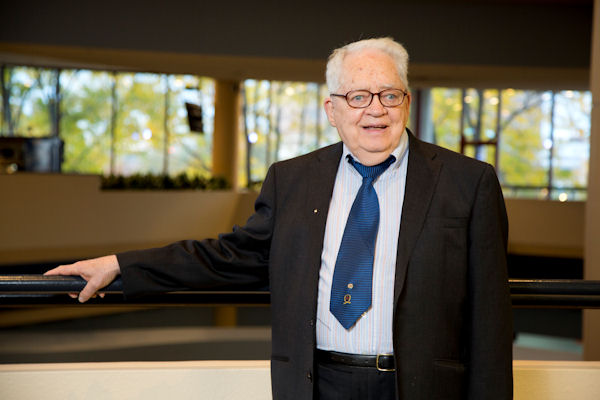 The generosity of a retired accounting professor and his desire to honor the memory of his wife will help the University of Michigan-Flint Music Department form its first all-student orchestra.
Walker E. Fesmire, Emeritus Professor of Accounting was a School of Management (SOM) faculty member from 1982-1997. In honor of the memory of Chieko "Peggy" Fesmire, his wife of 56 years, Professor Fesmire is presenting the University of Michigan-Flint a gift of $100,000 to establish The Chieko Fesmire String Instrument Scholarship.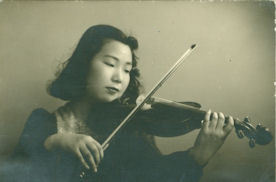 It was during the Korean Conflict in 1955 that the two met and married in Kobe, Japan, where Fesmire was serving in the army. Chieko, an accomplished pianist and violinist who performed for five years with the Hiroshima Symphony, had fled with her family from Hiroshima shortly before it was destroyed by an atomic bomb. She had an appreciation for the arts of all kinds and enjoyed line dancing and clogging.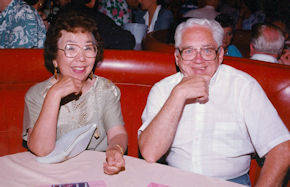 While Professor Fesmire was working with the university's development department on the scholarship, unaware to him, the music department was developing a strong string section, and plans were underway to combine with winds and percussion to form what would be the first-ever all-student orchestra. Years ago, community members would help fill in needed positions. Now, the new scholarship will help attract even more string players.
"The news of the Chieko Fesmire String Instrument Scholarship has come at the most opportune time—perhaps by celestial arrangement," noted Music Department Chair Lois Alexander. "During the past two years, the Chamber String Ensemble has grown and developed under the directorship of Patrick Prouty. So, in December 2012, the Department of Music decided to focus on the next step: developing the University Orchestra. The boost that this scholarship endowment will give to the orchestra program cannot be overstated. We are so honored by Professor Fesmire's gift in memory of his wife. And we accept the charge to be good stewards of what he has entrusted to us."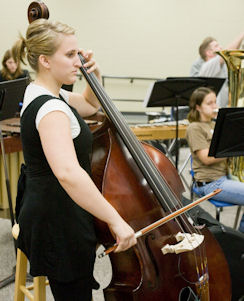 Instead of writing strict guidelines, Professor Fesmire is leaving many of the scholarship decisions to music department faculty. The scholarship is to be awarded to "applied music students" studying a string instrument with preference given to those studying the violin.
The music department will have a unique way to thank Professor Fesmire. Prouty, the director of the string area, and an award-winning musician, will be composing a new work to be premiered in fall 2013, in honor of Professor Fesmire's gift.
This is not the only scholarship that has the Fesmire name on it. An accounting scholarship was established with gifts from Fesmire and former students. To say that Professor Fesmire was well-liked and respected as a teacher might be an understatement. The first line of a UM-Flint publication from 1995 sums it up this way: "While it is not typical for a professor to win the University of Michigan-Flint Distinguished Service Award twice in one career, Walker Fesmire, Ph.D., professor of accounting is anything but typical."
In his first few years on the UM-Flint faculty, Fesmire worked closely with his students. He helped form the Student Accounting Club that took on a variety of community projects like blood drives. Then he was successful in establishing a campus chapter of Beta Alpha Psi, an honorary accounting fraternity. The organization is widely recognized by media for providing free tax assistance through the VITA program.
At the same time he was forming a successful teaching career, Fesmire played an active role in raising two sons. While he never played hockey, he coached two youth teams that went to the state championships.
Why establish another scholarship? Fesmire says it's the best way he knows to honor his wife. "She did not like to get in front of people. She comes from a different culture. So I thought: set up a scholarship that will be here perpetually and provide money that will help students."
The official announcement of the new scholarship was made at the Spring Vocal Concert on April 14th  held at First Presbyterian Church in downtown Flint.
Complete requirement details of The Chieko Fesmire String Instrument Scholarship are available through the UM-Flint Office of Financial Aid.
Contact University Communications & Marketing with comments, questions, or story ideas.